Talquetamab Approved for Myeloma Patients by FDA
Myeloma patients and specialists celebrate together as a new bispecific antibody therapy is approved for myeloma treatment. This highly anticipated bispecific will be a great addition to multiple myeloma treatment options.
Talquetamab was approved on August 10, 2023, by the Food and Drug Administration of the United States for myeloma patients with four or more lines of previous therapy.
What is Talquetamab?
Talquetemab is a newly approved multiple myeloma treatment that targets GPRC5D, a common protein on the surface of a myeloma cell.
Because it targets something other than BCMA, it has proven to be a successful treatment for those who have received a previous BCMA-directed therapy such as teclistimab, another bispecific antibody, or CAR-T Therapy treatment.
How is Talquetamab Administered?
Talquetamab is approved as a weekly or biweekly subcutaneous (SC) injection after an initial step-up phase, offering physicians the flexibility to determine the optimal treatment regimen for patients.
Coach Beth Travis shares,
"This off-the-shelf approach is an appealing option for relapsed patients that need immediate treatment. Talquetamab would be another option for patients who have relapsed after BCMA-directed treatments like CAR T or teclistamab, the first FDA-approved bispecific antibody."
The treatment is given in step-up dosing for safety, which means that smaller, but increasing doses are given in the first few administrations to limit side effects. The product is administered with a subcutaneous injection rather than an IV.
GPRC5D (G protein-coupled receptor family C group 5 member D) is a target highly expressed on multiple myeloma cells that have very little expression on normal human cells.
Krina Patel, MD of MD Anderson Cancer Center, and Ravi Vij, MD, MBA at Washington University in St. Louis discuss talquetamab in more detail at HealthTree at this link.
Who Qualifies for Talquetamab?
Talquetamab is now approved for those on their fourth line of therapy. Lines of therapy can get tricky, but essentially, think about how many times you have relapsed or how many times you have had to start a new treatment because your previous treatment stopped working.
This will determine how many lines of therapy that you have had. For example, someone who is diagnosed with myeloma, receives their induction therapy, has a stem cell transplant, and then has their maintenance drugs is still only considered on their first line of therapy.
Teclistimab and talquetamab are available only through a restricted program called the TECVAYLI® and TALVEY™ Risk Evaluation and Mitigation Strategy (REMS). If you qualify, check with your doctor to see if the treatment is right for you and available to be prescribed at your facility.
What Were the Results of Talquetamab in the Phase 2 MonumentTAL-1 study?
In the Phase 2 MonumenTAL-1 study, upon which talquetamab was approved, the patients were split into three arms or cohorts.
Cohort One: Participants will receive talquetamab subcutaneously (SC) at [0.4mg/kg] with no previous T-cell therapy. This is a weekly dose.
Cohort Two: Participants will receive talquetamab subcutaneously (SC) at [0.8mg/kg] with no previous T-cell therapy. This is a biweekly dose.
Cohort Three: Participants will receive talquetamab subcutaneously (SC), this arm has had previous T-cell therapy.
Sixty percent (60%) of the patients in this study were high-risk (extramedullary disease, ISS Stage III disease, and high-risk genetics). They typically had five lines of therapy over six years. The majority was penta-refractory (no longer responding to lenalidomide, bortezomib, daratumumab, carfilzomib and pomalidomide). These patients were also failing their current line of therapy.
In Cohort One, with the weekly dose of 0.4 mg/kg the results were the following:
73% Overall Response Rate (these patients had some kind of response to the treatment)
57% of patients achieved a Very Good Partial Response (VGPR) or better
35% of patients achieved a Complete Response (CR) or better
The median duration of response was 9.5 months.
In Cohort Two, with the biweekly dose of 0.8 mg/ky the results were the following:
73.6% Overall Response Rate (ORR)
58% of patients achieved a Very Good Partial Response (VGPR) or better
33% of patients achieved a Complete Response (CR) or better
The median duration of response had not been reached at the time of analysis (meaning it was still working in the majority of patients)
In Cohort Three, which was analyzed by an Independent Review Committee, those with previous T-cell directed therapy like teclistimab or CAR-T Therapy, the results were the following:
72% Overall Response Rate achieved an Overall Response Rate (ORR)
59% of patients maintained a response for at least nine months.
What are the Side Effects of Talquetamab?
Like other immunotherapies that use T-cells to operate, there remains a risk of Cytokine Release Syndrome (CRS) and immune effector cell-associated neurotoxicity syndrome (ICANS) when taking talquetamab. Essentially, these are reactions caused by your immune system when they notice the engineered cells or mechanisms being introduced into your body. CRS and ICANS have been found at lower levels compared to BCMA-directed therapies.
As per other myeloma medications, there's also a risk of decreased lymphocyte count, decreased neutrophil count, decreased white blood cells, and decreased hemoglobin.
Because talquetamab is targeting GPRC5D instead of BCMA, its unique side effects can include a loss of taste, skin peeling, and nail issues. Other additional side effects may occur, so talk to your doctor about what those might be if you are interested in taking the medication.
Conclusion
Talquetamab's approval is a wonderful addition to a constantly improving myeloma arsenal. The improvements in immunotherapy are providing more effective therapies in treating myeloma, often giving patients a higher quality of life.
Especially exciting are the promising results of combining talquetamab with another bispecific, teclistimab, in which one of the arms resulted in an outstanding 96.3% overall response rate.
Though it's a club that no one ever wanted to join, there truly has never been a better time to be a myeloma patient.
---
Learn more about talquetamab through the following resources: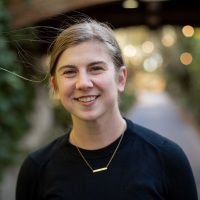 about the author
Audrey Burton-Bethke
Audrey joined the Myeloma Crowd as the Community Manager in 2020 after previously working in the nonprofit field for 4 years as a director of Fundraising and Development. She graduated from BYU with a major in Spanish and Nonprofit Management. Audrey is passionate about serving others, loves learning, and enjoys a nice mug of hot chocolate no matter the weather.
Thanks to our HealthTree Community for Multiple Myeloma Sponsors: