ASH 2022: Talquetamab for Relapsed/Refractory Myeloma Showing Durable Responses
Talquetamab, bispecifc antibody targeting GPRC5D, is showing durable responses for relapsed and refractory myeloma patients, according to data presented by Ajai Chari, MD of Mount Sinai.
This second bispecific antibody from Janssen Oncology uses an off-the-shelf approach, an appealing option for relapsed patients that need immediate treatment. Talquetamab would be another option for patients who have relapsed after BCMA-directed treatments like CAR T or teclistamab, the first FDA-approved bispecific antibody.
The treatment is given in step-up dosing for safety, which means that smaller, but increasing doses are given in the first few administrations to limit side effects. The product is administered with a subcutaneous injection rather than an IV.
GPRC5D (G protein-coupled receptor family C group 5 member D) is a target highly expressed on multiple myeloma cells that have very little expression on normal human cells. Krina Patel, MD of MD Anderson Cancer Center discusses talquetamab in more detail at HealthTree at this link.

p>
The Phase 1/2 study presented by Dr. Chari at the recent American Society of Hematology (ASH) meeting included two dose levels: a low (0.405 mg/kg) and a high (0.8 mg/kg) every other week.
Patients who joined the study:
Had at least three lines of therapy
Median age was 67 years old
Many patients were triple-class refractory and had received more therapy with a median of 5 prior treatments
31.1% had high-risk cytogenetics
23% had extramedullary disease, 19.6% had ISS stage 3 disease
Median follow-up was 11.0 months
Outcomes included:
The overall response rate was similar at both levels; 74% in the low dose and 73% in the high dose arm of the study
The median progression-free survival in the low-dose arm was 7.5 months and 11.9 months in the high-dose arm
Duration of response for patients that attained a complete response and has not yet been reached
Overall, survival has yet to be reached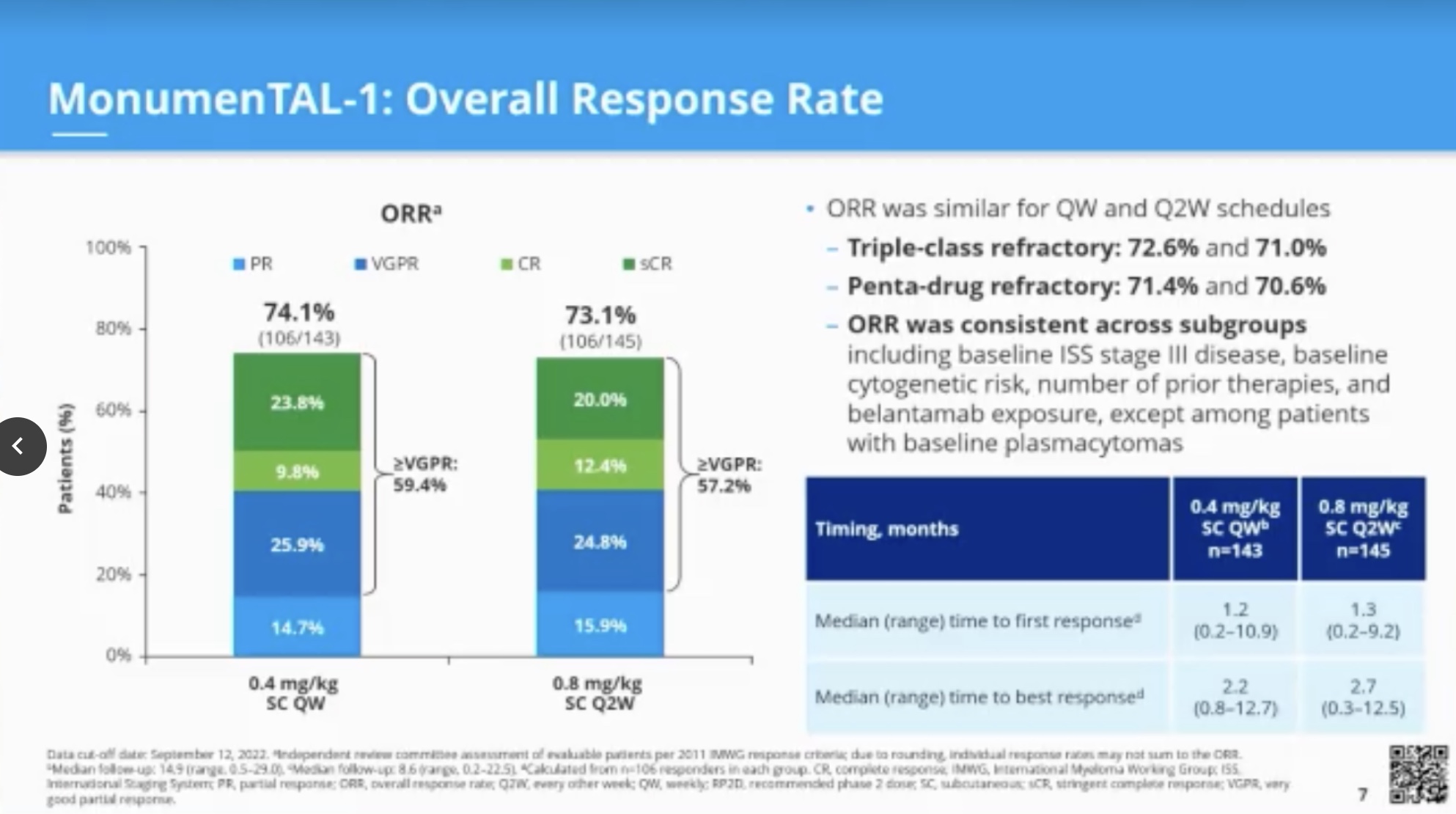 Adverse Events (side effects) were listed by low dose/high dose as follows;
| | | |
| --- | --- | --- |
| Adverse Event | Low dose | High Dose |
| Cytokine Release Syndrome | 79% | 72% |
| Neurotoxicity | 11% | 10% |
| Dysgeusia (altered sense of taste) | 48% | 46% |
| Anemia | 45% | 39% |
| Skin Related Events | 56% | 68% |
| Nail Disorders | 52% | 43% |
| Cytopenia | 34% | 28% |
| Thromocytopenia | 27% | 27% |
| Infections | 57% | 50% |
| Patients discontinued | 4.9% | 6.2% |
| Patients had dose delays | 8.4% | 13.8% |
| Dose Reductions | 14.7% | 6.2% |
| There were 2 deaths from COVID 19 | | |
Dr Chari discussed additional data about patients that had received prior T Cell therapy in this study. For these patients, the overall response rate with talquetamab was slightly lower at 63%. There is also a Phase 1 study looking at talquetamab in combination with other approved agents such a teclistamab, daratumumab, immunomodulatory drugs and checkpoint inhibitors. There is a Phase 3 study looking at talquetamab vs currently approved therapies.
The FDA has granted breakthrough designation for talquetamab for multiple myeloma discussed in this article at HealthTree. This research and these clinical trial outcomes will help us understand the best treatments and combinations for this bispecific antibody product.
Dr. Chari concluded by saying:
The safety profile was consistent between both dosing schedules
Talquetamab showed a 73-74% overall response rate in both dosing schedules in a heavily pre-treated group of patients
For patients with prior CAR T, a 63% overall response rate was seen
Overal, discontinuation of the drug was low
An ongoing Phase 3 study is now evaluating talquetamab in combination with other treatments
Learn more about the MonumenTAL-1 clinical trial here.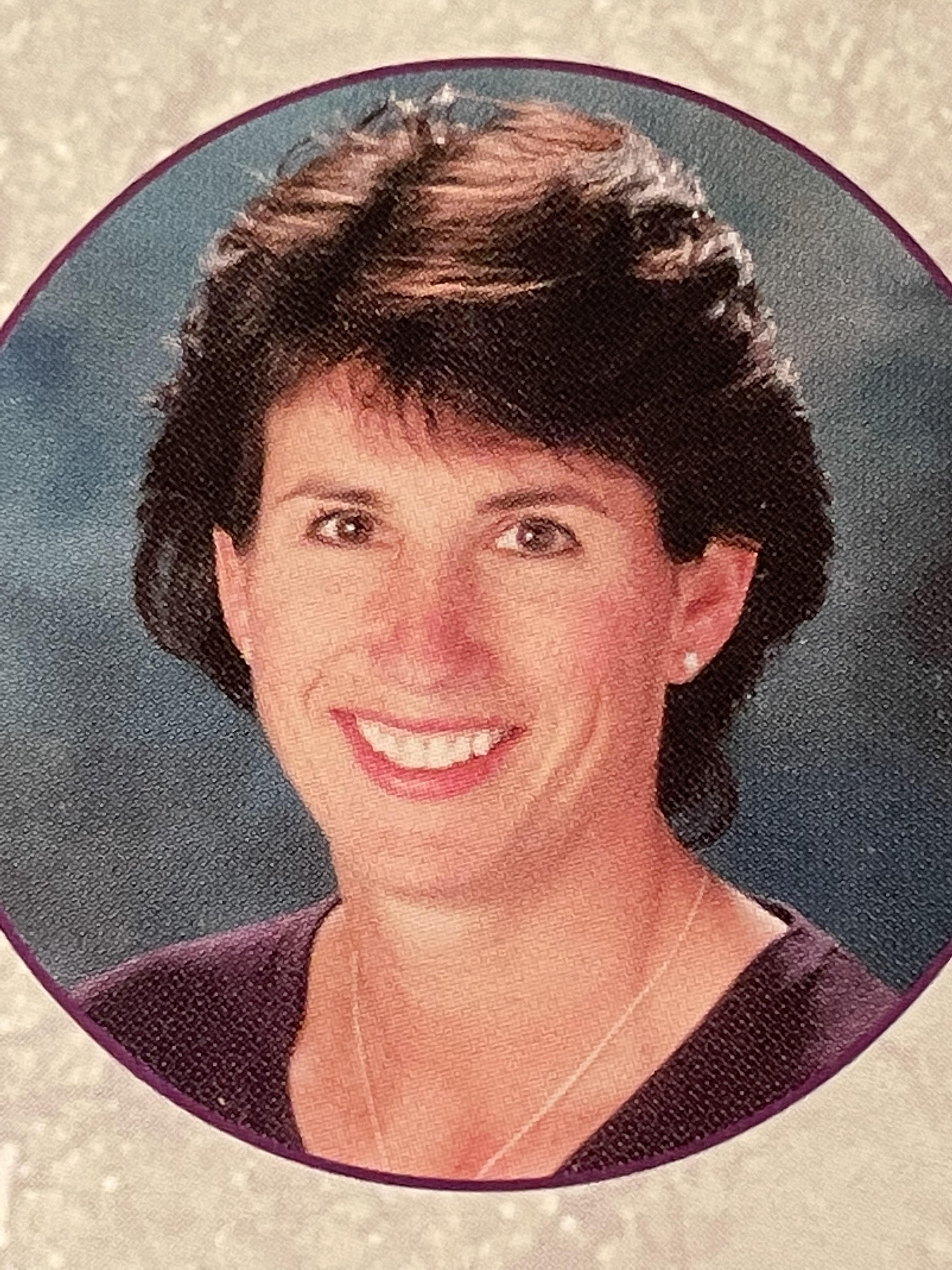 about the author
Beth Travis
Beth is a licensed Physical Therapist that truly believes in the benefits of exercise. Mother of two, a myeloma patient and advocate with a love of learning, healthy lifestyles and food adventures.
Thanks to our HealthTree Community for Multiple Myeloma Sponsors: