Myeloma Patient and Expert Roundtable Empowers Patients for Better Outcomes - SLC, May 7, 2016
CONTACT:
Jenny Ahlstrom, President, Myeloma Crowd
(801) 949-1034 / jenny@crowdcare.org
FOR IMMEDIATE RELEASE
MYELOMA PATIENT & ADVOCATE ORGANIZES EVENT TO EDUCATE FELLOW MYELOMA SURVIVORS ON THEIR DISEASE. EVENT IN SALT LAKE CITY ON MAY 7 AT DOUBLETREE SUITES DOWNTOWN.
Top myeloma experts will discuss treating high-risk disease. Robust Q&A session to follow.
Salt Lake City, UT (April 21, 2016) – When wife and mother of six young children, Jenny Ahlstrom, was diagnosed with multiple myeloma, the second most common blood cancer, she had one goal: to stay alive. Over the course of her treatment, which consisted of two stem cell transplants and high dose chemotherapy, she plotted how she could actively participate in her care and finding better treatments.
"Fighting cancer became my number one priority," says Ahlstrom. "I knew that, for me, simply being a passive patient was not an option. So when I started feeling better, I went on a quest to get educated, advocate for better treatments, and become a voice for the myeloma community. That education is helping obtain my very best outcomes."
It's been some five years since diagnosis and Ahlstrom is furthering her work by hosting weekly radio programs with myeloma experts from around the world (to date, she has hosted more than 75 programs reaching one million listeners), launched an educational web site (www.myelomacrowd.org), and started a crowd source campaign to fund two promising clinical trials via the Myeloma Crowd Research Initiative (https://www.myelomacrowd.org/mcri/).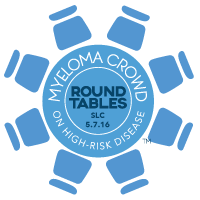 The next step? Myeloma Crowd Round Tables on High-Risk Disease, the first of which is set to take place in Salt Lake City on Saturday, May 7 at the Doubletree Suites hotel downtown. The event is open to the public and is focused on patients and their caregivers, providing them with important information, treatment options, and a forum to ask questions and get answers straight from the experts.
"This event will focus on high-risk disease. Every patient, as their myeloma progresses, will end up with high-risk features so this topic is incredibly important," says Ahlstrom. "And despite much progress made in myeloma, there is no standard treatment options. Becoming informed patients so that we are able to choose what's best for us is critically important in our outcomes."
The doctors featured on this panel are doctors Rafael Fonseca, MD of the Mayo Clinic in Scottsdale (Arizona), Guido Tricot, MD, PhD of the University of Iowa, and Djordje Atanackovic, MD of the Huntsman Cancer Institute at the University of Utah in Salt Lake City.
The event costs $50 per person to attend, which includes lunch. For an Early Bird Registration $25 discount before May 1, use the discount code MYELOMA2016. Financial assistance is available by emailing info@crowdcare.org. There is a special room rate of $109 per night at the Doubletree Hotel Suites in Salt Lake City.
###
About Multiple Myeloma
Multiple Myeloma is a hematologic cancer, or cancer of the blood. It is the second most common blood cancer, after non-Hodgkin's lymphoma. While Myeloma is not curable, thanks to the advancements of medications and treatment options, patients are living longer lives than ever.
About the CrowdCare Foundation
The CrowdCare Foundation (www.crowdcare.org) provides research funding, patient advocacy and support for cancer and rare life-threatening diseases. It also hosts radio shows where top researchers are interviewed about the latest in research, treatments, side-effects and clinical trials. Its website provides valuable information and resources for the myeloma community in simple language (www.myelomacrowd.org). The Foundation is also raising funds via Myeloma Crowd Research Initiative (www.myelomacrowd.org/mcri) using a new crowd funding model to support promising clinical trials advancing new treatments and cures for such diseases.
About Jenny Ahlstrom
Jenny Ahlstrom is a wife and mom of six who was diagnosed at the age of 43 with multiple myeloma, a rare blood cancer. Currently in remission, she believes that patient involvement and novel approaches are needed to accelerate the pace of new, curative therapies, especially in rare cancers and other orphan diseases. She hosts the popular weekly radio program Myeloma Crowd Radio where she interviews top myeloma researchers from around the world. She is also founder of The Myeloma Crowd web site (www.myelomacrowd.org) and launched the Myeloma Crowd Research Initiative (www.myelomacrowd.org/mcri), which aims to find a cure by funding promising clinical trials. Jenny is one of the nation's most prominent myeloma advocates. She lives near Salt Lake City, Utah.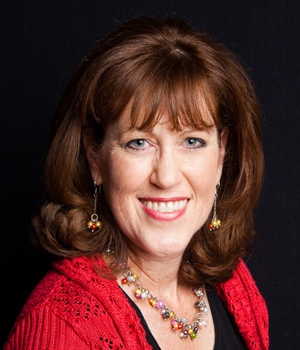 about the author
Jennifer Ahlstrom
Myeloma survivor, patient advocate, wife, mom of 6. Believer that patients can help accelerate a cure by weighing in and participating in clinical research. Founder of HealthTree Foundation (formerly Myeloma Crowd).
Thanks to our HealthTree Community for Multiple Myeloma Sponsors: