How to Determine Whether or Not a Stem Cell Transplant is Successful with Dr. Guido Tricot
Dr. Guido Tricot has spent over thirty years treating and researching multiple myeloma. Though now retired from seeing patients in a clinic setting, he remains dedicated to educating patients and researching a cure.
On March 3rd, Dr. Tricot joined the Myeloma Crowd Community Stem Cell Transplant Chapter to share his expert opinion on what constitutes a Stem Cell Transplant as successful or unsuccessful, and whether or not it has a place in modern myeloma treatment.
We invited Dr. Tricot to speak on this subject because some myeloma patients understandably experience intense frustration when their stem cell transplant does not put them into full remission, and others feel real disappointment when they don't achieve MRD negativity.
Other patients are on the fence about moving forward with the stem cell transplant because they aren't sure what the outcome will be. Is it worth the risk of having such an intense procedure not work, perchance?
Listen to Dr. Tricot's opinion below or read the summary to learn more about this subject:
SUMMARY
STANDARD-RISK VS HIGH-RISK MULTIPLE MYELOMA
In order to understand why a stem cell transplant might work better or results might be more durable in some patient populations than others, we have to first understand which patients groups are classified as standard-risk and which are classified as high-risk.
Multiple myeloma is not the same as other cancers (lung, prostate, breast, etc.) in which the ISS staging system is accurately correlated with the risk of disease.
For example, one lung cancer patient who is diagnosed with stage IV cancer would know that they need to act fast and receive appropriate treatments. Myeloma patients cannot base their outcome as accurately with the ISS staging available.
Myeloma is such an individual disease that you need to understand the genomic chaos of the disease in order to understand your risk.
This genomic chaos is found in cytogenetics or chromosomes of the individual's myeloma. The different chromosomes can experience tremendous amounts of genetic changes, which is what makes assessing myeloma more complicated than other tumor-based cancer diseases.
LOW RISK
Patients who have low stage ISS I (low tumor load) and normal FISH cytogenetics are classified as having low-risk myeloma.
Low/standard risk FISH cytogenetics include translocations 11;14, 6;14, and 12;14. Most myeloma patients are diagnosed with low to standard risk myeloma.
INTERMEDIATE RISK
Myeloma patients that are diagnosed with ISS III staging but who have normal FISH cytogenetics (listed above) are classified as intermediate risk.
Patients diagnosed with ISS I Staging who have high-risk FISH cytogenetics are classified as having intermediate-risk myeloma.
High-risk FISH cytogenetics include deletion 17p, deletion 13, translocations 4;14, 14;16, 14;20, and multiple copies of chrosome 1q.
HIGH RISK
Patients who are diagnosed with ISS III staging and have high-risk FISH cytogenetics (mentioned above) are classified as having high-risk multiple myeloma.
UNDERSTANDING THE HISTORY OF STEM CELL TRANSPLANTS
Dr. Tricot's treatment approach has always been to give all the potential effective treatments as upfront therapy to destroy all other myeloma cells.
In one clinical trial that Dr. Tricot mentioned that began in 2003 (Total Therapy Trial 2), patients received Velcade, Thalimodide, and Dexamethasone (V-DTPACE) as upfront therapy, followed by a stem cell transplant, consolidation therapy (V-DTPACE x2) and maintenance therapy (Year 1, monthly VDT, Years 2+3, Thal+Dex).
Sixty percent (60%) of the patients that participated in this trial had 10+ year overall survival and even 50% of them experienced a 10+ year progression-free survival.
Most of the patients with high-risk disease in this particular trial relapsed within three years. However, there was 20% of the high-risk population in this trial remained without progression for over a decade. Frustratingly, experts still struggle to determine which patients within the high-risk myeloma population will have better outcomes despite their poor prognosis.
ARE COMPLETE REMISSIONS NECESSARY?
While it's very important for those with high-risk myeloma to achieve complete responses and achieve MRD negativity, this isn't necessary for those with low/standard-risk disease. Only 13% of myeloma patients are classified as high risk. Eighty-seven percent (87%) have low or standard risk myeloma.
For the low-risk multiple myeloma population, achieving stringent complete response (sCR) is not statistically significant in indicating overall survival.
In fact, some myeloma patients with low-risk disease, especially those who have translocation 11;14, don't achieve MRD negativity easily and might not even ever achieve a complete response, but nevertheless do very well on treatment.
In 1989, in the Total Therapy 1 Trial, 13 patients who completed a stem cell transplant never achieved a complete response but were able to celebrate a high quality of life with stable disease for more than TWENTY years of progression-free survival.
WHO SHOULD GET A TANDEM TRANSPLANT?
In 2016, the Mayo Clinic published that those who have intermediate and high-risk disease should have tandem autologous transplants and should be maintained with a proteasome inhibitor and thalidomide.
In their opinion, those with standard-risk myeloma only need one transplant, but Dr. Tricot's opinion is that they too should have tandem transplants as this population (standard-risk myeloma patients) could do very well with intensive treatment and be cured of their disease.
DO MRD RESULTS MATTER?
In general, those who are MRD negative have longer progression-free survival than those who remain MRD positive. But there are clearly exceptions, and as stated before, in those with translocation 11;14, an MRD negative result is very hard to achieve but they still have excellent outcomes in overall survival and quality of life.
THE BEST RESULTS
In his thirty years of practice in myeloma, Dr. Tricot has seen the best results in those patients who have a successful induction therapy using the novel therapies being introduced into the myeloma field, elect to do tandem transplants, and continue on maintenance therapy.
This aggressive, yet successful combination allows for a significant reduction of tumor load and suppression of myeloma progression. Several patients that he has treated with this regimen have experienced more than twenty years of progression-free survival. Perhaps some of them have even experienced clonal extinction, otherwise known as a cure.
HOW FAR WE'VE COME
As part of his presentation, Dr. Tricot celebrated how far we have come in the myeloma field regarding successful treatment. At the beginning of his career, conventional chemotherapy was used and the median survival for a myeloma patient was around 2.5 years. Now, with the use of tandem transplants and newer novel therapy drugs being used as maintenance therapy, the median survival is 12.5 years. There is hope for those diagnosed with myeloma and we continue to get closer to a cure.
Don't forget to watch the video to watch the great Q&A session with the great Dr. Tricot! Thank you for helping us grow the Myeloma Crowd Community Program.
---
As always, thank you to our Community Event Sponsors without whom this would not be possible: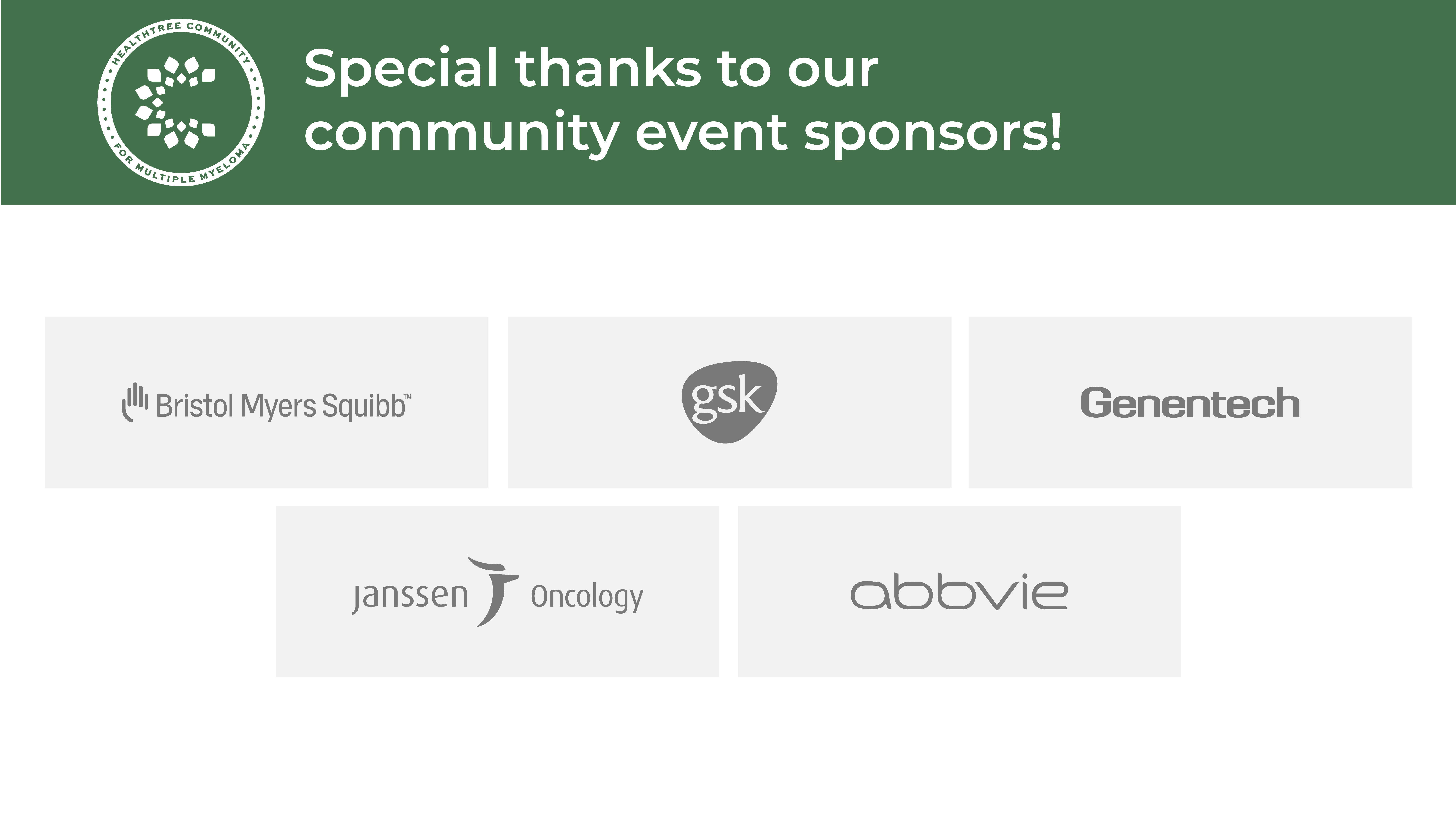 about the author
Audrey Burton-Bethke
Audrey is the Editor for the HealthTree Foundation for Multiple Myeloma. She originally joined the HealthTree Foundation in 2020 as the Myeloma Community Program Director. While not knowing much about myeloma initially, she worked hard to educate herself, empathize and learn from others' experiences. She loves this job. Audrey is passionate about serving others, loves learning, and enjoys iced chais from Dutch Bros. She also loves spending time with her supportive husband and energetic three-year-old.
Thanks to our HealthTree Community for Multiple Myeloma Sponsors: