Black Myeloma Health Awareness 5k/1M First Annual 5k/1 Mile
Our inaugural HealthTree Moves for Black Myeloma Health Awareness 5k/1M walk run was a success!! Across the country, we came together to spread awareness about African Americans and multiple myeloma. THANK YOU!
Think about how many individuals learned about this disease from our efforts. Think about how many lives could be impacted by our collective effort to spotlight myeloma in our communities. The outcome of our event only has upside - there is no downside. More people are now aware of a disease that disproportionately affects African Amercians. More people are now educated enough to know that such a disease exists and can push their doctors to order the necessary tests to help diagnose an unknown medical problem.
Our team here at HealthTree is especially proud of the fact that this was our first awareness campaign and our first 5k event. We are committed to making it bigger and better next year. We want this event to be the flagship event for our awareness campaign each year.
To put it in perspective:
102 participants signed up
156 people gave donations
$15,545 raised to support our Black Myeloma Health initiative
Our awareness reach was extended to 19 states
Taken together, we made others aware of this disease that affects African Americans two times as likely as other populations. Our hope is that they will share this information with their friends and family.
As we consider the benefits, in addition to spreading awareness, our event encouraged all to get moving! Because it was virtual, each participant was able to complete their 5k or 1 mile in any manner they wanted. This helped all to feel comfortable in participating in their own unique way and it was fun to watch how everyone made it their own. Additionally, we came together as a myeloma community at large. We had a focused project to work on, a common goal.
We appreciate each sponsor, without whom the support of this event would not have been possible.
We know that we are #StrongerTogether in our quest to raise awareness and education regarding African Americans and myeloma, all in an effort to address disparities and inequities for this disease and population.
The funds that were raised will enable us to continue to create programs and services that, in addition to awareness and education, will help our current patients stay informed about new therapies, helping them to receive the best medical care, in hopes of achieving the best possible outcomes.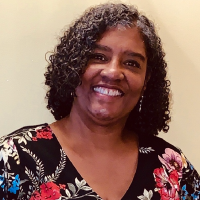 about the author
Marsha Calloway-Campbell
Marsha Calloway-Campbell - Marsha is a caregiver to her husband who has multiple myeloma. Although a lawyer and consultant, Marsha finds time to work with the myeloma community all while enjoying time with her husband, 3 adult daughters and young grandson. She's passionate about helping and empowering others.
Thanks to our HealthTree Community for Multiple Myeloma Sponsors: