Added Value of Real World Data: The Revolution Around the Corner
Real-world data is all the information gathered on patients not enrolled in clinical trials. That's a lot of people.
Moreover, that's a lot of data and experience not being gathered or used; data and experience that, if applied correctly, could significantly speed up the rate of discovery, approval, and use of new therapies. It could lead to faster cures.
It is longitudinal data. That's a statistician's way of saying, "looking at your data at any time during your treatment so that it can be compared to others in a comparatively similar time and place: What was your weight when? Was the timing of your allergies linked to your new treatment? When, during your long term use of a particular drug, did changes occur and what were they?"
Data from patients participating in clinical trials is not real world data. But consider the patients who have reasons—exclusions—for not being allowed to participate in a clinical trial. On one level, these patients might be considered to be average.
But in reality, as every myeloma specialist knows, the average patient does not exist. Especially in myeloma. Each myeloma is different and average is not always what we think it is.
For example, in the early 1950s, U.S. Air Force engineers tried to solve the problem of ill-fitting seats in fighter planes by conducting an extensive survey of pilots to determine ten average points that would be standardized in every seat. Those averages, they reasoned, would create a stat that would accommodate pilots.
There was one problem, however. It didn't fit anyone. "Out of 4,063 pilots, not a single airman fit within the average range on all 10 dimensions." To make a long story short, this gave birth to the adjustable seat. "Rather than fitting the individual to the system, the military began fitting the system to the individual."
In myeloma, one of the big goals of research is personalized medicine—an adjustable seat, so to speak, for your treatment. One that fits you perfectly. And although researchers can visualize such a future, it will take some doing to get there.
Until now and into the foreseeable future, that dream has rested on the success of a clinical trials system that was constructed years ago. It didn't foresee—or at least didn't plan for—long-term cancer survival rates and potential cures.
When time standards were set to determine a cancer medication's efficacy, there was little-or-no thought given to the possibility that patients would out live the median survival rates, which is the case today with many myeloma studies. That's the major reason many are hopeful that a minimal residual disease (MRD) status standard will replace current measures and spur earlier drug approvals.
If you think of the battlefield/triage model, the cancer clinical trials system was initially seen as something that came after patients were removed from the "combat zone." And although it has emerged from that mindset to become an integral part of many patients' treatment strategies, the process is still labor and time intensive, long, and expensive.
The problem of cost limits the number of research projects that can be funded. Quite simply, there are many good ideas that never get funding. Thankfully the largest source of research funding for myeloma research throughout the nation, the National Cancer Institute, is one of the few non-controversial issues in Washington with strong support in Congress and the Presidency. But it's still not enough.
Beyond that there are many questions clinical trials cannot answer. And that's why there's a great need first, to harness the promise of real-world data and then, eventually, merge it in logical, systematic ways with clinical trials data to answer more questions about research and treatment.
But what if researchers didn't have to raise up to millions of dollars to do important research? What if they didn't have to hire research assistants to recruit patients, collect data, and do so over years?
With potential HealthTree Cure Hub has, we might have some satifying answers to those questions sooner rather than later.
(Part 4 of 5)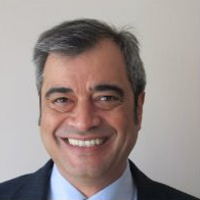 about the author
Greg Brozeit
Greg Brozeit has been with the HealthTree Foundation since 2015 when he began volunteering for the Myeloma Crowd. Prior to that he worked with Dr. Bart Barlogie and the International Myeloma Foundation, inaugurating many myeloma patient advocacy and education programs.
More on Life With Myeloma
Thanks to our HealthTree Community for Multiple Myeloma Sponsors: