Bob Regello has had multiple myeloma since 2007 and for the past 6 years has been a support group leader in Sacramento, California with his wife Jeanne. We had the pleasure of sharing HealthTree in their support group meeting last fall and enjoyed their positive, caring spirits and saw their deep impact as we talked with their well educated members. One of his most rewarding moments is when a caregiver called and said his wife had multiple myeloma and that she would die soon. Her sister had told her not to get treated. Bob emphatically stated that she should get treatment, which she did and has enjoyed her family, trips to Europe and a good quality of life over the last 4 years. It's clear that Bob is well loved by his fellow myeloma warriors.
Bob had received and relapsed through many of the myeloma drugs including Kyprolis, Darzalex, Revlimid and Velcade. His University of California at San Francisco doctor, Jeffrey Wolf, MD suggested they try to get him into a CAR T trial. Bob felt that it was his only realistic option. At the time there were three CAR T studies open at UCSF and one of them required high levels of BCMA, the other two did not. The one he chose was the Juno CAR T available by Celgene which did not require a specific level of BCMA.
Bob had received a bone marrow biopsy before he applied for the study, but had to do additional biopsies to qualify for the study and to test his response following the study. He's had five bone marrow biopsies since November.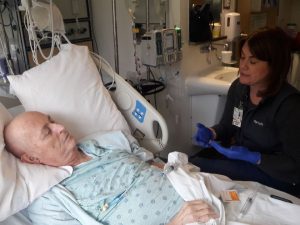 His T cells were collected on November 1, 2018. He hadn't been treated since July and he was getting weaker and more nervous. He received more chemo so he could receive the CAR T cells, but just a week before he was to go in and receive the engineered cells back, he developed pneumonia and ended up in the hospital for four days. Once he was through the pneumonia, he went back on December 27th and on the 28th, he started 3 days of lymphodepletion chemo before he could receive the infused cells.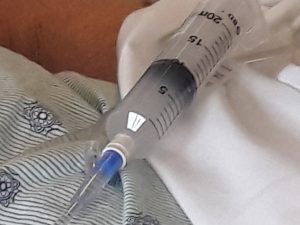 He got pneumonia again, which delayed his receipt of the CAR T treatment for several more days. On January 14th he received his engineered CAR T cells. The next morning he had a fever of 103 degrees and was immediately given toxilizumab, an immunosuppressant, which reduced his fever immediately. As part of the recovery process, the medical team asked him questions to assess his mental function and two days following the CAR T treatment, he was unable to answer a question correctly. The team started him on dexamethasone which helped. While he was at UCSF, he walked the halls as much as possible to stay fit and active.
With his illness plus the treatment, Bob was in the hospital for 37 days in total. He lives in Sacramento and because it is a 2 hour drive from UCSF, he had to stay close to the hospital for two weeks following the CAR T therapy. He and his wife rented a house provided by UCSF specifically for patients. He noticed being wobbly and unsteady for a couple of days after he left UCSF while at the house. After Bob went home to Sacramento, he went into his local hospital and received numerous transfusions of red blood cells, platelets and neupogen shots to bring his counts back up. He kept going in for infusions until early April. Recently, his white blood cell counts and his ANC numbers started to drop, so he is still getting neupogen and IVIG at his local facility. His light chain kappa is now at 1 and his lambda is immeasurable.
Bob's advice to others has served him well. Get a good doctor. Find a myeloma specialist and live as long as you possibly can, as well as you can with this disease. Thank you Bob, for your service to your fellow myeloma patients. We are cheering you on for long term remission with this new CAR T technology!