Every myeloma patient has immunoglobulin tests run to watch their kappa, lambda and kappa/lambda ratio numbers. It's one of the most important labs to watch if you are a myeloma patient.
Immunoglobulins are antibodies that fight infection. In myeloma, one of these antibodies grows out of control. The Y shaped antibodies have both a heavy chain (blue part) and a light chain (red part).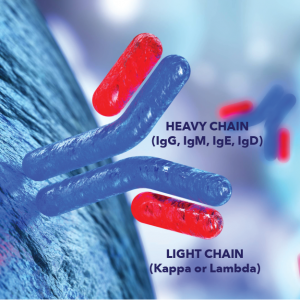 Researchers at the Medical College of Georgia at Augusta University identified that to more accurately diagnose and monitor myeloma, that the kappa and lambda numbers should be evaluated differently.
In a healthy individual, there are simply more kappa light chains than lambda - actually 4x more. So without weighting for this increase, lambda-associated myeloma can be missed. In a recent article in Science Daily, the investigators stated:
"You have to have specific criteria for each because they don't behave equally," says Dr. Gurmukh Singh, vice chair of clinical affairs for the Department of Pathology at the Medical College of Georgia at Augusta University. The Walter L. Shepheard Chair in Clinical Pathology at MCG is corresponding author of the study in the journal Laboratory Medicine.

"They both go up but kappa goes up a whole lot more," says Dr. Won Sok Lee, MCG pathology resident and the study's coauthor.
This means that a myeloma diagnosis can be missed in 30% of patients and another 36% of patients can have a false positive.
Doctors look at blood and urine for the light chains to watch for an increase in kappa or lambda and the ratio between the two. But when light chains go up for myeloma patients, they go further up for those with kappa-associated lesions. So the higher increase in kappa light chains may be throwing the ratio off.
For example, if a patient had lambda myeloma, the kappa light chain (even though it was the "uninvolved" light chain) was present at twice the concentration.
"What we are saying - and what our data shows - is this criterion is not uniformly applicable to people who have kappa or lambda lesions," Singh says. "We need to have different diagnostic criteria for kappa and lambda-associated disorders."
All these variabilities mean some patients, particularly those with the less common lambda chain-associated lesions, could go undiagnosed, Lee says.
The authors want the International Myeloma Working Group to create criteria that reflects the difference. Singh and Lee want doctors to examine both the urine and blood. Current testing favors the blood test which can miss lambda-related conditions.