A limited number of multiple myeloma patients have received CAR T therapy and we are learning more each day about the new treatment.
UCSF researchers performed an analysis of 55 myeloma patients who had received prior CAR T to identify infection risk after the treatment is given. When studying patients up to one year post CAR T therapy, they found that there were infections in 53% of patients but most infections (92%) were mild or moderate and were primarily based in the lower/upper respiratory tract system (68%).
Were the patients prone to develop infections because of their prior immune system status? The researchers learned that 35% of patients had severe hypogammaglobulinemia (problems with the immune system in making antibodies to fight infection the infections) even before they received the preparatory lymphodepleting chemotherapy for their CAR T infusion, and another 18% had severe lymphopenia (low counts of a type of white blood cells called lymphocytes).
Most of the patients had received protective antibacterial treatment after their CAR T infusion (for an average of 22.5 days), shingles prevention, antiviral medication (average of 182 days) and antifungal medication (16.5 days).
There were 58% of patients who had received at least one dose of IVIG within 12 months following CAR T therapy.
More severe neutropenia and lymphopenia was found in the first month post CAR T and improved over time.
With a median follow-up of 6 months, there were a total of 47 infection events in 29 of the patients (some patients had more than one infection). Of these infections, 40% were bacterial, 53% were viral and 6% were fungal infections.
Half of the infections (53%) occurred in the first 100 days post CAR T infusion.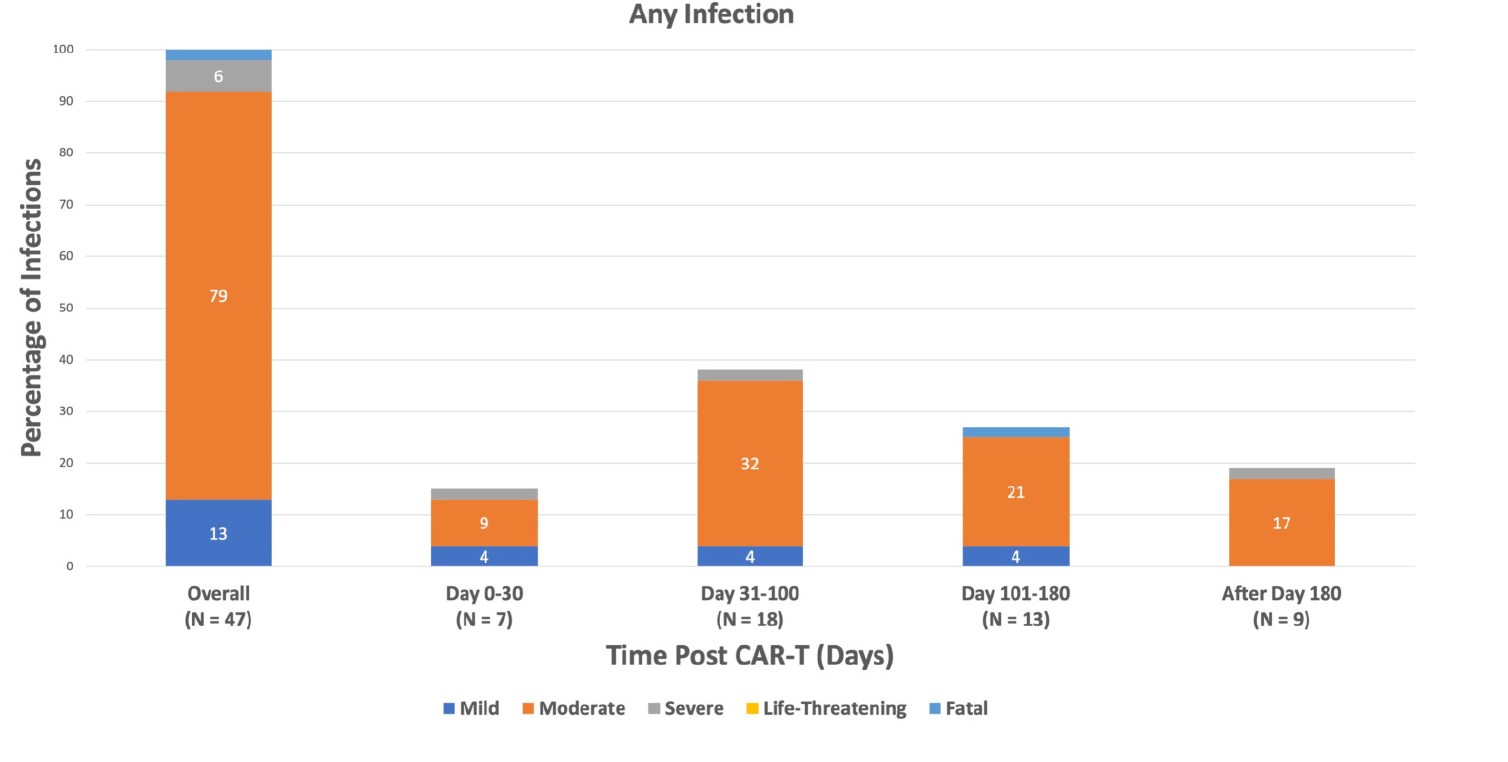 Although there were many risk factors for this group of heavily pre-treated patients, relatively few life-threatening or severe infections occurred. At one year after their CAR T infusion, 76% of patients had low immunoglobulins (infection fighting cells).
Expert Suggestions
Though the rates of severe infections were low, the UCSF research shows that infections can occur post CAR T therapy even when patients have been given preventive care. Based on these results, the study authors suggest the following:
Patients take antibacterial treatment for at least one month post CAR T
Patients have shingles (VZV) prophylaxis for 6 months
Patients have pneumonia prevention medication for 3 months
The anti-fungal fluconazole should be tailored to a patient's risk for prolonged neutropenia
G-CSF can be considered in the first 3 months following CAR T, but that could also increase Cytokine Release Syndrome (CRS), so the risks and benefits should be considered in the early period after CAR T cell infusion.
Early use of the bone marrow stimulant Nuelasta (pegfilgastrim) as a possibility
Consideration of mold prevention if they have recurrent neutropenia