IMW: Defining High Risk Multiple Myeloma Today and Into the Future
At the International Myeloma Workshop in Vienna, French researcher Herve Avet-Louiseu, MD, PhD shared a presentation about how he sees high risk myeloma today and into 2022. The changes represent an evolution in thinking based on greater experience and research.
Del(17p)
For the last 20 years, the deletion of 17p has been thought to be high risk. However, we know from the MMRF COMPASS study that patients who have only one 17 chromosome missing behave as standard risk patients while those missing both 17 chromosomes behave as high risk. The European group did research on more than 1,000 del(17p) patients and found that patients who have more than 55% of del(17p) in their plasma cells are high risk while those who have less than 55% of del(17p) are not high risk. Dr. Avet-Louiseau also reviewed if having only del(17p) was equally high risk to patients who also had the TP53 mutation in addition to the del(17p).
There was a significant difference. Patients who had the TP53 mutation in addition to del(17p) had worse outcomes with an average 36 month survival compared to those without the TP53 mutation with 52.8 month survival (see chart below).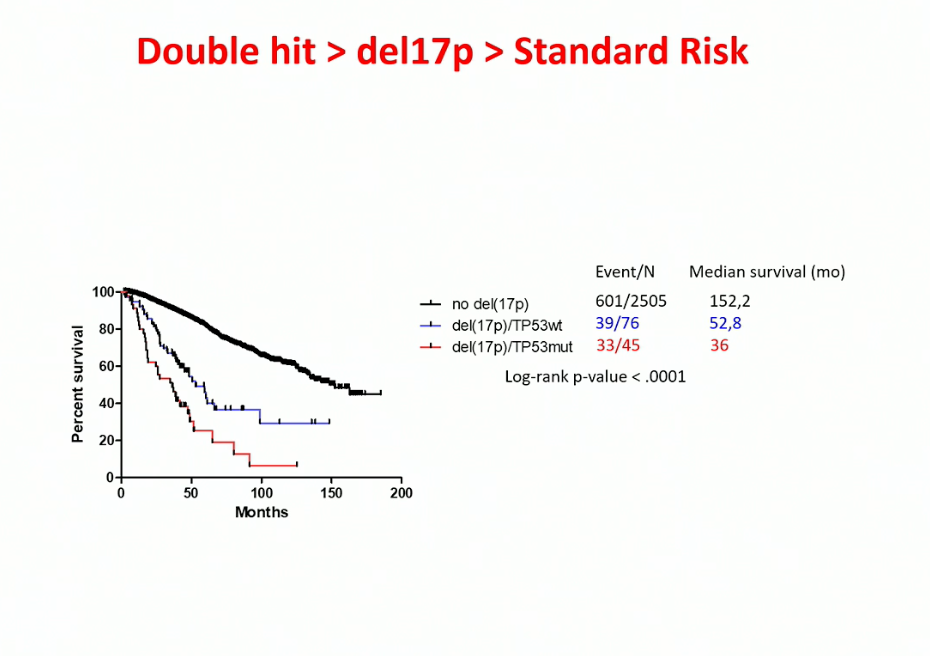 Should these mutations be identified and followed only at diagnosis? Dr. Avet-Loiseau suggested that genetic testing was needed both at diagnosis and at relapses. He showed a patient who started with the del(17p) mutation and then acquired the TP53 mutation at relapse. Additional time points are essential.
Translocation of 4;14
Dr. Avet-Loiseau then described the t(4;14) patients which encompass 11-15% of all myeloma. He noted that in the past, the median survival was 5 years, but he is seeing patients live longer. He noted that the t(4;14) was very heterogeneous, with patients having a variety of both good and poor outcomes. He asked then, how we should dissect high risk in the t(4;14) patients? He believes that alone, it is not necessarily a high risk feature.
He believes that alone, it is not a high risk feature. It is frequently associated with a del(17p), a del(1p32) or plasma cell leukemia. He said additional work was being done to see if there were related breakpoint locations at chromosome 4, but that work was early.
Translocation of 14;16
Dr. Aveg-Loiseau shared that t(14;16) was a translocation found early in a myeloma diagnosis, and it was only found in 3.5% of myeloma patients. He questioned whether it was an independent factor in prognosis. He noted that this was not the case in the IFM/DFCI 2009 study. In a 2018 study from ASH on 213 patients (the largest study to date), the median survival was 88 months (7.3 years). He doesn't believe t(14;16) should stay in the definition of high risk.
Deletion of 1p
The discussion on del(1p32) was short and he simply noted that 8-10% of patients have this mutations and it has a median survival of 2 years. There were no recent studies using new therapies for patients with this feature.
Gain of 1q
The 1q gain is found in 35% of myeloma patients, making it a more common feature. It can be a high risk feature and has a median survival of 5 years. It is frequently found with other myeloma genetic mutations such as t(4;14) and del(17p). He said that having any amount of 1q gain can be important. He showed a chart of a myeloma patient who had very little 1q gain (16%) at diagnosis. The patient was treated with Velcade/Revlimid/dex as induction therapy and another genetic test was performed showing the 1q gain at 70% of cells. The patient relapsed within 18 months and had 100% of cells with the 1q gain, suggesting that testing for genetic features at diagnosis and again at relapse was important.
Ranking the High Risk Features
He then presented a model to rank the risk of these features. As you can see in the chart, having a trisomy of 5 was beneficial. He then ranked the value, showing the del(17p) mutation was the most high risk feature.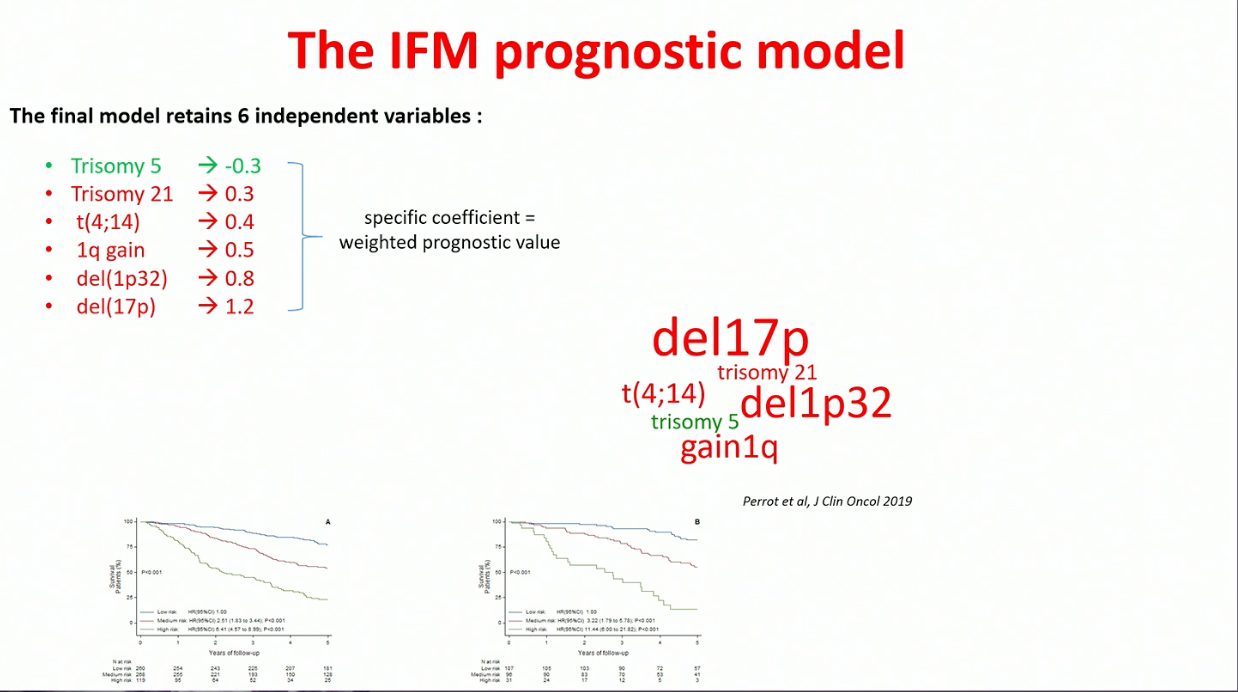 In summary, he noted that the following was considered high risk myeloma:
Del(17p) over 55%
Some but not all patients with t(4;14)
Del(1p32) is high risk
Having a combination intermediate risk abnormalities
Poor responders to treatment are considered high risk
Patients who relapse early could be considered high risk
There is clearly more work to be done in high risk disease, but separating out who is and is not high risk is extremely helpful.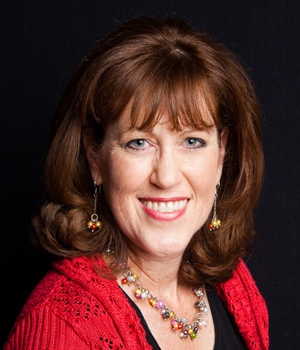 about the author
Jennifer Ahlstrom
Myeloma survivor, patient advocate, wife, mom of 6. Believer that patients can help accelerate a cure by weighing in and participating in clinical research. Founder of HealthTree Foundation (formerly Myeloma Crowd).
Thanks to our HealthTree Community for Multiple Myeloma Sponsors: