Myeloma Therapies: CAR-Ts, Bispecific Antibodies and Antibody Drug Conjugates - How do you Choose? 
I grew up in the age of "Doctor Knows Best." It wasn't until my myeloma diagnosis that I began to realize how important it is to be an active participant on your healthcare team. Prior to my myeloma diagnosis discussions with my doctors revolved around niceties - weekend plans and my family.
Now my discussions revolve around treatment options, side effect management, preventative medicine and interesting myeloma research. A recurrent theme during the European Hematology Association (EHA) meeting was the importance of patient preference in the shared decision making process.
Back in 2008 when I was diagnosed with myeloma there were not many treatment options therefore not many choices to make. Thankfully times have changed, but with so many choices how can an optimal treatment decision be made?
BCMA (B-cell maturation antigen) directed therapy has exploded in the last few years. Approved BCMA-directed therapies include the antibody drug conjugate (ADCs) BLENREP and two CAR T cell products Abecma and CARVYKTI.
In clinical trials there are other CAR T cell products being explored. Some of these CAR T products are targeting new antigens and some are using dual targets.
Additionally, bispecific antibodies, AKA "bispecific t-cell engagers," "BiTEs," or "DuoBodies," have come to the forefront. Some bispecific antibodies targeting BCMA that are further along in clinical development include Teclistamab, Elranatamab and TNB38B.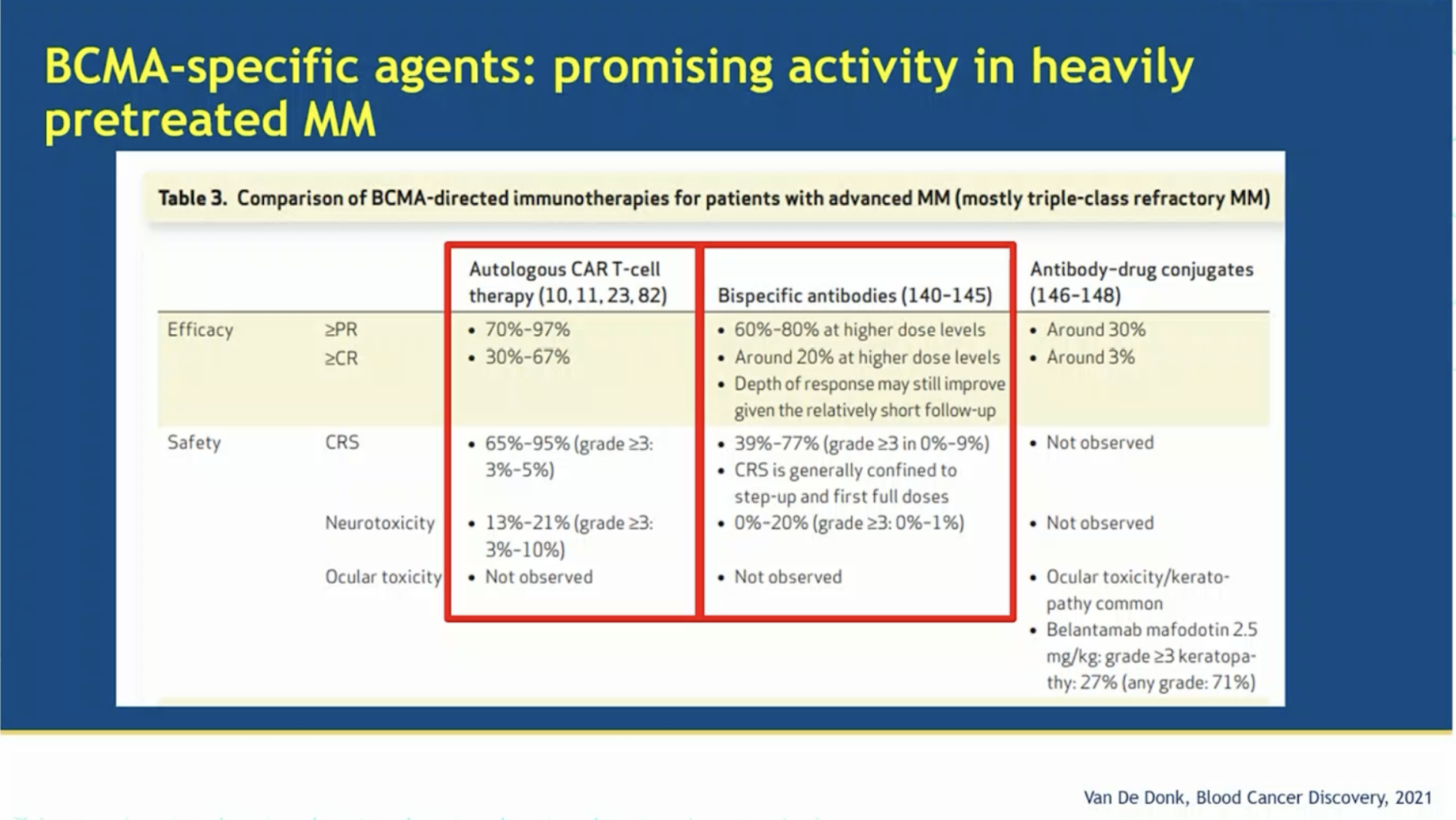 Some of the bispecific antibodies are now targeting new antigens on the myeloma cell. Talquetamab and RG6234 for example, use GPCR5D as their target. Cevostamab is targeting FcRH5.
The data presented at this meeting shows that all the above mentioned agents are both safe and effective.
The big question is how do you choose among "all the chocolates" in the box as Dr. Jagannath would put it? Dr. Van de Donk gave the audience some good advice today and I would like to share his words of wisdom with you.
First examine each potential treatment's characteristics. Is the treatment effective? What are the potential side effects of the treatment? Can the side effects be managed? How is the treatment administered?
Next, consider factors around availability and logistics. How easy will it be to access the treatment? Do you meet the eligibility criteria if the treatment is part of a trial? Will the treatment be covered by your insurance? Will you need to travel to a distant location? How many trial spots are open?
Then patient-related factors need to come into consideration. What is your fitness status? Do you have any comorbidities that may make the treatment too harsh for you? Have you had any other BCMA-directed therapies? What is your preference? Do you have a caregiver? How old are you?
Finally, you need to consider disease related features. How rapidly is you myeloma relapsing? Can you wait to get a spot on a trial? Can you wait to have cells manufactured? Will you need an "off the shelf" product? Do you need a product that is already approved with minimal wait time?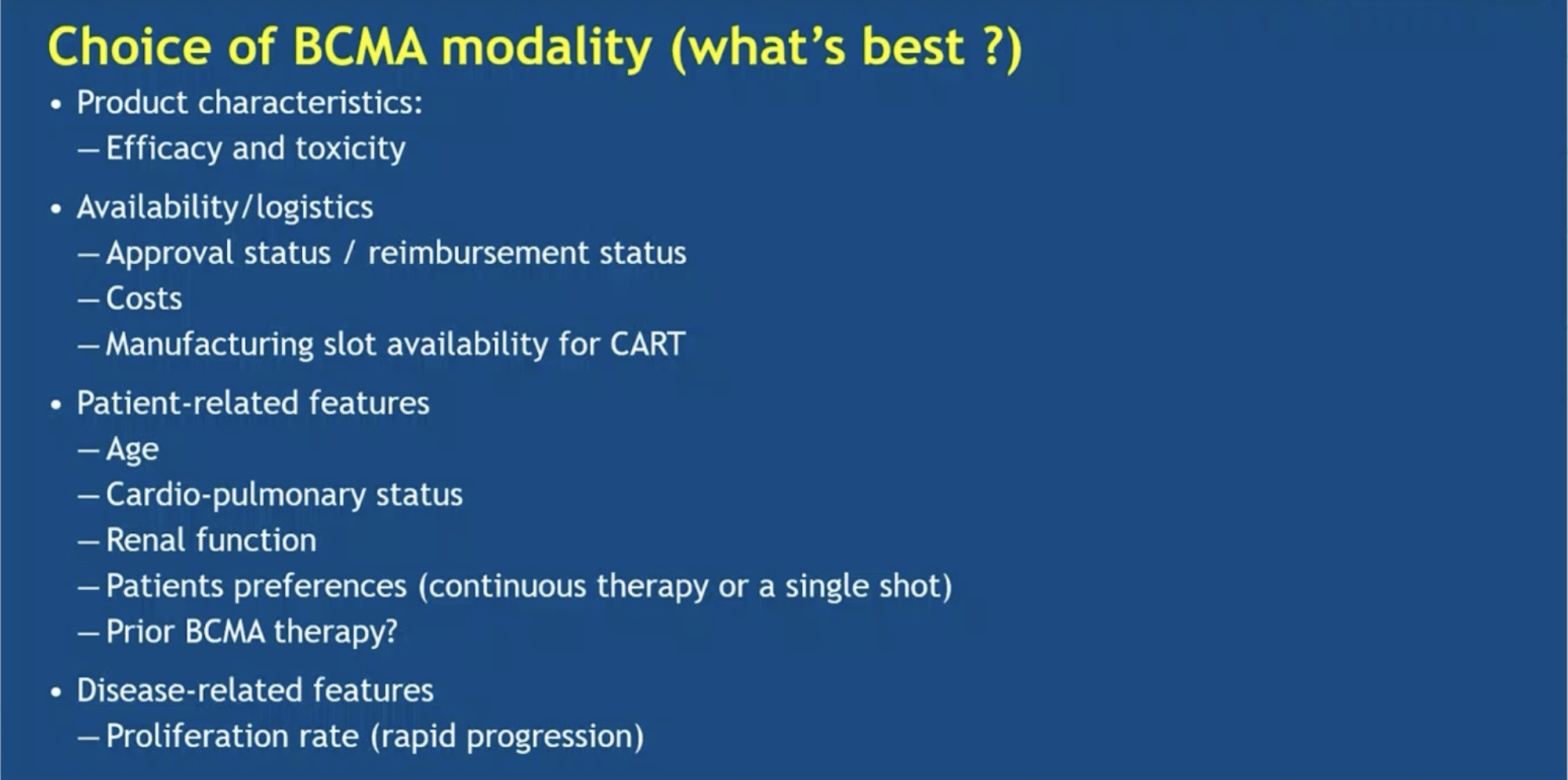 Although choosing the right treatment for you may not be easy, I am very thankful that I have so many choices. It is important to educate yourself so you can be part of that shared decision making process.
According to the National Health Service (NHS) in England, patients who are empowered to make decisions about their health that better reflect their personal preferences often experience more favorable health outcomes.
about the author
Cynthia Chmielewski
Cynthia (Cindy) Chmielewski is a professional educator and myeloma advocate. As a former teacher, she now teaches myeloma patients how to advocate for themselves as the Director of HealthTree University. You can follow her on Twitter @myelomateacher
Thanks to our HealthTree Community for Multiple Myeloma Sponsors: