Marianne was eight weeks out from her stem cell transplant when she read about the Myeloma Crowd Movespring challenge.
"At the time," she says, "I was lucky to get 10 minutes of movement in. When I read about a movement and fitness challenge for myeloma patients, I knew this was the push that I needed to get going."
Marianne had been quite active before her diagnosis. She frequently climbed several flights of stairs (think up to 75 flights a day!), walked, and lived an active lifestyle.
As symptoms of her undiagnosed myeloma started to sink in, she believed she would live with bone and back pain for the rest of her life, and thus be permanently kept from living her active lifestyle.
The spark of hope to return to normal life was given to her by her specialist as she was diagnosed with myeloma, consulted about different treatments and procedures, and she realized recovery was possible.
After completing a stem cell transplant alone in the thick of COVID, with only a plaster mold of her husband's hand to hold, Marianne came out of the procedure in full remission and has remained in full remission to this day.
However, knowing that a healthy body will continue to help her stay myeloma, Marianne immediately jumped at the chance of getting back into shape through the Movespring challenge.
"I was using a stool in the shower, and needed a nap after the shower was done because I was so exhausted," she remembers, "but I knew I wanted to try for that 20 minutes of movement, no matter how hard of a challenge it seemed to be."
Achieving her first 20 minute day of movement was exhilarating.
"I was so proud of myself," Marianne said, "It helped me remember that I can do hard things."
As the weeks continued, Marianne used the app to connect with other people in her area and chat with those who were at her same fitness level- a nice feature of the Movespring app and addition to the challenge. She found community- and a healthy sense of competition- as she read about other's experiences.
When Marianne realized others were moving more than 20 minutes a day, she decided to compete against herself to see how long she could exercise daily. Her competitive soul led her to move for more than 60 minutes each day by the end of the month.
She would check the app daily to see people's progress, as well as the progress of the team to reach their goal.
"I was able to ask stupid questions in the chat," she laughed, "such as 'did anyone else lose height, or is it just me?' Well, that definitely sparked a conversation worth remembering."
The sense of community was also added to when she received her t-shirt.
"Knowing that others across the globe wear this same shirt, and have been through a similar experience than me, is so motivating and heartwarming. You truly feel less alone. We are in this together."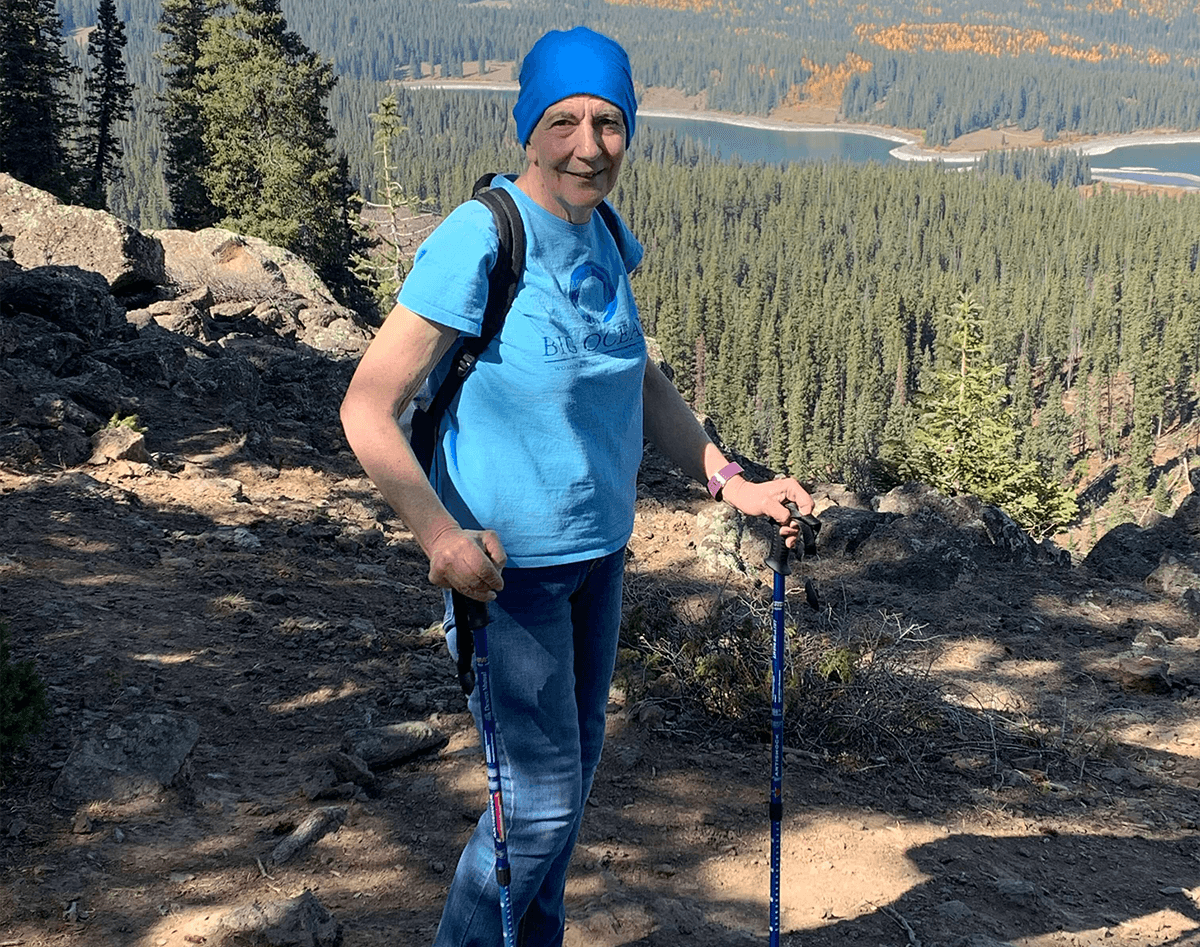 At the end of the month, Marianne's increased activity level inspired her and her husband to drive to Colorado and hike Grand Mesa.
"Knowing I had come so far in just one month, from barely even being able to shower myself to climbing a mountain, made me so excited!" she recalls.
Six months later, she participated in the next Movespring challenge, this time adding new activities such as stair climbing, and setting a higher goal for her step count. She is looking forward to the current challenge as a way to stay motivated.
"Exercise is a major component of a positive attitude. It helps me feel normal, alive, giving my body the message, hey, you got this."
Marianne ended our conversation with this advice,

"There is so much hope. We need to focus on that hope. We need to be doing what we can as patients to make sure the treatment is as effective as possible and the decisions that we make with the doctor have the best chance of working. And I achieve this through exercise. I once heard from a patient who had been living with myeloma for 26 years, 'When I decided that I wanted to survive, I began to walk.' Now, that's what I do too. And it's made all the difference."
You too can join the Myeloma Movespring Challenge by clicking the button below and entering the word "muscles". You can also download the MoveSpring app on your phone to sync activity.
Sign up for the Muscles for Myeloma Movespring Challenge Here!

Thank you to our Muscles for Myeloma Sponsors: