Find Meaning in Life with Myeloma
When Coach Vicki Jones was diagnosed with myeloma 18 years ago the treatment landscape was vastly different. There were very few options available. This didn't discourage Vicki, one of the most positive people you will ever meet. She has faced myeloma with courage, grit and resolve.
Vicki is now able to have all of her myeloma records and labs in one place, using HealthTree Cure Hub. She's willing to help others use it too. She recognizes the value contributing to research in Cure Hub will have on her and the entire myeloma community. Vicki generously volunteers her time to share her deep experience with myeloma treatments and resources with others as a HealthTree Coach.
Watch this short video to learn how Vicki has dealt with myeloma, the unwanted guest in her life and found meaning in her work as a HealthTree Coach.
If you have life experience with myeloma you are willing to share, consider becomeing a HealthTree Coach. If you would like personalized support to manage life with myeloma, consider connecting with a HealthTree Coach. No one should have to face myeloma alone, find a Coach today.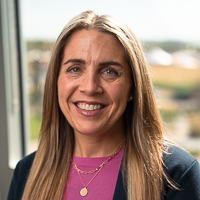 about the author
Rozalynn Hite
Rozalynn Hite is the HealthTree Coach Director and wife of myeloma patient Richard Hite. Rozalynn is an occupational therapist and mother of three beautiful children. She is passionate about providing support, education, and resources to help others live full and active lives.
More on Life With Myeloma
Thanks to our HealthTree Community for Multiple Myeloma Sponsors: