With Halloween just a day away, we thought we'd share a delish pumpkin dish that is perfect for you to make this halloween. Classic Alfredo sauce calls for 2 cups of cream and a whole stick of butter which makes it very fattening and an indulgence. This Pumpkin Alfredo is creamy, rich and delicious, and without all the calories and fat of a regular Alfredo sauce. It's an easy weeknight dish that just screams fall – pumpkin recipes for the win!
If you're a fan of savory pumpkin recipes, you are going to LOVE this Pumpkin Alfredo!
Pumpkin Fettuccine Alfredo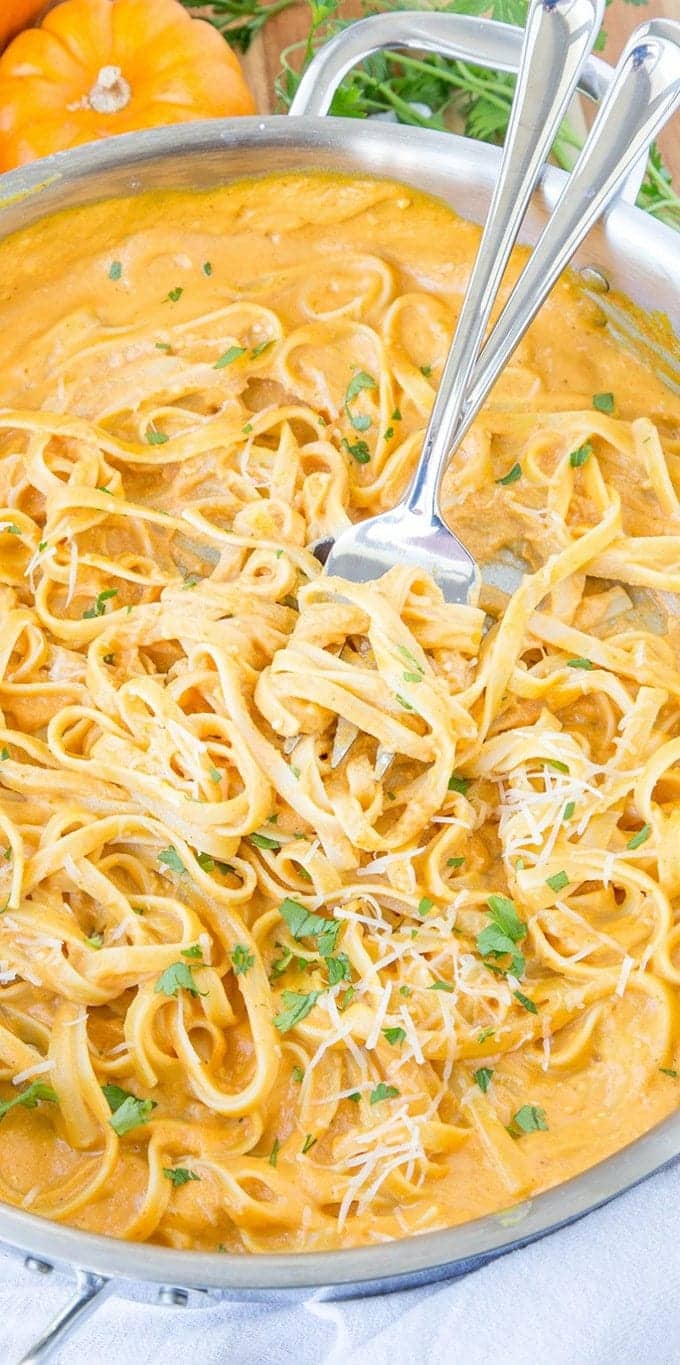 Ingredients
1 pound fettuccine cooked to al dente, reserve 1 cup of pasta water
6 tablespoons butter
2 garlic cloves minced
1 cup pumpkin puree not pie filling
1/8 teaspoon nutmeg
2/3 cup half & half
1/2 cup freshly grated Parmesan cheese off the block
1 tablespoon fresh chopped parsley
Instructions
Bring a stockpot of water to a boil over high heat. Add a teaspoon of salt to the boiling water, then add fettuccine. Cook until al dente (check package instructions). Reserve about 1 cup of the pasta water.

Meanwhile, melt butter over medium-low heat. Stir in garlic and cook for about a minute, careful not to burn. Stir in half & half, Parmesan, pumpkin and nutmeg. Stir until sauce is heated through and cheese is melted. Stir in pasta water, about 1/4 cup at a time, until sauce is desired consistency (I used about 1/2 a cup, and it was thick and creamy. For a thinner sauce, use more pasta water).

Add pasta and cook over medium-high heat until sauce is smooth and pasta is well coated; about 1-2 minutes.

Divide into bowls and garnish with fresh chopped parsley and fresh grated Parmesan, if desired.
Thanks Yellow Bliss Road for sharing the recipe.