September is Blood Cancer Awareness Month. To celebrate the Month, the Myeloma Crowd is running a

30 day Muscles4Myeloma Fitness Challenge.

Get moving, track your minutes and win prizes!
Exercise is not just about vanity muscles and just focusing on how you look, it's about how you feel, improving your health inside. Exercise can be a way to lose weight and trim down, but it also can add years to your quality of life and improve your mental health. Most often people comment about sticking to a health routine because of how it helps them feel. When you don't get satisfaction in how you feel, you won't stick to it.
Exercise benefits include:
Improving sleep
Sharpen memory, can improve effects of chemo-brain
Improve energy throughout the day
Improve depression and anxiety and relieve stress
Improves overall mood
Research has shown that you don't need extreme amounts of exercise to enjoy these benefits, even a modest amount of regular exercise can make a difference. No matter your age or fitness level, you can learn to find activities that you enjoy and help general well being.
It's important to keep in mind when adding exercise to your routine to take some precautions to avoid injury, especially if experiencing side effects of treatments. Simple modifications while building up strength are necessary and highly recommended. If using weights, use very light dumbbells or try stationary machines to keep your form. Swimming reduces stress on joints and back. Water aerobics classes are a great way to stay active and get some resistance training. Yoga helps with strength training, maintaining range of motion and is low impact.
Tips to make sure you get the most out of your exercise routine in a safe way
Progress slowly. Even if you were physically active before your treatment, build up your level of activity slowly. This can help you avoid injury and keep you from getting discouraged.
Exercise in a safe environment. If treatment has weakened your immune system, avoid large gyms where germs spread easily. Opting for home workouts is an easy way to control your environment and allows you to get creative with routines.
Listen to your body. If your energy level is low, adjust how long or how hard you exercise until you feel better, or take a rest day. Allow your body to be your guide.
Stay hydrated. Drink plenty of water during your workouts to avoid dehydration.
Eat a nutritious diet. The right foods, especially those high in protein, help your body recover after exercise. Choose colorful foods, eat regularly and enjoy the occasional treat.
See your doctor regularly. Your health can change throughout treatment. Make sure your doctor checks for important health indicators, such as your blood count, so you know if it is safe to exercise.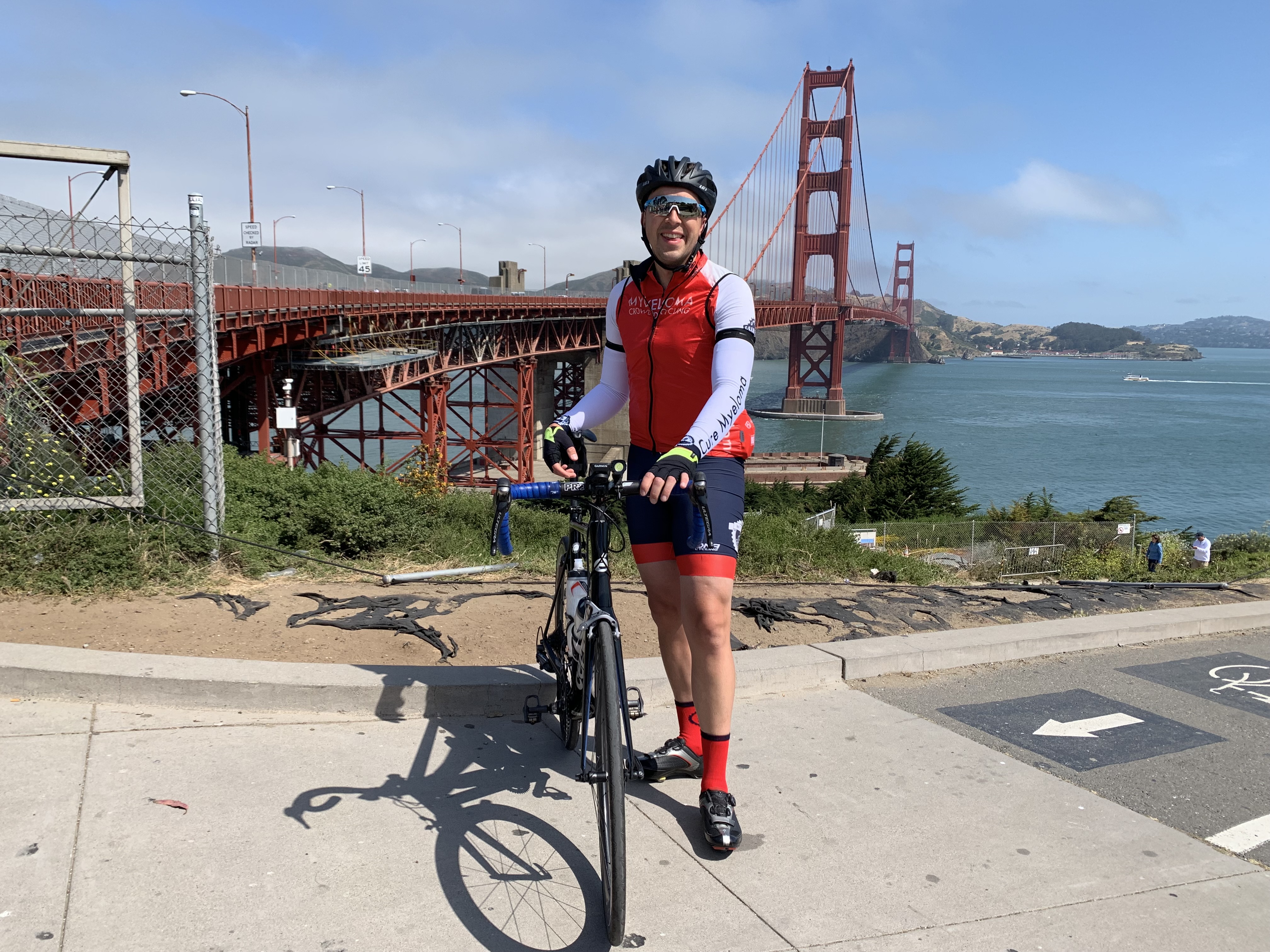 "Exercise was one of the few things that helped me through my treatment. The side effects of chemo were difficult at times. Exercise allowed me to have more energy. It helped me overcome discouragement and anxiety along with the other mental challenges of chemotherapy. It allowed me to feel like I had control of something in my life. My sleep improved along with my relationships with family and friends."-Richard Hite
Richard Hite is a myeloma patient diagnosed at age 39 and avid cyclist.
Thanks to our Muscles for Myeloma sponsors:


.