Black Patient Spotlight: Ida Carpenter
Join us and celebrate Black History Month with a patient spotlight series! Tune in each week and get to know patients from our myeloma community as they share their stories with us.
This week meet Ida Carpenter. Ida was diagnosed with multiple myeloma in January 2020. She shares with us what it was like to go through a bone marrow transplant during a pandemic and having siblings with myeloma. Click the video below and listen to her story.
Ida was first diagnosed in 2020. In November 2019, she went to have her medical wellness checkup, and her doctor saw that the blood test did not come back the way it should have: there was a high protein. Her doctor sent her to a hematologist/oncologist, and in January 2020, she was officially diagnosed with multiple myeloma.
Her doctor wanted to treat the myeloma aggressively, so Ida started treatment in the second week of January 2020. When she finished her treatments in May 2020, she applied to get a bone marrow transplant and she qualified. She had her bone marrow transplant in July 2020.
She did have diarrhea, fatigue, vomiting, and other side effects. After that, things have been wonderful for Ida. In July 2022, it was two years of her re-birthday.
What was it like having a bone marrow transplant during the pandemic?
Even when she went to see if she qualified for the transplant, her family wasn't able to go in with her. They would wait for her in the parking lot. The good thing about it was that they could talk to the doctors over the telephone. The doctors were very accommodating.
When she had her transplant, nurses and doctors would call her family sometimes and let them know she was doing okay. Ida and her family looked into things they could to keep communicating. They had house parties, played games, talked, and kept in contact with each other through the telephone. Ida is also grateful she had the chaplain come by and talk and pray with her.
Having the transplant during the pandemic wasn't as bad as she thought it would be.
Two siblings with multiple myeloma
She found out two of her siblings had multiple myeloma. One of them had smoldering myeloma. He had it for about ten years, but it went no further. Her oldest brother also had multiple myeloma. It started as plasmacytoma and turned into multiple myeloma. They had to give him chemo since he also had another cancer. Ida is confident that sharing with your family what is going on through your myeloma journey is important.
She is grateful for the available resources HealthTree has to offer, the myeloma community, and her family, who have supported her throughout this time. She knows she will live a pretty good life moving forward.
If you would like to share your story like Ida, please send an email to myeloma@healthtree.org.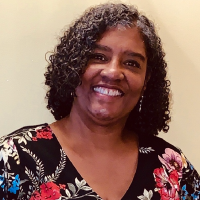 about the author
Marsha Calloway-Campbell
Marsha Calloway-Campbell - Marsha is a caregiver to her husband who has multiple myeloma. Although a lawyer and consultant, Marsha finds time to work with the myeloma community all while enjoying time with her husband, 3 adult daughters and young grandson. She's passionate about helping and empowering others.
Thanks to our HealthTree Community for Multiple Myeloma Sponsors: