ASH 2021: Myeloma Antibody Symposium Kicks Off ASH for HealthTree Foundation
Antibody-based cancer treatment updates will be among the stars of the show for myeloma physicians and researchers attending the American Society of Hematology (ASH) annual meeting in Atlanta, GA from December 11-14, 2021. In response to the unique conditions posed by the pandemic, this will be the first time one of these programs will be available to patients around the world. The free virtual program does not require registration for the ASH meeting.
A Is for Antibodies in Myeloma: Insights and Patient Voices Along the Therapeutic Journey
The symposium will feature three leading myeloma experts who will be among many professional presentations held the day before the official ASH opening that has become known as "Super Friday." Scheduled for Friday, December 10 from 7:00-9:00 am Eastern Standard Time, the program will feature:
Suzanne Lentzsch, MD, PhD, (chair), Professor of Clinical Medicine and Director of the Multiple Myeloma and Amyloidosis Program at the Columbia University Herbert Irving Comprehensive Cancer Center
Noa Biran, MD, Assistant Professor, Hackensack University Medical Center, John Theurer Cancer Center
Ajay Nooka, MD, MPH, FACP, Associate Professor, Emory University, Winship Cancer Institute
Recent and expected FDA drug approvals of antibody-based approaches have been shown to provide durable efficacy in many different clinical settings. As the therapeutic benefits of specific targets are better understood, the time for combining them for greater efficacy is fast approaching.
Any patient can register for free to view the online webcast.
This event will help viewers to better understand the alphabet soup of targets—BCMA, CD38, SLAMF7, GPRC5D, FCRH5—that are key to their treatment today and even more important in the future.
The HealthTree Foundation is partnering with PeerView, a company specializing in professional continuing medical education programs for a variety of cancers, and Medical Learning, Inc. to host the symposium.
Myeloma Coaches will be featured in brief videos following each speaker's presentation to provide their perspectives on how treatment with novel antibodies impacted their lives.
Join us live on Friday, December 10 if you can. Registration is open!
A recording of the event will be made available in early 2022.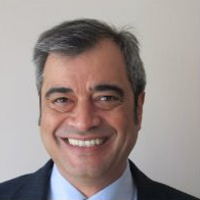 about the author
Greg Brozeit
Greg Brozeit has been with the HealthTree Foundation since 2015 when he began volunteering for the Myeloma Crowd. Prior to that he worked with Dr. Bart Barlogie and the International Myeloma Foundation, inaugurating many myeloma patient advocacy and education programs.
Thanks to our HealthTree Community for Multiple Myeloma Sponsors: