ASH 2016: What's New In The Multiple Myeloma Drug Pipeline?
BY GARY PETERSEN To say 2015 was a good year for new myeloma drug development would be an understatement. Ninlaro, daratumumab, elotuzumab and Panobinostat used in combination for newly diagnosed and relapsed refractory myeloma are potential game changers for the care and treatment of myeloma patients. In yesterday and today's ASH 2016 Myeloma Education session, one slide (photo credit to Dr. Mike Thompson) shows how full the pipeline is for future drug approvals (see above). On this slide entitled "What is new in MM", they list a total of 21 drugs. If we subtract the 4 approved in 2015, we have 17 new drugs in the clinical trial testing stage of development. This is awesome, and few malignancies have anything close to this exceptional level of new drug development. Last year it was the monoclonal antibodies which took center stage. It seems that no matter what you combine Darzalex (daratumumab) with, this combo crushes the standard of care which it is compared to. In addition, in a trial as a single agent it showed an overall response rate of 30% in a heavily pretreated population. Myeloma specialists were over the moon with excitement. Few single agents have ever been this effective in this heavily pretreated population. Which brings me to two new agents that have generated a lot of interest at ASH16 and work in new ways. Dr. Shaji Kumar of the Mayo Clinic reviewed AbbVie's Venetoclax (ABT-199), a specific inhibitor of the anti-apoptotic protein Bcl-2 (prevents cell death), is currently in clinical trials for multiple myeloma. It previously had been approved for the treatment of CLL (chronic lymphocytic lymphoma) patients whose tumor cells are missing a portion of chromosome 17, commonly referred to a 17P deletion.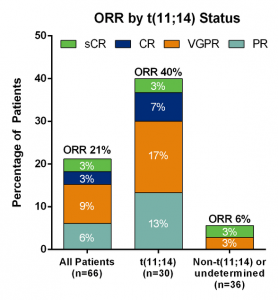 Venetoclax has been tested as a single agent in heavily pretreated patients, and has had an ORR (overall response rate) of 21%. Surprisingly, the benefit didn't translate over to myeloma del17 patients. The great benefit was for patients with the standard risk feature of t(11;14) who had an overall response rate of 40%. Or better than the Darzalex rate of 30% as a single agent. So are we getting closer to individualized targeted therapy? An additional clinical trial included Venetoclax with Velcade and dexamethasone in a heavily pretreated population is underway because as Dr. Kumar mentioned, adding Velcade to Venetoclax may be beneficial. Another new drug, Selinexor, was described by Dr. Dan Vogl of UPENN. Selinexor is an oral small-molecule inhibitor of the nuclear export protein XPO1 that leads to the accumulation of tumor suppressor proteins (proteins that protect the cells from becoming cancer cells) in the nucleus, inducing killing of the cancer cells, while sparing healthy cells. Progress in the use of Selinexor in solid tumors has resulted in the use of this drug in a myeloma clinical trial. A clinical trial was initiated using Selinexor, low dose dexamethasone in Patients with Lenalidomide, Pomalidomide, Bortezomib, Carfilzomib and Anti-CD38 Ab Refractory Multiple Myeloma (MM). This is called the STORM clinical trial. This trial consists of the most heavily pretreated populations of any clinical trial I have ever evaluated. Patients are refractory to 4 and 5 lines of treatment. Basically, they are at the end of their available options. But the results of the trial appear below:

Much like the AbbVie trial the real benefit comes to those in the high risk population. A full 33% overall response rate for this HEAVILY pretreated population. So in these single and near-single therapy clinical trials, the success rate for high risk patients is nearly as great as that seen with Darzelex. Those patients with high risk features now have drugs which have overcome the treatment resistant characteristics from many high risk features. These new targeted therapies may just be the missing link to improved survival rates for high risk multiple myeloma. Time will tell, but it sure has gotten a lot of myeloma specialists excited about the potential improvement for high risk myeloma survival.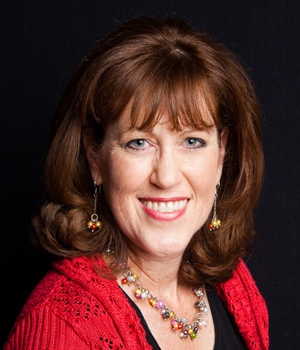 about the author
Jennifer Ahlstrom
Myeloma survivor, patient advocate, wife, mom of 6. Believer that patients can help accelerate a cure by weighing in and participating in clinical research. Founder of HealthTree Foundation (formerly Myeloma Crowd).
Thanks to our HealthTree Community for Multiple Myeloma Sponsors: