ASH 2022: What's New in MRD Testing in Multiple Myeloma?
MRD testing may help change clinical practice, according to Ola Landgren, MD, PhD of the University of Miami when he presented at the 64th Annual Meeting of the American Society of Hematology meeting (ASH 2022).
Early multiple myeloma treatments were less effective, and patients' lives were short. But thanks to technological advances in recent decades, we now have a much better understanding of multiple myeloma, allowing us to make new drugs that work better and have more profound responses. Thus, when the disease response is smaller than what can be seen with the standard techniques, new methods are needed to monitor it.
Nowadays, minimal residual disease (MRD) assessment is becoming more popular as a way to predict the outcome of certain blood cancers like multiple myeloma because of its high detection capacity. And as of now, achieving an MRD-negative result is the best response a patient with myeloma can have.
During the conference, Dr. Ola Landgren was very optimistic about the latest MRD test data in multiple myeloma:
"I'd like to start saying that in myeloma, there is striking evidence that MRD is really driving clinical outcomes."
What Is Minimal Residual Disease (MRD) Testing?
Dr. Landgren mentioned that in multiple myeloma, according to the NCCN guidelines (version 2.2023), there are two main ways to find out if minimal residual disease (MRD) is present.
Next-Generation Flow cytometry (NGF), which has a minimum sensitivity of 1 in 105 nucleated cells, meaning that it can find 1 cancerous cell in 100,000 cells
Next-Generation Sequencing (NGS), with a sensitivity of at least 1 in 106 nucleated cells, meaning that it can find one cancerous cell in every 1 million cells
The absence of clonal plasma cells detected by either next-generation flow cytometry or sequencing tests indicates MRD negativity. And when MRD negativity is maintained for a minimum of 1 year, it is called sustained MRD-negativity.
According to the NCCN guidelines, another way to figure out if a patient has MRD negativity, the doctor can look at both the MRD status and a negative result from a PET/CT scan. Dr. Ola Landgren has said that this part is controversial because there are many false negative results:
"I think there are a lot of caveats here, and I mentioned that in the introduction, that we know that 30% of patients with myeloma will be negative by PET, just to begin with because the cells don't overconsume glucose, so there is a lot of false negativity for sure. And then we have the usual false positivity also."
Relapse After Being MRD Negative
The MRD-negative status can be maintained for a long time. Still, as we know, even if the MRD test shows that the disease is gone, because of the detection limit of the test, we can't be 100% sure. So, we must be ready for a relapse, which happens when any of the following occurs:
Clonal plasma cells are found in next-generation flow cytometry/sequencing
There is a positive imaging study for myeloma recurrence
If the M-protein comes back on an immunofixation or electrophoresis
If there are more than 5% plasma cells in the bone marrow, or
There are signs of myeloma, such as high calcium levels or kidney damage
MRD Testing Use for Prognosis
Dr. Landgren shared a large meta-analysis that found that patients who are eligible for transplants and have negative MRD results have a significantly improved progression-free survival (PFS) over those who are MRD-positive. He also said that MRD negativity is a strong indicator of a patient's prognosis in patients who are not candidates for a transplant and those who have relapsed or are resistant to treatments.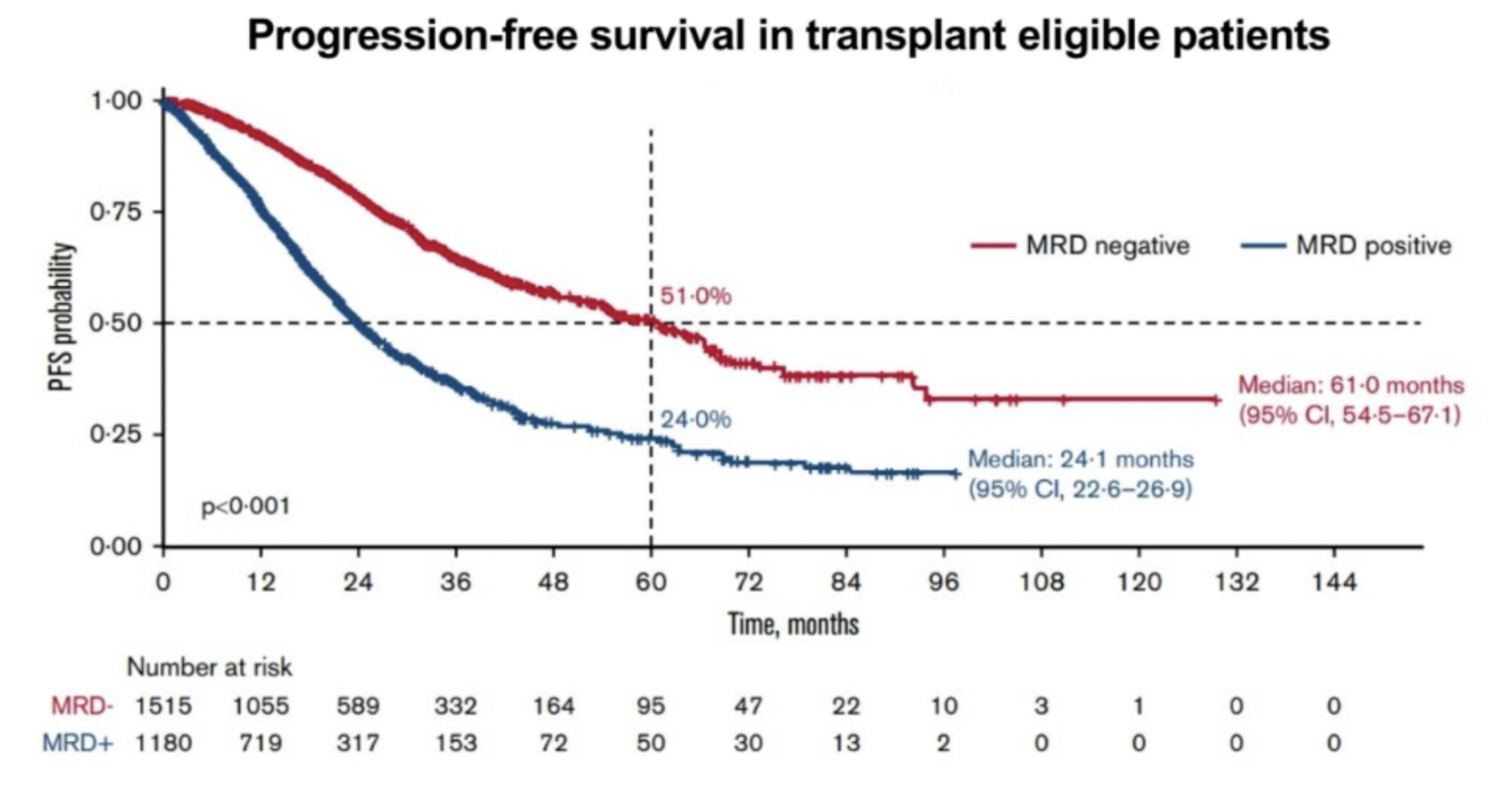 Dr. Landgren also talked about the results of a study showing that MRD assessment is a more accurate predictor of outcomes than genetic risk assessment. According to the graph below, the survival rates of patients with MRD-negative status and standard or high-risk myeloma are similar, while those with MRD-positive myeloma have poorer survival rates, and MRD-positive high-risk myeloma patients having the worst outcomes.
Dr. Landgren remarked:
"The best available therapy should be used in every line; 15-35% of patients are lost at each line of treatment."
Promising Studies Evaluating MRD Testing
Dr. Landgren talked about the exciting results of some of the best trials assessing MRD:
The GRIFFIN Study
The study showed that, compared to triplet therapies (RVd), quadruplet therapies (DaraRVd) have:
Higher rates of patients achieving MRD negativity (more profound responses)
Better progression-free survival (PFS) from the 2nd year of follow-up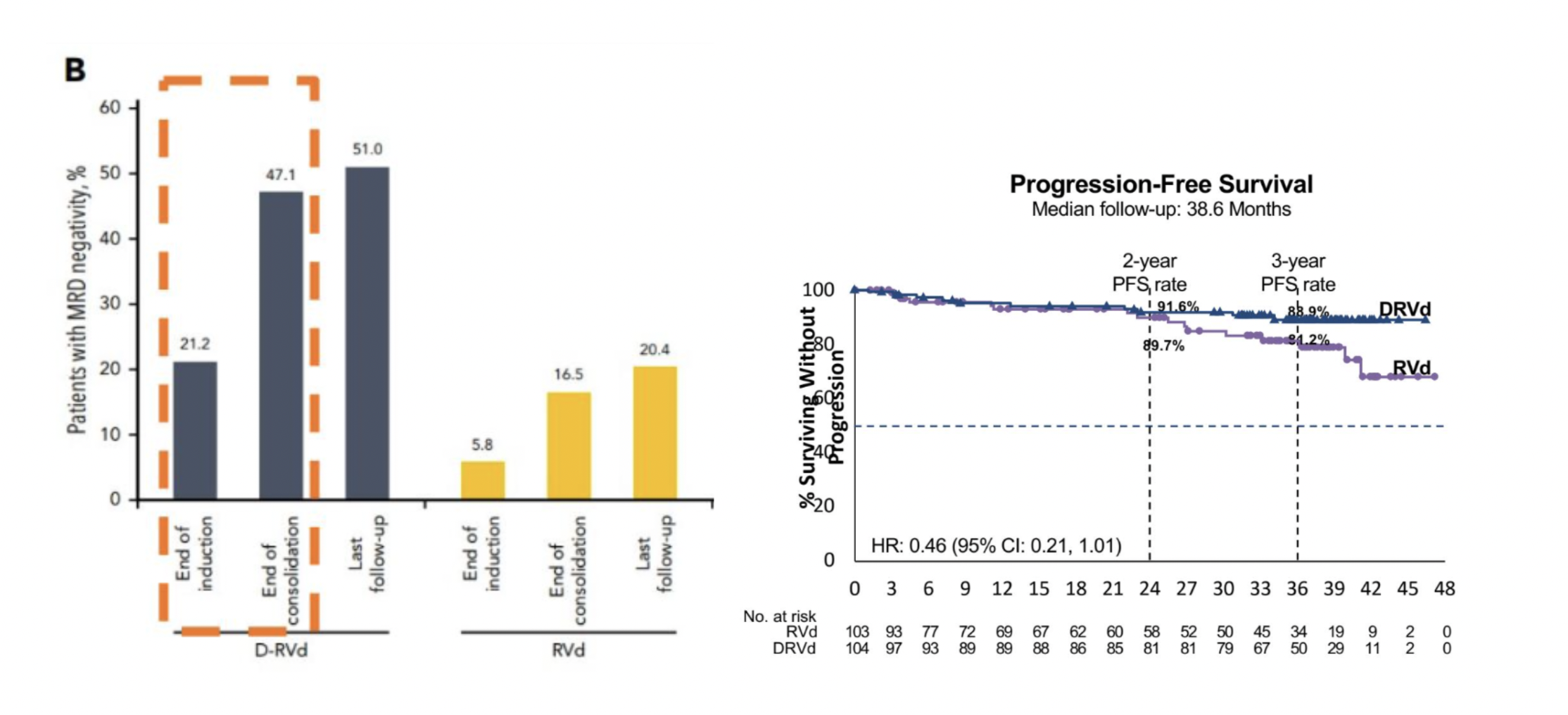 The MANHATTAN Study
The study showed that adding Daratumumab to Carfilzomib, Revlimid, and Dexamethasone (KRd) led to an MRD negativity rate of 71% after 8 cycles in newly diagnosed patients who did not get an autologous stem cell transplant (ASCT).
The MASTER Study
The study showed that MRD status does not always mean the same thing. Disease and the biology of the host both play important roles. Even after receiving the MRD negative status, ultra-high-risk patients had a much higher rate of progression than standard or high-risk patients.

When Should MRD Testing be Performed?
Some of the most important times to have an MRD test for myeloma are:
At diagnosis or before any therapy, to determine the baseline clones for MRD sequencing testing, like next-generation sequencing (NGS)
Around the work-up for stem cell collection
When a Complete Response to therapy is reported
When a combination therapy was completed, and you don't have plans for a transplant
One year after maintenance therapy
Consider repeating annually for long-term monitoring and assess whether to keep or stop maintenance therapy
The Future of MRD-Directed Therapies
According to Dr. Landgren, the future of MRD-directed therapies includes the following:
Transplants: To delay a transplant if MRD negativity was achieved after modern combination therapy
Maintenance in newly diagnosed myeloma. To select a single drug vs. a combination therapy based on the MRD status
Maintenance in relapsed/refractory myeloma. To change to maintenance therapy when MRD negativity is achieved
Therapy re-initiation. To restart therapy based on the conversion from MRD-negative to MRD-positive
Other changes ahead:

The use of genomic myeloma-defining events to start therapy earlier
A large pipeline of immunotherapies: chemotherapy-free combinations
Blood-Based MRD testing
MRD-driven treatment strategies used in every clinic, every day
Take Away Points About MRD Testing
The best available therapy should be used in every line of therapy
MRD negativity is a good outcome predictor in all myeloma patients
MRD assessment is a better prognosis tool than genetic risk assessment
MRD-negative standard-risk and high-risk patients had a similarly favorable outcome, compared to MRD-positive patients
Quadruplet therapies such as DaraRVd and DaraKRd have higher rates of MRD negativity than triplet therapies
71% of patients with DaraKRD achieved MRD negativity even without a stem cell transplant
Ultra-high-risk patients have a much higher rate of progression than standard or high-risk patients, even after achieving MRD negativity
There are multiple upcoming changes in the myeloma landscape thanks to the MRD assessment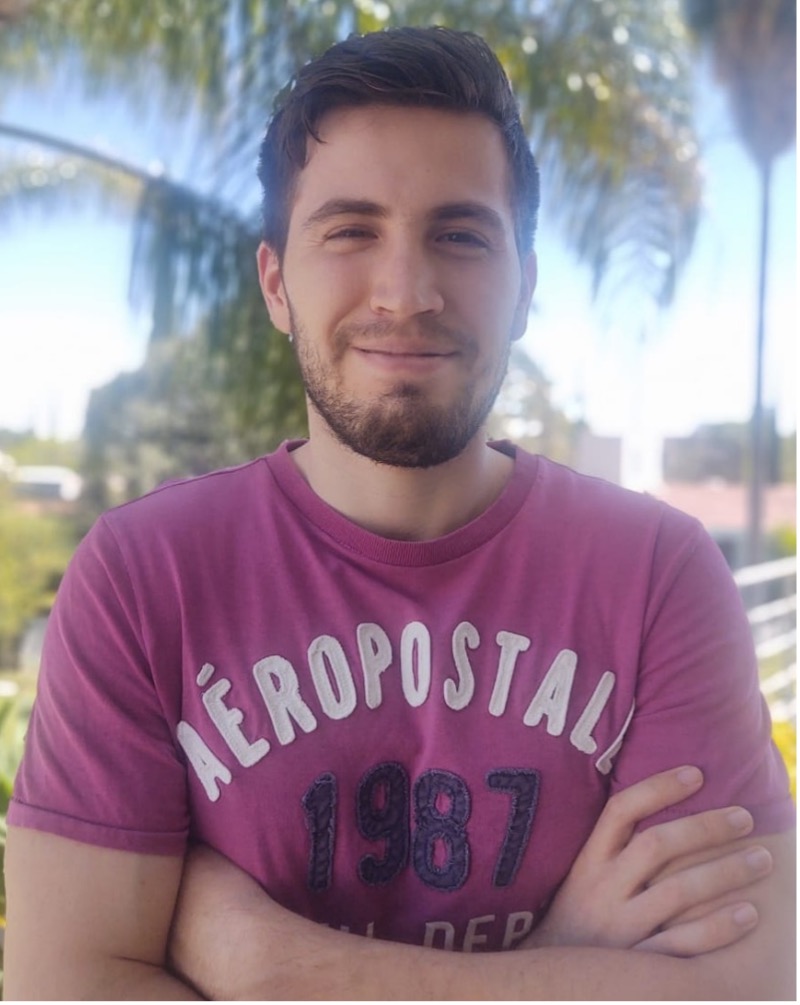 about the author
Felipe Flores
Felipe is an International Medical Graduate who is part of the HealthTree Patient Experience team. In his free time, he loves playing soccer, watching Netflix series and exercising.
Thanks to our HealthTree Community for Multiple Myeloma Sponsors: