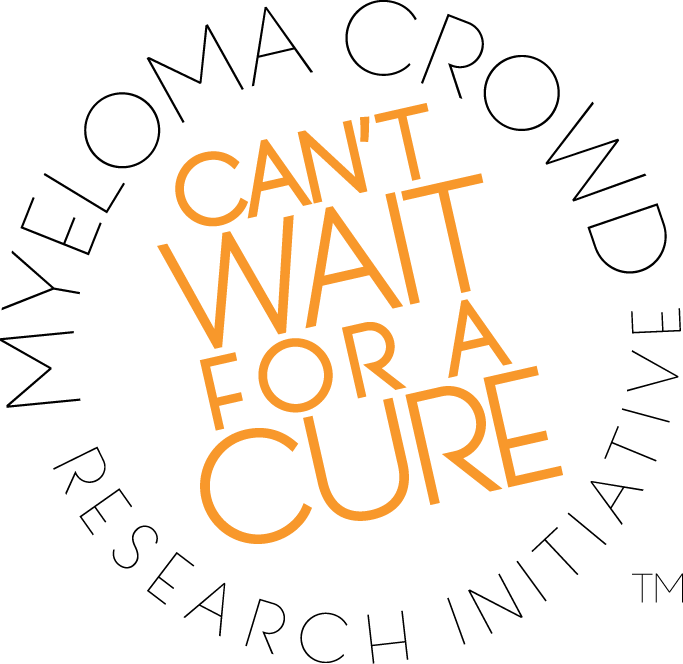 The Myeloma Crowd Research Initiative (MCRI) is a new approach to funding cancer research; combining the skill and knowledge of leading myeloma specialists with the patient perspective and supportive patient social communities to select and fund promising research projects in myeloma. Our goal is to find and fund a cure for multiple myeloma.
One year ago the MCRI launched its second round of funding for three NEW myeloma research projects. Each project was carefully selected by a team of specialists with the intention to find the best possible personalized treatments for each patient.
Thanks to your generosity we have raised over $166,000 for the MCRI! This month we received exciting updates from all three projects about where your donations are being spent and the impact is has on myeloma (continue reading for doctor updates). Every project is unique and discovering new, innovative ways to fight myeloma - ultimately moving us closer and closer to a cure. YOU have made that possible.
100% of the your donations are contributed to this research.
There is more work to be done. To continue funding all three projects, we need to raise $500,000. Thanks to you we are a little over a third of the way done. Donate today and help us reach our goal! We need your help because we "can't wait for a cure."
MCRI Updates from the Doctors
David Chung, MD, PhD
Memorial Sloan Kettering Cancer Center
Creating an Immune System Signature
Dr. Chung is currently using blood and bone marrow samples from Memorial Sloan Kettering patients because he can follow their myeloma responses and relapses in the clinic and see correlations. He can also see how patients trend over time. In addition, Dr. Chung is analyzing samples from the STAMINA trial, comparing patients who relapsed post-transplant within two years with those who have remained in remission at least 4 years post-transplant. He is also reviewing immune function after transplant. Some immune cells do "reset" after transplant, but what is the quality of those cells? It's not just a quantitative (how many immune cells) issue, but a qualitative (how strong are these cells) issue as well.
The lessons Dr. Chung has learned thus far indicate that patients with a more dysfunctional immune system do not do as well and may not respond optimally to immune-based treatment. For example, the current CAR T therapies use a patient's own T cells as the starting material. But if that is weak to begin with, the outcome may not be as strong or as long-lasting compared with patients with strong T cells, thus in part explaining relapse early following CAR T treatment.
Dr. Chung's overarching goals are to:
Identify immune system profiles indicative of "immune fitness" that could help risk stratify patients
Use these profiles to predict how well a patient will respond to therapy (especially immune-based) before the treatment is given
Read the FULL update on Dr. Chung's Research
Cesar Rodriguez, MD
Wake Forest University
Testing Your Individual Myeloma Tumor Against Available Myeloma Therapies
Dr. Rodriguez has developed a 3D method called "organoids" to take a bone marrow sample that collects not only the myeloma cells, but also the surrounding cells in the bone marrow microenvironment that are keeping the tumor alive. He then creates a model of these cells using a 3D printer to print miniature versions of these tumors and grow them in the lab. Armed with many versions of a patients' own tumor, he can then study two critical components.
First, Dr. Rodriguez can study the surrounding cells in the bone marrow. This is critical because these cells could be the cause of drug resistance, or could make myeloma cells more susceptible to treatment or even help them survive following treatment.
Second, he can now test your individual tumor against 30-40 different myeloma treatment combinations to predict which will have the highest myeloma-killing impact. This is critical because each patient is unique and their myeloma can change over time. Why guess when selecting a treatment combination that could be ineffective and cause early relapse when a more personalized therapy could be provided?
Currently this personalized tumor modeling is being tested in individual patients and is then being compared to real world outcomes to see if the correlation is strong enough to use this type of testing as a predictive way of navigating treatment. More samples are needed to validate that this approach works and the goal of his research is to provide more accurate, effective treatments for individual patients.
Read the FULL update on Dr. Rodriguez's Research

Fenghuang (Frank) Zhan, PhD
University of Iowa
Targeting CD24 to Eliminate Myeloma Stem Cells
In patients, the average number of CD24 positive cells in relapsed patients was 8.3% after chemotherapy and for patients in complete remission (but with detectable minimal residual disease). This is compared to 1% of CD24 positive cells in newly diagnosed patients. Myeloma patients with a high percentage of CD24 positive cells had worse progression-free survival and overall survival.
University of Iowa researchers and colleagues are working to identify which cells are "tumor-initiating" or cause myeloma to grow. In a recent paper, the researchers hypothesize that treatment failures or tumor regrowth are likely due to the persistence of a minor population of tumor initiating cells, which are non-cycling or slowly-cycling and are drug resistant. They believe these cells are CD24 positive by flow cytometry.
Using gene expression profiling, a type of myeloma genetics testing, tumor samples were drawn from 11 myeloma patients. The researchers divided the tumor cells into two groups: side-population cells which contained the tumor initiating cells and main-population cells. Then they analyzed how well these two groups of cells could self-renew and how resistant they were to chemotherapy. Flow cytometry was also used to determine how much CD24 was found on the surface of these cells. Then, the researchers tested anti-CD24 antibodies on myeloma mouse models.
Read the FULL update on Dr. Zhan's Research
Thank you for your incredible support this past year! You make this research possible.
Help us continue this fight for a cure by donating to the MCRI today! Every donation (whether great or small) makes a difference. We need your help because we "can't wait for a cure!"
The Myeloma Crowd is a 501(c)3 non-profit organization. Donate online or mail donations to the Myeloma Crowd, PO Box 1286, Draper, UT 84020.