Ride with Richard: His Inspiring Myeloma Bike the Coast Ride this June
Register for Bike the Coast 2019
Richard Hite is a business owner, father of three kids, outdoor enthusiast, and survivor or Multiple Myeloma as of April 2015. As founder of the Myeloma Crowd Cycling group, Richard is leading the team in the inaugural Bike the Coast event this June.
Richard's Story:
Richard has always been active, energized and geared towards outdoor activities. In 2015, Richard was training for the Lotoja 206 mile bike ride from Logan, Utah to Jackson Hole Wyoming. Just a week before registration, he was diagnosed with Multiple Myeloma. He reflects, "I was thinking - it was over and done, and I'm never going to get on a bike again." Richard's relative, however, heard the news and decided to sign him up anyway. His first thought was, "Ok! I'm not dead," and the race gave him something to look forward to.
Up until his first transplant he rode his bike as much as he could, continuing to train as planned. Once the treatments began, the side effects left him wondering again if it was even possible. Then a glimmer of hope - it occurred to him he didn't have to ride the whole race.
Six weeks after his transplant he got back on his bike and rode the last 26 miles over the finish line. His close friend Craig Petty flew out from Hawaii to ride with him and support him all the way through.
"I was bald and still on chemo. I had treatment the day before. Still to this day I don't even know how I did it. That was when I realized I'm not limited - this isn't going to run my life. I had to make that decision."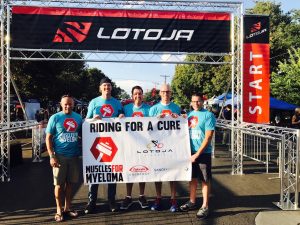 The following year in 2016 Richard signed up for the Lotoja ride once again, and completed 112 miles. He was in and out of the hospital in the weeks preceding the race and again was treated the day before. Determined, he did not lose focus. "I wanted to do as much as I could, and that was an accomplishment for me."
In 2017, Richard set out to ride the entire 206 mile length of the race and completed it! He says he trained harder and hadn't been sick as much. Throughout the entire time he was still on weekly treatment (Velcade), and taking his daily chemo pills. (Revlimid and Dexamethasone)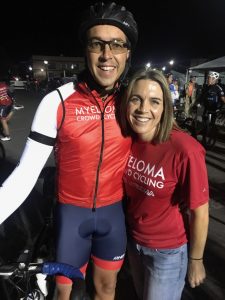 In 2018, Richard's doctors took him off all therapy and he was able to ride the Lotoja race again - treatment free. Richard rode with determination that he would not be limited by his cancer. Today his myeloma is in remission and he exercises daily.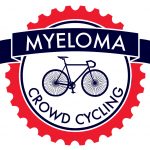 Since then Richard formed the Myeloma Crowd Cycling Club. (see https://www.mccycling.org). With over 70 members, the group is open to anyone across the country to join and ride. The goal is to get people in the myeloma community to get out, exercise and raise awareness. You do not need to be a serious cycler to join.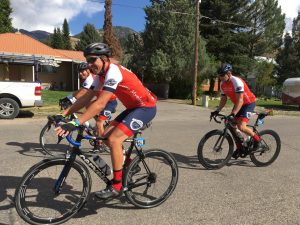 After his last race, Richard's wife Rozalynn suggested they do something different and get their kids more involved. Richard decided to bike from San Francisco to San Diego to raise awareness and raise funds for blood cancer research. He wanted to get his kids involved, have his family be a part of it, set an example and have an experience they would remember together.
"One of the ways cancer has changed me is realizing what matters most," he says, "It's less about work and other things and more about the experiences we will remember as a family."
Register for Bike the Coast 2019
What is the biggest goal you would like to accomplish with the upcoming Bike the Coast event? To encourage the cancer community to exercise, and to help them understand the importance of exercise as part of their treatment. To raise awareness, and to raise money to go towards potential cures!
What is the importance of exercise as part of cancer treatment? Exercise definitely provides you with a better outcome; it allows you to adapt and to handle the treatment better when you commit to some kind of exercise. Your body can tolerate the treatment better and some treatments may be open to you if you are fit. See more on Multiple Myeloma and exercise here: https://www.myelomacrowd.org/studies-on-exercise-and-myeloma/
How do you motivate yourself to exercise when you don't feel great? Statistically, you're not supposed to be able to do these things, but my attitude is, 'watch me! I'll do it anyway.' I want to be able to prove everybody wrong, and I don't want to be limited by cancer. I don't want cancer to dictate how my life is going to go. I decide, not cancer.
How many other bikers are riding with you? This year it will be a small group riding the entire race - just over a dozen. But everyone is welcome to join a single leg of the trip and we have four dinner/educational events during the ride where everyone is welcome, whether you ride or not. This will include a final beach BBQ in San Diego on the closing night. It will be a ride to remember!
What kinds of speakers will be coming to share? We have speakers that will be coming to talk about treatment options, the importance of a myeloma specialist, clinical trials, talk about HealthTree and how that tool can help them, and how to navigate the process of their diagnosis. Even if you aren't riding, you can join us for 4 lunch/dinner events along the way to learn more about myeloma.
Your family is coming along on the tour, what do you want your children to learn from you doing this? I want my kids to know that we don't have to be limited. We can all do hard things. Just because we have something that may be limiting us, there are ways around it. There are solutions. We don't have to be passive and let the wind take us. We can take control of what our life's going to look like and what it can be.
You mentioned taking control of your health, how has HealthTree been able to help you with that? First of all, it provides more hope. Second, it helps me understand that my results could benefit somebody else, and also that I could greatly benefit from somebody else as well. It helps me feel hope that there might be a cure out there that somebody's found that I don't know about yet and HealthTree could help me connect with that.
What other factors have contributed to your success? Number one, my wife. Number two, the determination to help others instead of focusing on myself. So, helping others and helping other people because I've been there. Being able to say, 'Hey, I'm a little further along - let me show you what I know and help you navigate.' Because there are so many unknowns and your worries go everywhere.
Did it take you a long time to get your HealthTree profile filled in, how was that process for you? My wife did it for me and she felt the importance of doing it. She is now heading the Myeloma Coach program, where people that have gone through and have the experience are able to share their knowledge with newly diagnosed patients and become coaches. It has been therapeutic for her, absolutely, because there are so many things we learn along the way, the do's and don'ts as patients and caregivers, and to be able to share that… is priceless. Learn more about becoming a Myeloma Coach here: https://www.myelomacoach.org
Are you being treated by a specialist now? Yes, and I don't know if I would have if not for Jenny or the MyelomaCrowd.
How has your mindset has changed as a patient since using HealthTree? It's changed as far as hope. Hope that there are a lot of choices and a lot of things happening. Where as, before it was all negative. People would come up to me and say, 'Oh, I looked it up online and it doesn't look good,' or 'Wikipedia says you have 3 years to live,' so HealthTree brought hope. And I think when you have hope, you can do anything. In general, HealthTree brings people hope and when you have hope you can do anything. Jenny has hope, and because of that she's determined to find a cure and I think she will."
To join Richard in Bike the Coast 2019, register here:
Register for Bike the Coast 2019
For more information on HealthTree visit https://www.healthtree.org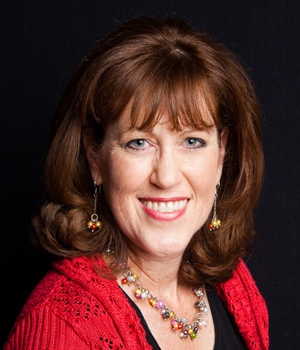 about the author
Jennifer Ahlstrom
Myeloma survivor, patient advocate, wife, mom of 6. Believer that patients can help accelerate a cure by weighing in and participating in clinical research. Founder of HealthTree Foundation (formerly Myeloma Crowd).
More on Life With Myeloma
Thanks to our HealthTree Community for Multiple Myeloma Sponsors: