If you've heard Myeloma Specialist Dr. Urvi Shah speak about how diet can influence outcomes in myeloma patients, you'll be excited about her clinical trial: A Study Comparing a Plant-Based Diet With Supplements and Placebo in People With Monoclonal Gammopathy of Undetermined Significance (MGUS) and Smoldering Multiple Myeloma (SMM).
This trial intends to investigate if a plant-based diet or supplements can increase butyrate levels, changing the microbiome of patients with MGUS and Smoldering Myeloma.
What is butyrate, and why is it important?
Butyrate is a molecule with anti-cancer and anti-inflammatory properties. It promotes the growth of beneficial bacteria within the microbiome, much like how a diverse array of species contributes to a thriving forest ecosystem. By maintaining a healthy microbiome, we can support overall well-being. Think of the microbiome as an internal forest, where a variety of bacterial species work together to create a harmonious environment within our bodies.
Dr. Shah, Dr Lesokhin and colleagues published a study which demonstrated that myeloma patients who had higher diversity in their gut microbiome and higher stool butyrate concentrations had higher rates of MRD negativity in 2022. These outcomes were correlated with a diet rich in plant and seafood proteins. Dr. Shah also presented data on the NUTRIVENTION pilot at the American Society of Hematology Annual Meeting in New Orleans in 2022 that showed that patients on the study given a plant based diet had an increase in stool butyrate producers and stool butyrate levels.
About the Study
This interventional randomized clinical trial will study how in twelve weeks a plant-based diet or supplements will change the butyrate levels in stool samples of MGUS and SMM patients.
The placebo supplements vs. supplements randomization will be blinded to the patients and investigators. In the following table you can see that three different groups of patients will follow three different diets or supplement paths.
Then, they will compare butyrate levels in the patient's stool microbiome sample before and after the twelve weeks of diet.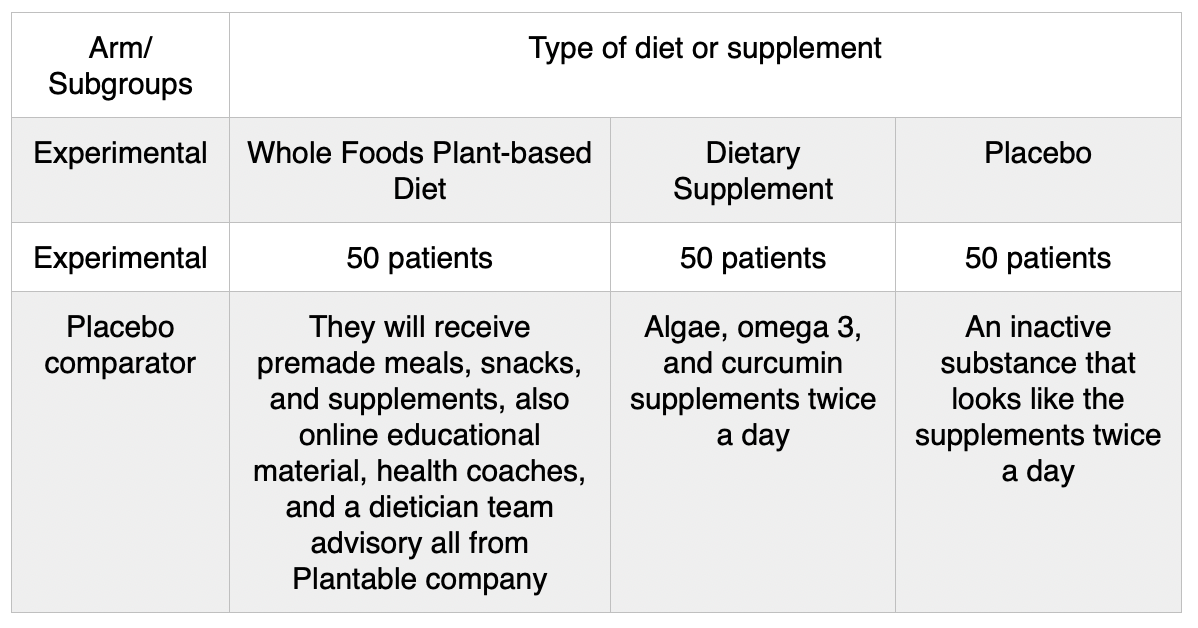 -MGUS and SM patients
-ECOG status 0-3
-Interested in learning to cook plant-based recipes
For more information about the inclusion/exclusion criteria, click here.
Study Sites
The study is currently open and recruiting at Memorial Sloan Kettering Cancer Center. The principal investigator is Dr. Urvi Shah. Taking place in 7 different locations within the United States, 4 in New York and 3 more in New Jersey.
How We Can Help
If you need assistance finding or joining clinical trials, please contact our Patient Navigator support team at 1-800-709-1113 or at support@healthtree.org
Did you know you can find more clinical trials in HealthTree Cure Hub?
Create a free account at healthtree.org, complete your profile, and click on "Clinical Trials" in the left navigation to find trials that meet your search criteria.