Myeloma Warrior Patti Warrens Creates new Myeloma 5k Race in Fayetteville, Ohio August 29th
The Muscles for Myeloma 5k and 1m walk/run has been a type of event that has brought the community of Columbus, Ohio together for years. This year, myeloma warrior Patti Warren and the Myeloma Crowd are hosting the first Muscles for Myeloma 5K and 1-Mile Walk in Fayetteville, Ohio on August 29th! We are grateful for the opportunity to continue the tradition of the Muscles for Myeloma Race while funding critical myeloma research.
Patti Warrens is a wife, mom of two children and two step children, grandma of four (and soon to be 5). She also works at Motor Systems Inc., for the past 16 years. At the age of 45, Patti Warrens received a call from her family doctor suggesting she go to an Oncologist because her blood work came back showing signs of Multiple Myeloma. Patti was showing early signs of Smoldering Myeloma and her doctor was able to catch it early. She took action. In late 2014 she was sent to the James at Ohio State in Columbus to see Dr. Hofmeister, a specialist in Multiple Myeloma. She opted for an 8-week trial using daratumumab for her smoldering myeloma. She's been in remission since 2015, while still seeing her doctor every few months to stay on top of her numbers.
Patti's goal is to strengthen the Multiple Myeloma community and bring awareness and research.
"I started participating in the Columbus race in 2015... I wanted to bring the race closer to my community and raise money for research. My goal is to make this race as big as the race in Columbus and raise thousands of dollars."
We look forward to having you join us to build Muscles for Myeloma in 2020! All race proceeds will be donated to the Myeloma Crowd Research Initiative and myeloma research at The Ohio State University Comprehensive Cancer Center – Arthur G. James Cancer Hospital and Richard J. Solove Research Institute (OSUCCC – James).
The Columbus race started with a group of 25 participants and now hosts almost a thousand each year. We applaud Patti for getting involved and creating this event in support of myeloma progress.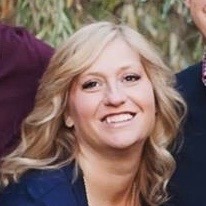 about the author
Lora Jensen
Lora is an Editorial Contributor for the Myeloma Crowd and proud mom of 6 kids and 5 grandkids. In addition to supporting myeloma patients, she loves creating fun parties and activities for her grandkids to enjoy.
Thanks to our HealthTree Community for Multiple Myeloma Sponsors: