Myeloma Round Table: Addressing Myeloma Disparities, February 26, 2022
Black have significantly higher risk of being diagnosed with the disease as compared to every other racial and ethnic category. Last February we conducted a Myeloma Round Table webcast to explain what disparities are and why they matter to the entire patient community, regardless if one is directly affected by them or not.
The speakers in this program, held on February 26, 2022, discuss active measures clinics are taking to address disparities in their communities, from community outreach to active patient care. Learn how, even during the pandemic era, solving the problems caused by disparities remain a high priority for the cancer community. This program features:
• Craig Cole, MD, Breslin Cancer Center, Michigan State University
• Mark Fiala, MSW, Washington University School of Medicine
• Shakira Grant, MBBS, Lineberger Cancer Center, University of North Carolina
• Ajay Nooka, MD, MPH, FACP, Winship Cancer Institute, Emory University
In the concluding question and answer session, the first is asked by Valarie Traynham, who has been a myeloma patient since 2015 and in addition to leading a support group in her home of Aurora, Illinois, she lead the HealthTree for Myeloma Community African American Chapter. She also moderates our African American Facebook page.
The second will be asked by Kellie and Yaphet Smith, from Round Rock, Texas. Kellie has been a patient since 2018 with Yaphet, her husband, is her caregiver. Their story was featured last year by Stand Up to Cancer.
Moderated Discussion
Introduction of panelists
3:16 - Question 1: I'd like to direct my first question to Dr. Nooka, and as with all of our questions today, I'd like to invite our other faculty members to add their perspectives. Dr. Nooka, last March you co-authored a study led by Nicole Gormley from the FDA, who, by the way, participated in this program last year, on ways to eliminate racial disparities in myeloma in part by focusing on equity issues. What were, in your view, a couple of the key findings and recommendations? And what impact could the implementation of these ideas have on the myeloma community writ large?

3:39 - Dr. Nooka: Some groups of people are affected more by some diseases than other groups

Being male is a risk factor, as if being African American

risk of African American male is 4 times higher than for a white female
12% of US population are African American, 20% of the myeloma community

African Americans diagnosed with myeloma tend to get diagnosed younger with less high-risk features, higher rates of renal failure, neutropenia
Patient-centric strategies are essential
Equity in access to clinical trials a crucial issue

Eligibility criteria needs to be more inclusive

10:28 - Dr. Cole - Big change is for clinical trials to have diversity officer who monitor trials participation and other issues

Medical community has to be educated about clinical trials diversity

12:10 - Question 2: Are pharmaceutical companies ask for input from African American community on trial design?

12:30 - Dr. Nooka: Trials are not representative of actual population

Not stopping progress in trials, but representation is not what it should be

14:33 - Mr. Fiala: What can we, as medical professionals do?

Rather than asking why don't more participate?
Why are trials being designed to limit access

15:26 - Dr. Cole: Clinical trials process has never really been addressed before

Science is getting better to allow to favor more eligibility rather than exclusions

16:50 - Dr. Grant: What clinicians can do to encourage patients to go into trials

Multiple factors clinical trials recruitment needs to address: access, interactions with physicians, relationships matter
Patients must understand the burdens that sometimes comes with clinical trial participation, simplified language is important

19:25 - Dr. Nooka: Why don't some doctors promote/educate trials among their patients?

Because it's complicated for patients to understand: "It's a crime…if we presenting a trial based on education level, we're not doing something right."

20:20 - Dr. Cole: Many of the second opinion referrals specialists get are because "time hasn't been spent on educating the patient about the disease and the importance of clinical trials"

"Just education alone is the key thing in myeloma."

21:38 - Dr. Grant: "We all have to recognize our biases"

"Clinical research studies should be offered to all patients across the board"
"It's not really that Black patients don't want to participate [in clinical trials], it's that they aren't offered the opportunity to participate"
"A lot of the onus also has to be on us…we need to make this a universal approach, where we're just going to offer clinical research studies irrespective of everything else and let the patient decide"

23:52 - Mr. Fiala: A strong doctor-patient relationship is very important

"People won't care about what you know until they know you care."

24:30 - Dr. Nooka: Discussions about clinical trials should be ongoing, not one time only, or when options decrease
25:48 - Dr. Grant: "When we are treating patients with multiple myeloma, that is this is a partnership, this is a collaboration"

26:50 - Question 3: One of the recommendations of the study was encourage more Black patient representation in clinical trials. Another was to put more emphasis on real world data—which is what HealthTree Cure Hub data is. How should these goals be balanced? Is one more important than the other? And how might that data be melded to create more robust and definitive research in the future? Perhaps you could start us on that, Dr. Cole.

27:17 - Dr. Cole: Real world data can provide larger numbers of people who don't go to academic centers

The gold standard has been randomized clinical trials, now we can look at huge numbers of patients all over the world to gather important data
Examples of real world data

Verified venetoclax was effective in t 11;14 patients
Knowledge that Black patients on average have low-risk cytogenetics
A large number of ASH presentations on disparities
Helped highlight directions for future research
Real world data and clinical studies support each other
30:55 - Mr. Fiala: Real world data helps researchers and physician infer knowledge from clinical trials to larger, differing populations

Patients enrolled in clinical trials do not necessarily represent the full patient population

32:16 - Dr. Cole: Real world data informs clinical trials design

It can bring in data from remote areas and populations

34:53 - Dr. Nooka: Data sharing "democratizes" information
36:16 - Dr. Grant: Real world evidence allows study of long-term treatment effects

Help in making estimates of effects of therapy

38:20 - Question 4: Mr. Fiala, you are a social worker who works with many Black myeloma patients. What are some of the key impediments to achieving better outcomes for Black myeloma patients and what are some ways that your institution addresses them?
38:34 - Mr. Fiala: (opens with slide showing myeloma survival rates in St. Louis according to zip codes) Neighboring zip codes can have differences of as much as 10 years of life expectancy

Impediments to regular treatment related to transportation may affect participation in clinical trials
Satellite offices in neighborhoods where people are matter, but they may not offer trials or certain doctors
Make treatments accessible to patients wherever they are

42:52 - Dr. Cole: His facility tracks patient ethnicities to see they show disparities when compared to whole population of a surround area

Telehealth is breaking down geographic barriers to direct some treatment at home

45:20 - Dr. Nooka: Emory collaborations with surrounding public hospitals to address disparities

Respect for patient is key moral duty
Patients who are asked to participate in studies and trials generally do

49:28 - Dr. Grant: Working a state cancer center gives access to patients in 100 counties, allowing them to see wide range of patients, but the state, 22% Black, is not reflected in patient population
51:20 - Question 5: As we all know, myeloma is a disease that is found overwhelmingly in older people. Dr. Grant, you are part of a relatively small family of clinicians and researchers who specialize in hematology and geriatrics. In your experience, what are some key issues older myeloma patients face that are different from younger patients? And are there particular issues among elderly Black myeloma patients or differences as compared to younger patients?

51:46 - Dr. Grant: Aging and race is "a disparity within a disparity"

Frailty assessment matters, will patient be able to tolerate treatment?
Social support networks essential to getting good care
Financial barriers often limit access
Making treatment less complex is important for older population

54:20 - Dr. Nooka: Patience with elderly patients

Toxicities are harder for older patients to tolerate; kidney function tends decline with aging
More dose adjustments
Having family member available to assist when needed

55:57 - Dr. Cole: Older Black patients have a different cultural context than younger patients, grew up with greater distrust of medical system and time has to be take to overcome this

Important for physician to be transparent, knowledgeable, and direct
"Health literacy is an empowerment tool"

58:35 - Mr. Fiala: Determine patient's goals, what do they prioritize?, don't make assumptions

Being a patient is "one of their many identities"

1:00:00 - Question 6: Outreach is important to address racial disparities. Mr. Fiala, Washington University has been particularly proactive about reaching out to patients. Can you describe some of your approaches? Are there roles for fellow patients to assist? What's the role of a care team in making these decisions?

1:00:32 - Mr. Fiala: Time is limited, spend as much time as needed

What questions did you forget to ask on your last visit?
Often people don't know what questions to ask, a patient navigator can help
Never be hesitant to ask your doctor a question, even if it is late

1:04:00 - Dr. Grant: UNC recently launched cancer navigation program

Nurses and nurse practitioners connect with new myeloma patients directly

They call ahead and go through checklist with patient before appointment
Helps to set appointments with other health care professionals to maximize time

1:05:56 - Dr. Cole: Older study of older patients who withdrew their consent for a clinical trial found number one reason was doctor didn't want patient on trial, even though consent form was provided by same doctor

Ignorance of a trial's existence was counted as a "no"
Important to have all people who have contact with patient on board, from check-in staff through physician; all know about their institution's clinical trials

1:08:44 - Dr. Nooka: Important for doctor to go through paperwork and explain to patient

Treat every patient equally, with access to what they specifically need
Audience Questions & Answers
1:08 - Talking about mental health is often stigmatized in the Black community. We know myeloma patients face greater levels of depression and anxiety. What are some of your approaches, and those of your centers, to address this issue?
7:35 - How do you avoid the pitfalls of race-based medicine? Various health conditions have different values for African Americans vs. non-African Americans and if we look at race as a social construct, as opposed to biological, how are you addressing that?
18:50 - How do we best go about supporting the effort to raise awareness of various types of disparities in myeloma and cancer?
Thanks to our sponsors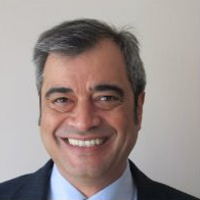 about the author
Greg Brozeit
Greg Brozeit has been with the HealthTree Foundation since 2015 when he began volunteering for the Myeloma Crowd. Prior to that he worked with Dr. Bart Barlogie and the International Myeloma Foundation, inaugurating many myeloma patient advocacy and education programs.
Thanks to our HealthTree Community for Multiple Myeloma Sponsors: