Myeloma Drug Costs and Measures of "Value"
BY JIM OMEL Myeloma patients are living longer before becoming resistant to our therapies, and our lifespans after diagnosis are being extended. We are thrilled with several new highly effective treatments recently approved and know that even more drugs and treatment approaches (think immunotherapy) are moving toward FDA approval. We also know that our drugs are prohibitively expensive and that every new cancer drug approved in 2014 cost >$120,000 per year. Myeloma drugs work best in triplets. Even quad therapies are being considered. How can nearly 30,000 new USA myeloma patients per year possibly pay 10 to 30 thousand dollars per month? Where is the money coming from? All this has to be on the mind of every myeloma specialist deciding therapy for the patient in front of them. Many experts are also openly vocal about the horrendous costs, probably none more so than Dr. Vincent Rajkumar at Mayo Clinic Rochester. This champion of patients has been appropriately expressing concern for many years (thank you @VincentRK for your leadership). Myeloma patients are highly alarmed as was witnessed by the public comments and continuing angst over ICER's (Institute for Clinical and Economic Review) meeting on myeloma drug value recently held in St. Louis. ICER galvanized all of us to the threat against continuing our hard-earned myeloma treatments, and the threat of Step Therapy (required to 'fail' Thalidomide before qualifying to receive Revlimid, for instance). Make no doubt about it….ICER is a threat. However ICER is just the vanguard of what is to come. As Dr. Rajkumar says, there has to be a change. This simply cannot continue as is and the current system is unsustainable. Of course he is right. If ICER would disappear tomorrow (Lori P. tweeted that they are 'yahoos'), the problem of $120,000 per year cancer drugs would not change one iota. A contemporary tweet said, "Live Myeloma value discussion at ICER. Amazing. Can't believe actually happening. USA is entering new era". He is right. We are. We simply cannot pay for our current system and must enter a new era where value must become a major measure of cost. This sounds good on paper but what is this ethereal entity called "value"? How is it quantified? Fellow Nebraskan Dr. Julie Vose, speaking as president of ASCO this year, quoted another Nebraskan Warren Buffett and said, "Price is what you pay. Value is what you get". Is "value" summed up in United Kingdom NICE's (National Institute for Health and Clinical Excellence) computations and mathematical calculations? Is the value of our life really defined by (C1-C2/ q1-q2)? This is their formal measure of QALY (Quality Adjusted Life Year), and this mathematical division results in a totally different ICER (Incremental Cost Effectiveness Ratio). This ICER has teeth. If your drug exceeds an ICER value of £30,000, then it is highly unlikely that NICE will approve it. Do you like that system? Is it comforting to know that Revlimid was flatly refused entry into UK by NICE? Is it comforting and reassuring to know that the statisticians from UK and the statisticians from Celgene played with the numbers, "re-tooled" the numbers, dickered with the 'mean' instead of the 'median', considered skewed outliers, considered subgroups, and voila….Revlimid got approved? It certainly isn't comforting to me! All this statistical wrangling should really be no surprise however since statisticians can take any dataset they find and mold, "massage the numbers", add a few caveats, and make that dataset say anything they want it to say. And only other statisticians can argue with whatever they decree, because they alone can speak their language and make their own rules. In the case of Revlimid in UK with the opposing statisticians, Celgene threw a deal into the bargain. They promised to cover the cost of Revlimid for all patients who remained on the drug after two years. Whatever the machinations, at least myeloma patients in UK now have access to Revlimid. Do we want NICE in our country? Do we want NICE's ICER or their QALY? I must admit that I don't want a system which keeps a valuable workhorse like Revlimid out of patient's hands while economists and statisticians argue and bargain over my life. As distasteful as NICE is, we must all admit that change is coming. Two overpowering forces are coming together from opposite views. Pharma companies want to maintain high (and higher) prices for their research and shareholder profit, and payers, physicians, and patients want those prices greatly reduced. I have watched the roiling, churning bar at the mouth of the mighty Columbia River as its huge load of weight fights against the equally unstoppable incoming tide. Any small boat caught in that swirling maelstrom is doomed, just like frightened cancer patients caught in the grips of "financial toxicity" of $120,000 per year drug prices. The strongest voice of reason for myeloma patients in all of this has been Dr. Rajkumar. He has our unassailable trust and we are reassured to know he always places the greatest emphasis on the patient sitting right in front of him. Dr. Rajkumar explains that even he faces COI (conflict of interest) every day. He said that there is no incentive to keep prices low, even sadly by physicians themselves. In Twitter he wrote, "the more expensive the med, the more profit for the doctor". "It's 6% of whatever the cost of drug is". "Right now Medicare pays MDs 6% plus the AWP. That's it. U can calculate"! In another Twitter post he explained, "Endeavor demonstrates why @CMSGov partB changes & ICER r needed. MD choosing Kyprolis make $1655/month profit versus $464 with Velcade". In other words, even our myeloma champions face internal COI every day in the treatments they choose for us. Do not read this wrong…..I totally trust the expert advice of every myeloma expert I call a friend (and there are many). It is the system, Dr. Rajkumar explains, which needs major revision. In an informative May 10 Twitter post he shared this chart with his followers: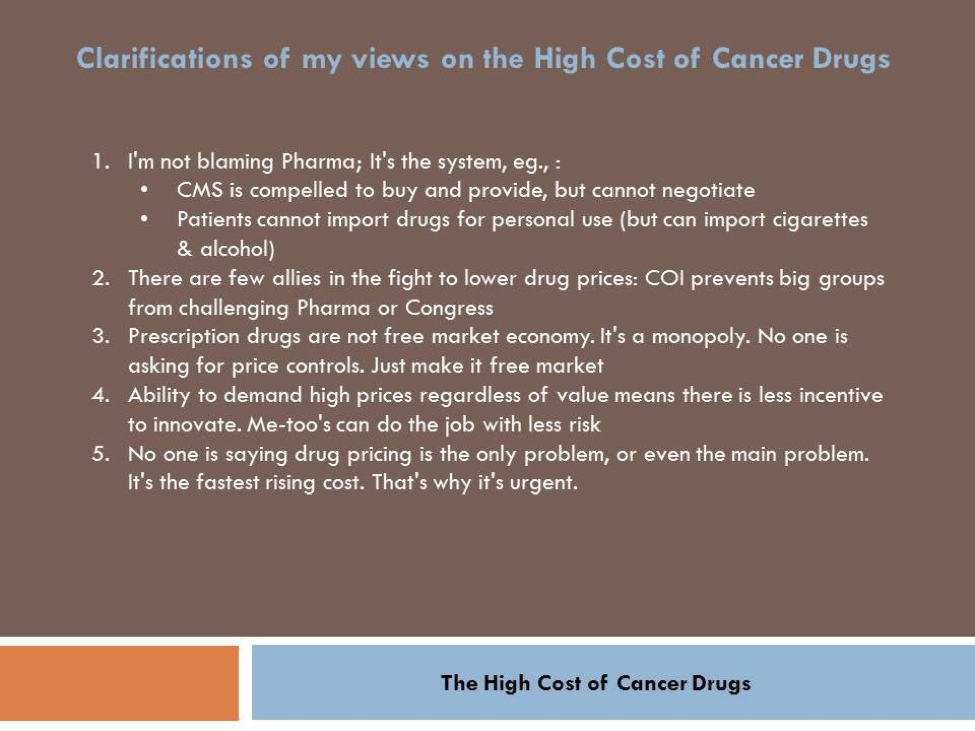 Something has to change. There's a stampede to relate drug prices to broader health benefits, but little consensus on how to do it. Calculating the value of drugs is challenging and very subjective because there is no agreement on what to measure. Value to patients is much different than value to payers. Everyone has preferences and "affordability" can be hard to compare. ASCO has addressed the issue through its "Value Framework". IMS, a pharmaceutical industry group, reports there are 586 cancer treatments from 511 companies in mid to late stage development. At least 41 are listed as being in development for myeloma. Spending on cancer medicines totaled $107 billion in 2015 and is projected to exceed $150 billion by 2020. Medicare reimbursement alterations are coming in the form of MACRA (Medicare Access and CHIP Reauthorization Act) in 2019. In an article in the Journal of Clinical Pathways (6-6-16) Blaise Polite stresses that physicians immediately begin to assess how their practices are tracking key metrics, as scores for 2019 when the MACRA program goes into full effect will be based on practices' performances in 2017. I'll not get into the specifics of MACRA, but you will hear more and more about it as time passes and this provision of the Affordable Care Act takes hold. Yes Mr. Dylan, "The times……they are a-changing".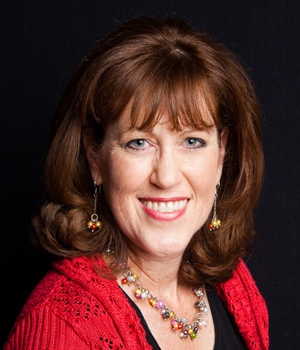 about the author
Jennifer Ahlstrom
Myeloma survivor, patient advocate, wife, mom of 6. Believer that patients can help accelerate a cure by weighing in and participating in clinical research. Founder of HealthTree Foundation (formerly Myeloma Crowd).
More on Life With Myeloma
Thanks to our HealthTree Community for Multiple Myeloma Sponsors: