Dexamethasone: The Myeloma Hero or Villain?
Dr. Rahul Banerjee from Fred Hutchison Research Center joined the Newly Diagnosed Myeloma group in October 2022 to share his thoughts on the role of dexamethasone in multiple myeloma treatment. His presentation included fun references, important information, and tips for dealing with dex.
Is Dexamethasone the Hero or the Villian of Myeloma Treatment?
Dr. Banerjee framed his presentation in the context of a popular Batman movie, The Dark Knight, in which the district attorney says the famous quote, "You either die a hero... or live long enough to see yourself become the villain."
Using this reference, Dr. Banerjee shares how dexamethasone can be seen as both the hero and the villain within myeloma treatment.
What is Dexamethasone?
Dexamethasone has had a profound influence on the medical world. This drug is a powerful, long-acting glucocorticoid. A glucocorticoid is a type of steroid that our bodies can produce on their own but, is also medically or synthetically produced.
It's 100% bioavailable, meaning that even when taken as a pill, the entire dose of medicine will enter your bloodstream. Because it's been around for a while, and is considered an essential medication, it's relatively affordable as a generic medication.
It was the primary medication of myeloma thirty years ago and continues to be a beneficial addition to therapies today.
What is the Normal Dose of Dexamethasone?
Thankfully, the doses and frequency of taking the drug today are significantly lower than before, with 160 mg/week being the standard of the past. Could you imagine?
Until the 2000s, specialists weren't sure how to approach dexamethasone within myeloma.
A cooperative group came together to study what levels of dexamethasone would be most efficient for myeloma patients. Would it be the four days of 40 milligrams/four days off, with the cycle continuing? Or would it be a lower dose of dexamethasone- 40 milligrams per week, once a week?
These two levels of dexamethasone were each combined with lenalidomide (REVLIMID) in a randomized clinical study, known as ECOG.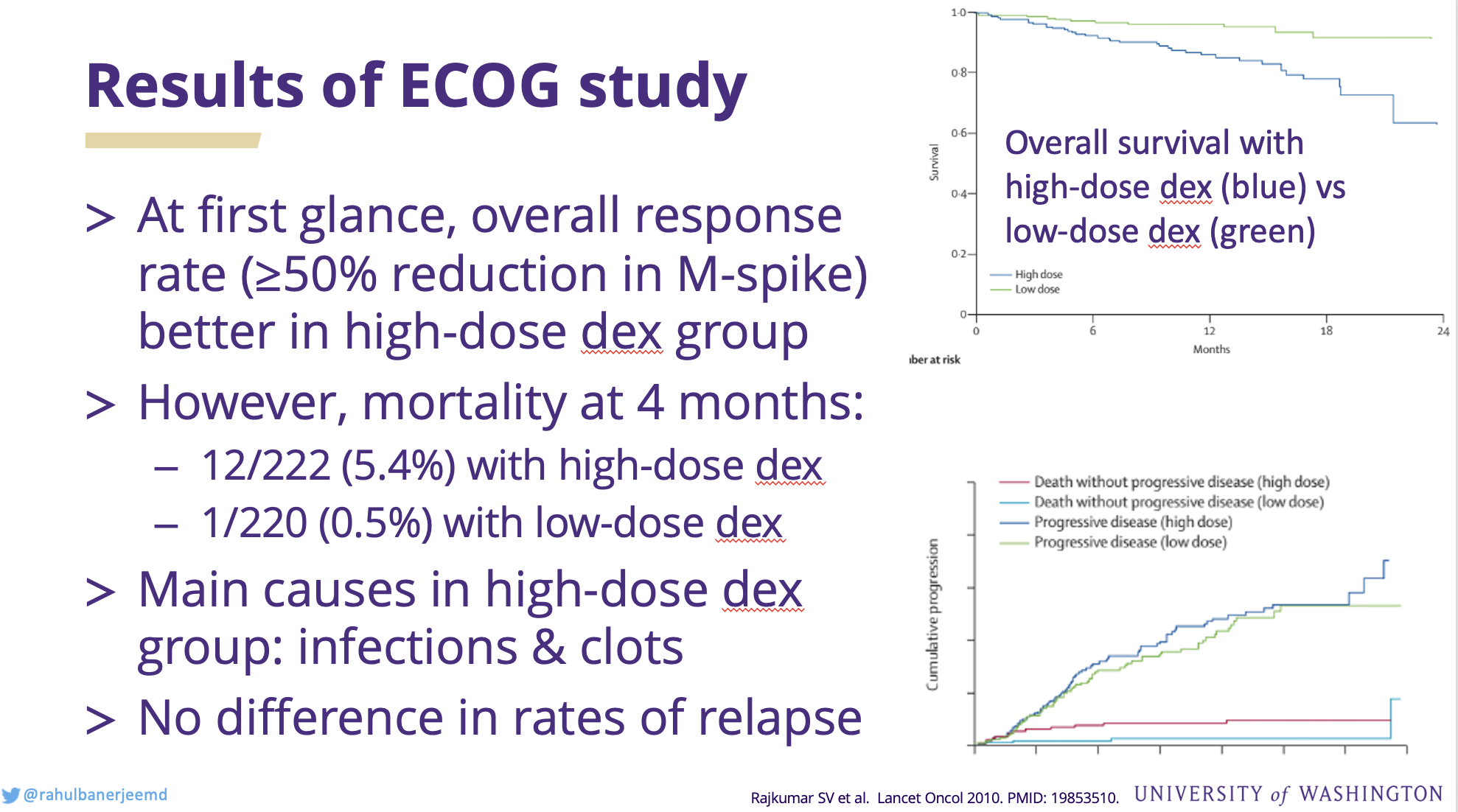 While at first glance, the results from this study showed that the higher-dose dexamethasone arm was more effective than the lower-dose arm, further investigation showed that there were significantly more deaths in the higher dex arm than there with those taking the lower dose. The leading cause of this was the side effects of the high-dose dexamethasone, frequent infections, and blood clots. There was also not a significant difference in relapse rates between the arms.
Because of these study results we learned:
Once-weekly 40mg dexamethasone quickly became the standardized "norm"
Blood clots are possibly lethal with high-dose dexamethasone
We need patient advocates like you in research (it was a patient, Michael Katz, that helped initiate this study)
Is Dexamethasone a Myeloma Hero?
Dexamethasone Makes Other Drugs Work Better
Dexamethasone has been proven to make other anti-myeloma drugs work better. The word commonly used is "synergy", meaning that the combination of drugs works better than either of the treatments by themselves. Think 1 + 1 = 3!
Some of the proven synergistic drug combinations include:
Selinexor (XPOVIO) and dexamethasone
Bortezomib (VELCADE) and dexamethasone
Iberdomide (CC-220) and dexamethasone
Pomalidomide (POMALYST) and dexamethasone
Argueta C et al. Oncotarget 2018. PMID: 29876006.
Hilger R et al. Cancer Res 2007 (poster only).
Amatangeli M et al. Blood 2018 (poster only).
Dexamethasone's Anti-Inflammatory Effect
Dexamethasone is a very powerful anti-inflammatory, it's the principal reason why we have dexamethasone in the myeloma arsenal.
Dex is used as a pre-medication before myeloma monoclonal antibodies (daratumumab, isatuximab, or elotuzumab) are given, thus reducing inflammation and calming down the hyperinflammatory response of your immune system when new antigens are introduced.
Dexamethasone Can Help with Nausea and Pain
Dr. Banerjee occasionally resorts to the high-dose dex regimen of 40 milligrams four days a week for those with bony pain. Of course, this is not a long-term strategy, and patients' doses are tapered as the medication begins to work. Steroids are also used with high-dose chemo regimens (such as before a stem cell transplant) purely as a way to control nausea.
Is Dexamethasone a Myeloma Villian?
Alluding to Jenny Ahsltrom's "break-up" song with dexamethasone, Dr. Banerjee acknowledges that while dexamethasone has many benefits, several patients struggle with the medication. Why?
Dexamethasone Has Several Acute Side Effects
1. Stress Response (Fight or Flight)
Jitteriness and/or anxiety
Insomnia, specifically when trying to fall asleep
Irritability and significant mood swings
Patients sleep 81 fewer minutes on dex days than on other days. This is more pronounced in younger patients than older patients.
2. Blood sugars and electrolytes
Increased appetite and weight gain
Leg swelling ("edema")
Upset stomach (suppression of stomach acid)
3. Withdrawal ("let down") fatigue on day after their dexamethasone
Long-Term Issues with Chronic Dexamethasone Use
1. Worsened bone health, e.g. "osteopenia"
2. Susceptibility to infections
Some myeloma patients take Bactrim®/Septra® to prevent rare infections, especially with other risk factors like low blood counts
Acyclovir is for shingles reactivation from bortezomib (VELCADE) or daratumumab (DARZALEX)
3. Skin and muscle issues
Acne, easy bruising, or weakened muscle strength
4. Effects of high blood sugar
Blurry vision, pre-diabetes, and more
Dexamethasone and Polypharmacy
Polypharmacy is a fancy way of saying that you are taking five (5) or more medications on someone's list. That includes a lot of myeloma patients in our community! It's linked to issues like higher out-of-pocket costs, forgetting medications, and other side effects such as falls/dizziness.
A common question from myeloma patients is, "Why don't they make 20-milligram dexamethasone tabs?". This would make it easier for patients to take less pills, especially since 40 mg could mean you are swallowing several pills at or near the same time. The short answer is that insurance bills those pills (yes, they do exist!) much higher, and very few, if any, myeloma specialists recommend those for their patients.
What Are Practical Tips for Taking Dexamethasone?
Dr. Banerjee shared some excellent tips regarding dosage, dose timing, and side-effect solutions for the myeloma community.
Dexamethasone Dose Reduction
If you are experiencing significant mood swings, severe insomnia, or other unwanted side effects, talk to your physician about a dose reduction. For patients older than 75, 20 milligrams is usually the suggested dose versus 40 milligrams. However, dose reductions can get your dexamethasone to 12, 10, or even 5 milligrams with your dose.
You can also talk to your doctor about switching to a different steroid. Perhaps a different steroid besides dexamethasone would be right for you.
If that doesn't work, talk to your doctor about eliminating steroids altogether from your regimen.
Dexamethasone Dose Timing Adjustment
If you notice that you're having an incredibly hard time sleeping on the day that you take your dexamethasone, talk to your doctor about taking 20 milligrams one day and the other 20 milligrams the next day. This also might help with the "crash" that can happen after you take your dexamethasone.
Take your dexamethasone as early in the morning as possible to get the most "natural" dosing. For more information on this, click here: The Best Time to Take Dexamethasone and Why
Ask if you can take your dexamethasone at home before driving into the clinic (sometimes not possible when in a clinical trial.)
Eliminating Dexamethasone from your Myeloma Regimen
Studies have shown that dexamethasone is not needed after nine months, for older, frail patients with multiple myeloma.
Those with amyloidosis should eliminate dexamethasone as soon as possible from their regimens as it causes significant risks and side effects for that population.
In consolidation and maintenance therapy, steroids should no longer be considered in those therapies, even for those with high-risk disease.
Dealing with Dexamethasone Side Effects
Maximize sleep hygiene on steroids. Avoid screen time before sleeping, invest in a weighted blanket, don't eat before bedtime, try white noise, and talk to your doctor about over-the-counter sleep aids like CBD or Benadryl®.
Get your eyes checked by an optometrist and get glasses if needed. Many patients have vision issues due to dexamethasone or other myeloma medications and go years without saying anything. Visit your eye doctor regularly, and don't hesitate to get glasses if needed.
Take dexamethasone with meals and/or antacids. It's vital that you don't take your pills on an empty stomach. Even a small snack can go a long way so that your body can process the medicine and you can eliminate or significantly reduce some side effects.
Elevate legs at night. Drink lots of water, and talk to your doctor about other medications that might help with extreme swelling.
Make regular primary care physician (PCP) appointments. This can help you be aware of any diabetes or other comorbidities that might appear while on myeloma medications like dexamethasone. Regular visits can also help you assess bone health.
Exercise regularly for bone and muscle health. Do what is in your control to make your body as healthy as possible. Your immune system will thank you!
Join a Patient Support Group. You're not alone! Venting to others about dexamethasone can be very cathartic.
Conclusion
Dexamethasone can and will be considered both a hero and a villain within the myeloma treatment arsenal. While the treatment has great benefits, it's obvious that those side effects can be extremely life-altering. Reporting dexamethasone side effects to your doctors is crucial. You don't have to live with those side effects! Dose adjustments are available, and your physicians are willing to help you. You just have to speak up!
To hear more from Dr. Banerjee, watch the video here:
---
Looking for more? Check out related HealthTree Resources here:
about the author
Audrey Burton-Bethke
Audrey is the Editor for the HealthTree Foundation for Multiple Myeloma. She originally joined the HealthTree Foundation in 2020 as the Myeloma Community Program Director. While not knowing much about myeloma initially, she worked hard to educate herself, empathize and learn from others' experiences. She loves this job. Audrey is passionate about serving others, loves learning, and enjoys iced chais from Dutch Bros. She also loves spending time with her supportive husband and energetic three-year-old.
More on Life With Myeloma
Thanks to our HealthTree Community for Multiple Myeloma Sponsors: