Muscles for Myeloma Columbus Run Raises $30,000 for Multiple Myeloma Research
The Myeloma Crowd hosted it's first Muscles for Myeloma Columbus 5K and 1 Mile Race, honoring the 10- year legacy of Move MMORE at Wolfe Park on June 3rd. Joined by over 600 runners and walkers, participants spent the glorious morning in support of multiple myeloma research. The event was a time for myeloma patients, survivors, friends and family members to enjoy the beautiful surroundings and walk or run in support of The Ohio State University's James Cancer Center Research and the Myeloma Crowd. This year's proceeds will benefit both The James and the Myeloma Crowd Research Initiative. The James Cancer Center performs superior multiple myeloma research in immunotherapies: CAR T cells, checkpoint inhibitors and other ways of encouraging the immune system to fight myeloma. The Myeloma Crowd Research Initiative is also supporting immunotherapy research: a CAR T cell project targeting BCMA and CS1 as well as a T Cell immunotherapy used in conjunction with transplant, called MILs.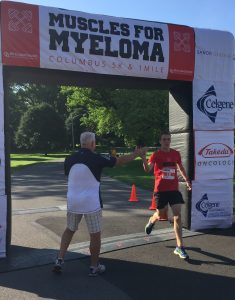 First place winner and Bill Davidge Bill Davidge, announcer for the Columbus Blue Jackets hockey team hosted the event as announcer. The top ten fundraisers each won a $150 gift card to Fleet Feet, a local running store. Winners included: Virginia Ritzenthaler, Jim Lubinsky, Carrie Hawthorne, Patti Warren, Larry Creedon, Ron Cox, Janet Quellhorst, Maureen Nimis, Karen Patmon, Traci Pickett (and Nancy Kaufmann) Team members of the Ritzenthaler team raised the most funds and each received a $50 gift certificate to Rodizio Grill to enjoy a victory dinner together as a team. Jim Lubinsky who created the "Ohio Cares" team and walked with his family commented:
That was an awesome experience this morning. Everything was perfect, from weather to volunteer support to participant's enthusiasm. One nice older lady walked the mile with her cane to help.

The event has meaningfulness far beyond the money raised. For me the warm feeling I received when so many friends not only gave their financial support but spoke with such lovingness in the messages that came with their donation. And then having my family turn out so early on a Saturday just to be with me. There is a value in these events that far exceeds the gathering of funds.

There were other volunteers we met showing incredible dedication to help make the event a great success. One was Romi, who travels to Columbus each year from Akron, staying overnight to be here early on Saturday.

Thank you so much for holding this event again this year. We look forward to 2018.
Join us next year on Saturday, June 2 for Muscles for Myeloma Columbus 2018! For all those who participated in the Muscles for Myeloma 5K Race, here are the finishing chip times.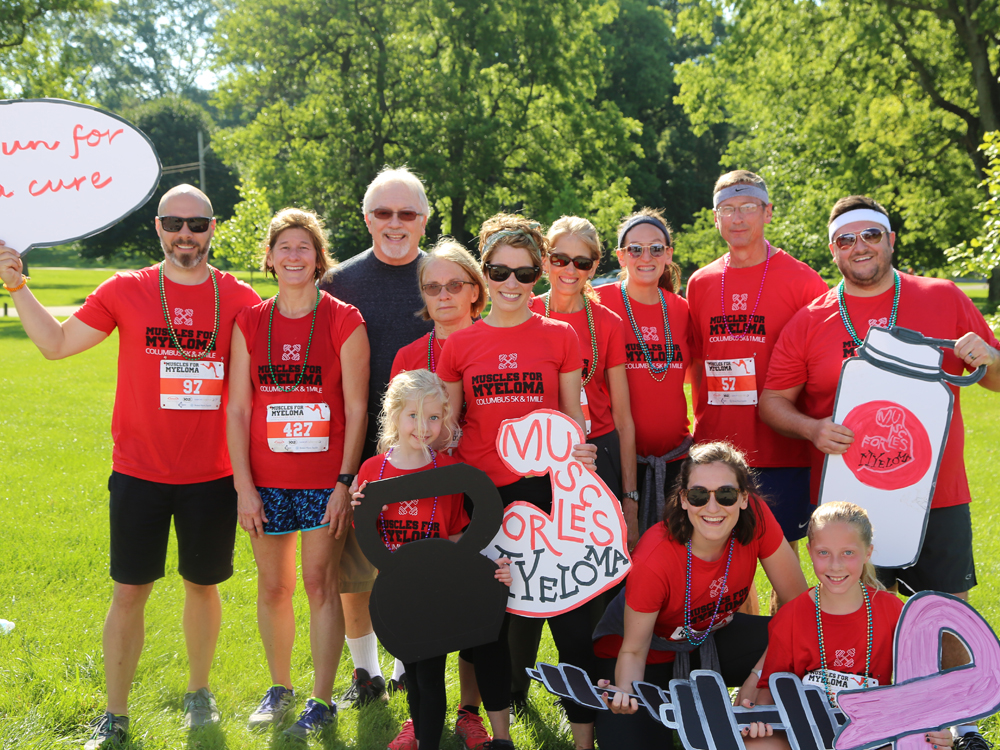 Special Thanks to our Muscles for Myeloma sponsors: Takeda Oncology, Sanofi Genzyme, Celgene Corporation, Bristol-Myers Squibb and 102.5 for making this a great year!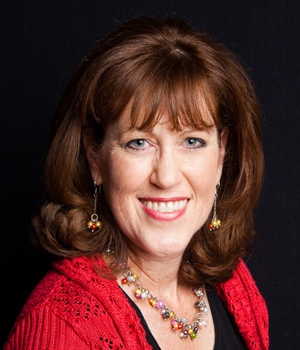 about the author
Jennifer Ahlstrom
Myeloma survivor, patient advocate, wife, mom of 6. Believer that patients can help accelerate a cure by weighing in and participating in clinical research. Founder of HealthTree Foundation (formerly Myeloma Crowd).
Thanks to our HealthTree Community for Multiple Myeloma Sponsors: