Mexican Sweet Potato Skins
Source: Bianca Zapatka
Mexican Sweet Potato Skins
Prep Time 40 mins
Cook Time 10 mins
Servings 4
Ingredients:
SWEET POTATO SKINS
4-5 medium sweet potatoes
1 tbsp oil
1 onion finely diced
2 cloves of garlic minced
½ red bell paprika (100g) finely chopped
1 14 oz can black beans rinsed and drained
1 14 oz can corn rinsed and drained
3-4 tbsp salsa sauce or to taste (optional)
salt and pepper to taste
pinch of chili optional
1 cup non-dairy cheese (120g) shredded
AVOCADO AIOLI
1 Avocado
1-2 tbsp vegan mayonnaise
1-2 garlic cloves
1 tsp lemon juice
salt and pepper to taste
TO SERVE (optional)
fresh parsley or cilantro roughly chopped
scallions sliced
squeeze of lime juice
Directions:
SWEET POTATO SKINS
Preheat oven to to 430°F (220°C) and lightly grease a baking sheet.
Pierce sweet potatoes a few times with a fork. Arrange them on the tray and roast for about 40-50 minutes, or until tender. (Smaller-sized sweet potatoes are cooked through faster, so pierce with a fork after 40 minutes to check, and continue roasting, if needed until soft).
Quick version: Optionally, you can wrap the pierced sweet potato in a kitchen towel and microwave for 10 minutes until soft.
While sweet potatoes are baking, heat the oil in a pan. Add the onions and bell pepper and sauté until roasted and softened, about 3-5 minutes. Add the garlic and roast for a further minute until fragrant. Sprinkle with salt, pepper or other seasonings to taste. Set aside.
When sweet potatoes are fork-tender remove from the oven. Let cool for 5 minutes, or until cool enough to handle. Cut them in half and scoop out the flesh with a spoon, leaving a thin layer of potato inside of the skins. Mash the soft flesh, add roasted onion mixture, beans, corn, salsa and mix to combine.
Brush the sides of your sweet potato skins with a tiny bit of oil. Scoop the filling inside and sprinkle over non-dairy cheese
Bake for about 5-10 minutes or until cheese is melted.
AVOCADO AIOLI
Cut the avocado in a half, remove the core. Scoop out the flesh and mash. Add the remaining ingredients for the aioli, mix to combine. Taste and adjust seasonings to your wish.
TO SERVE
Serve baked sweet potato skins with aioli or other dips of choice. Sprinkle over fresh scallions, parsley or cilantro and a squeeze of lime juice.
Notes:
Instead of vegan mayonnaise, you can also use coconut cream, non-dairy cream cheese, or non-dairy yogurt to make it creamier.
You can add any type of vegetables of your choice too.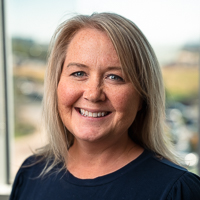 about the author
Michelle Peterson
Michelle is a myeloma survivor, she joined HealthTree in 2021 because she wanted to give back and support others in their fight for a cure.
In her spare time she loves to hike, camp and play around with refinishing furniture.
Thanks to our HealthTree Community for Multiple Myeloma Sponsors: