Research shows for the first time that the use of Mass spectrometry (MS) on blood samples to identify small amounts of remaining myeloma after treatment may be at least as sensitive as the bone marrow biopsy methods of testing Minimal Residual Disease (MRD).
An exciting article "Measurable residual disease (MRD) assessed by mass spectrometry in peripheral blood in multiple myeloma in a phase II trial of carfilzomib, lenalidomide, dexamethasone and autologous stem cell transplantation" was just published by Dr. Benjamin Derman and colleagues from the University of Chicago in the Feb 5 issue of Blood Cancer Journal. In the study, the researchers showed that the MRD sensitivity levels for these new blood tests may be as sensitive as MRD at the current standard of <10-5 (or 1 cell in 100,000 cells) and perhaps as sensitive as ≤10-6 (or 1 cell ins 1,000,000 cells).
If Mass Spec performed on blood samples can be further validated to be at least as sensitive and accurate as bone marrow-based methods in assessing MRD status, the age of liquid biopsies will be upon us. I can hear you all cheering! The authors of the study see one use as a screening method for MRD for patients who have negative immunofixation and serum free light chain tests (this is stringent Complete Response status). If the subsequent MassSpec testing is negative for the presence of myeloma, it could be confirmed by bone marrow biopsy.
"Comprehensive multimodal MRD approaches that incorporate functional imaging with assessment of the bone marrow and peripheral blood compartments may allow for improved MRD-adaptive clinical trials, and allow for MRD to better guide decision-making in multiple myeloma."
The stated rationale for their research was that:
"Despite advances in the detection of measurable (minimal) residual disease detection in multiple myeloma (MM), some patients who are MRD negative by highly sensitive methods, such as multiparametric flow cytometry (MFC) and next-generation sequencing (NGS), still experience disease progression. These bone marrow- based assessments may lead to false-negative results due to spatial heterogeneity in the bone marrow, hemodilution and/or extramedullary disease. Positive emission tomography/computed tomography (PET/CT) is complementary but gaps remain."
MassSpec is able to detect low levels of monoclonal immunoglobulin in blood, also called a monoclonal protein. Each immunoglobulin or its light or heavy chain, has a unique mass and that mass and its mass/charge ratio can be a surrogate marker used to monitor levels of the presence of a plasma cell clone. In this study the unique mass of a monoclonal light chain was defined at baseline and subsequently tracked.
There are several MassSpec methods and the two used in this study were Matrix-assisted laser desorption ionization time-of-flight MS (MALDI-TOF-MS) with a Level of Detection of 0.05 g/dL and Liquid Chromatography MS (LC-MS) with a higher sensitivity Level of Detection of 0.005g/dL, performed by the Binding Site Group. Currently MassSpec is only used in the research setting until consensus is reached on which technique will be used for screening and also based on availability.
Study Details:
76 newly diagnosed secretory patients (or patients who show a monoclonal protein in the blood) enrolled in multi-center study
4 cycles Kyprolis/Revlimid/Dex induction, stem cell transplant (ASCT), 14 cycles KRD consolidation, Lenalidomide maintenance
36 patients at end of Cycle 18 (C18) had paired blood and bone marrow samples
24 of those also had paired samples at end of 1 year Lenalidomide maintenance
Of 36 patients 100% greater than a Very Good Partial Response (VGPR), 81% had a greater than Complete Response (CR)
All 36 patients had Monoclonal Protein identified at diagnosis by both IFIX and MALDI-TOF-MS/LC-MS
This study compared the concordance and prognosticative abilities of MRD Status by MassSpec on peripheral blood (PB), with Serum Protein Electrophoresis/Immunofixation (SPEP/IFIX), PET/CT (imaging scans), MRD multi-flow cytometry (MFC) tests and MRD Next Generation Sequencing (NGS) tests in the bone marrow. Neither MFC nor PET/CT offered additional discriminatory capacity.
Looking at concordance the figures below show that there is:
83% agreement between MALDI-TOF-MS AND NGS
63% agreement between LC-MS and NGS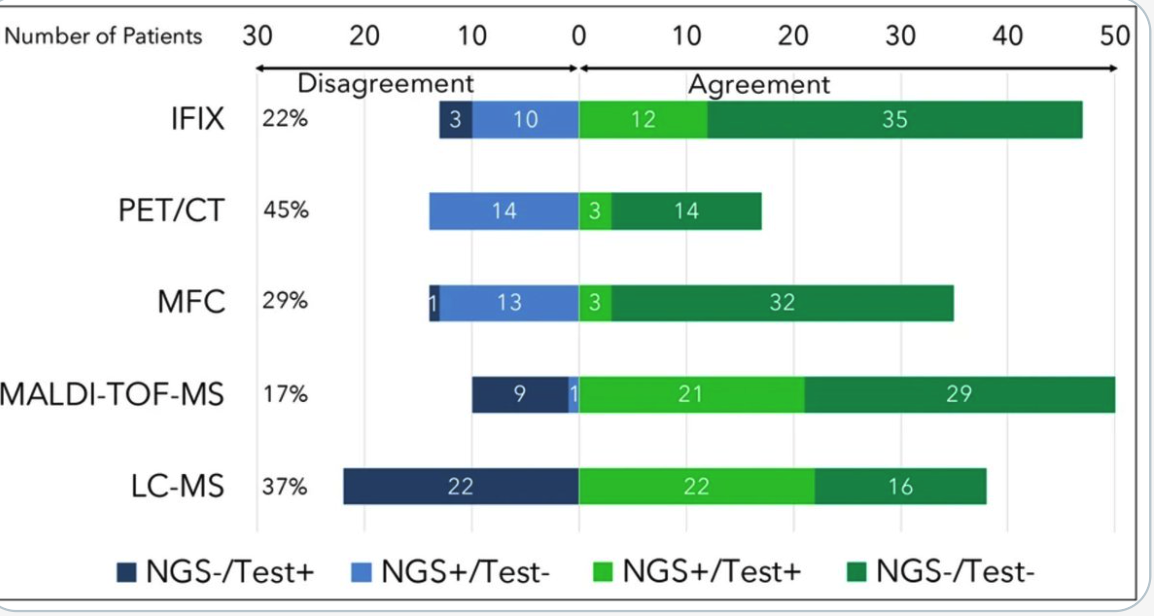 In the figure below comparing Progression Free Survival (PFS) we see that:
None of 9 patients who were Liquid Chromatography MassSpec Negative (-) experienced progression on study and all were alive, compared to the 10 events, including 4 deaths at C18 in the Mass Spec LC-MS positive group
LC-MS status appeared to be a superior predictor of Progression Free Survival (PFS) compared to NGS or MALDI-TOF-MS status. Both of those were associated with a nonsignificant PFS benefit at median follow-up of 56 months.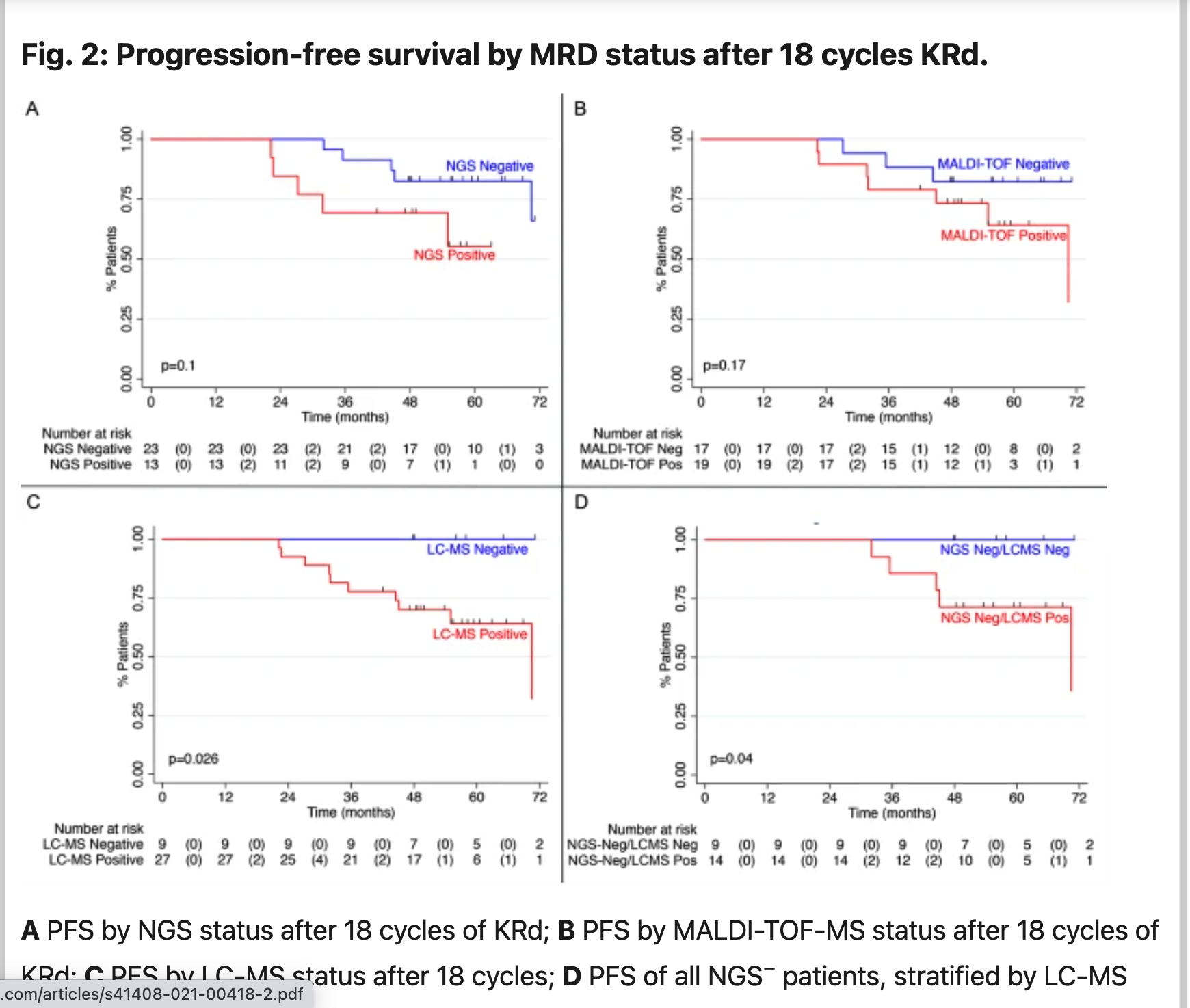 The author also highlighted on Twitter that:
Many cases were Mass Spec positive (+) and Next Generation Sequencing (NGS) negative (-)
Mass Spec positive predicted conversion of NGS (-) to (+)
Mass Spec was a superior prognosticator to NGS at 10 -5 -10-6 in a small cohort
The promise of this study will require further validation, but these results give us great hope for seeing Liquid Biopsies a little nearer in our future.