Forks Over Knives author Robert Ostfeld, MD, joins the Myeloma Crowd Community nutrition chapter on July 28th @ 7 pm Eastern!
Patients seen in the Montefiore Health Care system are not only seeing improvements in their heart health but in their energy levels and overall well-being. Dr. Robert Ostfeld says this doesn't come to him as a surprise. As the Director of Preventive Cardiology at Montefiore Health System, he collaborated with cafeteria staff to change the standard diet provided and actively promotes a plant-based diet for free in his community. This proactive approach is what has made Dr. Ostfeld a national celebrity.
Dr. Ostfeld has graciously accepted to speak to our Nutrition and Wellness for Myeloma Chapter, as part of the Myeloma Crowd Community Program, on July 28th at 7 PM Eastern.
Register Today to Hear from Dr. Ostfeld!
A regular contributor and author for Forks Over Knives, Dr. Ostfeld started his own plant-based journey in 2010. Despite going to medical school, he had very little nutritional education. He was frustrated to see that the recommended diets were not working to make his patients transformationally better. When the plant-based diet was introduced, he finally saw the radical change that he wanted.
As soon as Dr. Ostfeld saw the plant-based approach to diet making a difference, he went on to educate and implement these diets within his patients' lives. He started hosting free educational sessions every Saturday, collaborating with a dietician to explain the health benefits of this "new" diet and provide free plant-based lunches for patients and their families. As mentioned earlier, he also collaborated with food services to create a heart-healthy vegan menu for patients. The cafeteria sells out of these meals.
By teaming up with Forks Over Knives, he was also able to stream their film directly to patients in their hospital rooms. The film runs continuously in four to five hospitals, so roughly 2,000 beds are exposed to the film every day. As stated on the Forks Over Knives website, the film examines the profound claim that most, if not all, of the chronic diseases that afflict us, can be controlled or even reversed by rejecting animal-based and processed foods.
"It follows the personal journeys of Dr. T. Colin Campbell, a nutritional biochemist from Cornell University, and Dr. Caldwell Esselstyn, a former top surgeon at the world-renowned Cleveland Clinic. On separate paths, their discoveries and groundbreaking research led them to the same startling conclusion: Chronic diseases including heart disease and type 2 diabetes can almost always be prevented—and in many cases reversed—by adopting a whole-food, plant-based diet."
Dr. Ostfeld's plant-based advocacy doesn't end there. He's also actively working to educate the medical community as well. He talks with second-year medical students at Albert Einstein about the benefits of plant-based nutrition, speaks to the country (as he will to our group on the 28th of July), and has developed an academic preventive cardiology conference focused on nutrition.
So how effective is the plant-based diet? Does it really work?
Dr. Ostfeld shares:

I've had patients cry tears of joy about how good they feel, which nobody does when I prescribe cholesterol medications. As for actual results, it's things like avoiding stents, coming off multiple medications (17 for one patient), losing weight, reversing diabetes, and lowering cholesterol. Yet don't get me wrong: Not everybody improves like this. Only when patients tell me they've gone at least 50 percent plant-based do changes in health start happening.
Learn with your family, friends, and the myeloma community from Dr. Ostfeld about how overall health can improve through proper nutrition. Come with your questions! You won't want to miss this.
Register Today to Hear from Dr. Ostfeld!
And a special thank you to our Myeloma Crowd Community sponsors for making this possible: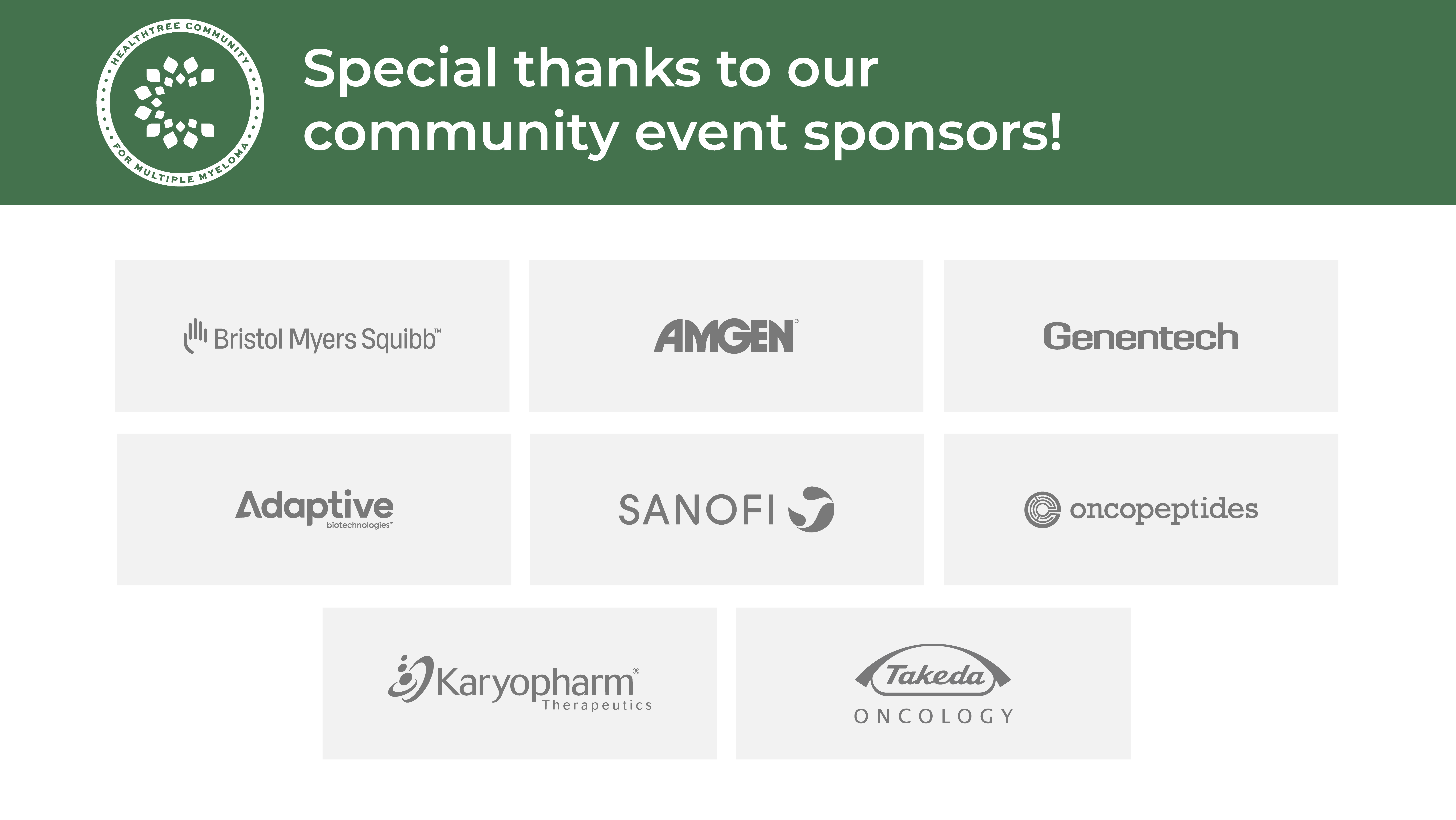 Thanks to the Forks Over Knives Website for this information.