MCRI Day 12 Challenge: Devon Harris and The Jamaican Bobsled Team Push for Better Outcomes for Multiple Myeloma
Devon Harris, member of the 1988 Olympic Jamaican Bobsled team, has a message for you about multiple myeloma. Watch the video and share to continue pushing myeloma awareness for better outcomes for us all. We receive $1 per share from our corporate sponsors that will be donated to myeloma research, but only if you include #discovermyeloma #curemyeloma when you post!


Here's what you can share on your Facebook timeline: (Just copy and paste it!) Day 12 Challenge: #discovermyeloma #curemyeloma Watch Devon Harris, founding member of the 1988 Olympic Jamaican Bobsled team, share how we can get better multiple myeloma outcomes through greater awareness. Each share raises $1 for myeloma research! https://bit.ly/1OuKHL8
---
Learn More about Multiple Myeloma on the Myeloma Crowd
African-Americans are more than twice as likely as whites to be diagnosed with multiple myeloma, a rare and incurable blood cancer. Multiple myeloma is the second most common blood cancer in the U.S., affecting approximately 20,000 new people per year. Most blacks worldwide do not know they are at a higher risk for multiple myeloma and have never heard of the disease. It doesn't help that myeloma is notoriously hard to diagnose and even most general practitioners and oncologists are unaware of the higher incidence rates.
The reasons for myeloma in the African-American community could be linked to a certain gene. In a recent study in the International Journal of Cancer, it was found that African‑Americans were more likely than other groups to be carriers of a protein called p-P7, the strongest single genetic risk factor known for multiple myeloma and its precursor condition, MGUS. Of the adults with multiple myeloma or MGUS in this study, 37 percent of African‑Americans were p-P7 carriers, compared with almost 17 percent of Europeans and 4 percent of Japanese with either disease. The findings of genetics as a cause for the myeloma are consistent for African-Americans as well as other black populations in Africa.
According to Dr. Ola Landgren, MD, PhD and Chief of the Myeloma Service at Memorial Sloan Kettering Cancer Center, blacks develop both MGUS and myeloma at a 5-10 years younger age than whites and notes that the reasons are unclear but may also be caused by genetics. The silver lining for this group is that in general, the type of multiple myeloma is less aggressive than that found in whites. This group should be able to have outstanding outcomes comparatively, but today their outcomes are only slightly better for many reasons that include late diagnoses, lack of education, and lack of access to effective treatments.
For the best outcomes, here's what you can do to beat the odds:
Watch for Early Indicators of Multiple Myeloma
Symptoms like back pain, bone pain, fatigue and frequent infections could mean multiple myeloma. Get checked and help train your local doctor to recognize the symptoms by sharing this letter.
Find a Multiple Myeloma Specialist
Having a myeloma specialist in your corner can improve your life expectancy by 2-5 times! Many patients get their initial consultation and testing with a multiple myeloma specialist, then get their regular treatments in a local clinic. It is worth the effort to find someone who understands this very complicated disease. There is an enormous difference in knowledge about the disease between a cancer doctor that treats a handful of myeloma patients vs. one that treats hundreds. As Devon says, "You're worth the best."
Educate Yourself and Join a Support Group
Get online on the Myeloma Crowd website and find a wide range of information information for newly diagnosed patients, relapsed patients, and family/caregivers trying to support their loved one. You can find interviews with top myeloma specialists on the very latest in research with the Myeloma Crowd Radio program and a wealth of articles on the latest advances in the disease. Support groups, either online or in your local area, are a great way to connect with other patients and learn more about the disease.
Join Clinical Trials
Clinical trials are how we get newer and better treatments. Dr. Brendan Weiss, a multiple myeloma specialist at UPENN's Abramson Cancer Center, says that the challenge in finding better treatments for the black myeloma community as a whole is that most people who join clinical studies are white. If African-American patients don't join the clinical trials, "many of the questions regarding disparities in multiple myeloma will be very difficult to answer." If researchers were able to study a large group of these patients, we may be able to gain insight for all patients. Dr. Vincent Rajkumar, MD of the Mayo Clinic says "If we understood the mechanisms of the racial disparity, it would actually provide us with clues on why people get myeloma in the first place for all races." Ask your doctor about relevant clinical trials and how you can join. In myeloma, they are either the standard of care or something potentially better. There are no "no treatment" or placebo myeloma clinical trials.
For more information on racial disparities and multiple myeloma, listen to Dr. Rajkumar on Myeloma Crowd Radio.
Yesterday's Results and Winners
Thank you Day 10 supporters! We've raised over $22,000 for multiple myeloma research so far!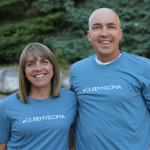 Congratulations to those who won today's MCRI challenge prize! Thanks to Lori Puente, Megan Ahlstrom, Yelak Biru, Matt Goldman and Karen Davis for making a "Can't Wait for a Cure" video!
They win a comfy Myeloma Crowd "Can't Wait for a Cure" tee shirt.
---
Thanks to our 12-Day Challenge sponsor, Takeda Oncology.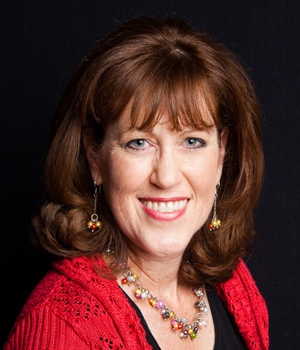 about the author
Jennifer Ahlstrom
Myeloma survivor, patient advocate, wife, mom of 6. Believer that patients can help accelerate a cure by weighing in and participating in clinical research. Founder of HealthTree Foundation (formerly Myeloma Crowd).
Thanks to our HealthTree Community for Multiple Myeloma Sponsors: