Does blood type matter when it comes to multiple myeloma? Turkish researchers shared new data in the Magazine of European Medical Oncology showing that patients with blood type O had a lower risk of developing myeloma but had worse overall survival if they developed myeloma, perhaps due to larger incidence of high LDH levels and more frequent extramedullary lesions (which factors may be seen together and are already known high risk features). There was no significant differences for patients with other blood types.
The study compared 198 patients with multiple myeloma with 23,000 individuals without a blood cancer. between 2012 and 2020. The study performed imaging on the multiple myeloma patients to detect extramedullary lesions.
There was no association between blood type of common clinical outcomes for myeloma, such as anemia, renal failure, hypercalcemia, high beta-2 microglobulin and lytic lesions.
In the study, the patients diagnosed with multiple myeloma and transplant eligible (before 2016) were treated with VAD (bortezomib, adriamycin and dexamethasone) or Vel-dex (bortezomib and dexamethasone) treatment protocols in the first step, while PAD (bortezomib, adriamycin and dexamethasone) or VCD (bortezomib, cyclophosphamide and dexamethasone) given after 2016. A total of 92 patients underwent autologous stem cell transplantation. Vel-dex (bortezomib and dexamethasone), lenalidomide or melphalan were given to patients who were not eligible for transplant.
When comparing survival between blood groups, the researchers determined that overall survival (OS) was significantly shorter for patients with blood type O than the other types (P= 0.007). The overall incidence of extramedullary lesions in the entire patient population was 15.1%. There was a significant difference in the incidence of extramedullary lesion between blood groups (P = 0.000). The incidence of extramedullary lesion was the lowest in blood group B with 7.9% and the highest in blood group 0 with 34.7%. IgA heavy chain and kappa light chain myeloma was more common in patients with blood type A compared to the other groups.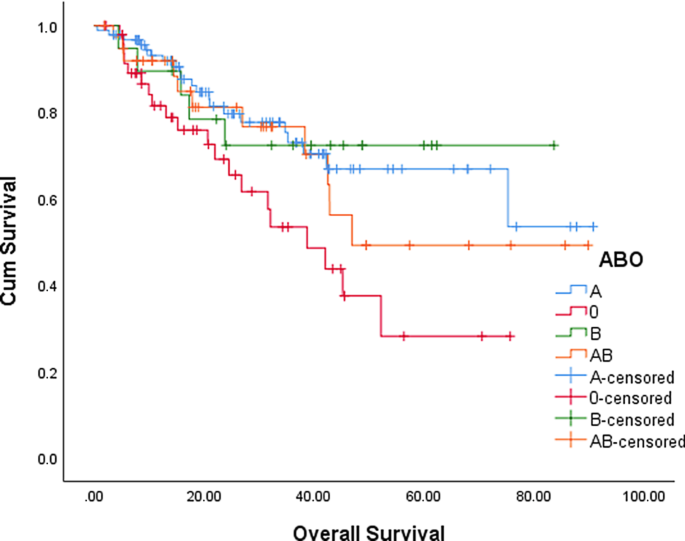 In other cancer types, different blood types have different types of outcomes. For example, in lymphoma, patients with blood type B had shorter overall survival. In pancreatic cancer, overall survival was significantly better in patients with O blood type. The mechanism that causes these results is unknown in these other cancers in addition to the myeloma study.
"In conclusion, individuals with blood group O had a lower risk of developing MM in this study. It was determined that having blood group O in MM patients was a predisposing factor for the development of extramedullary lesions and that these patients had high serum lactate dehydrogenase levels. In addition, it was shown that having blood group O was a very important prognostic factor for [patients with] MM and was associated with short OS," the authors wrote. "Although there was a relationship between ABO blood group system and the development of MM and OS, additional studies are needed to explain the mechanism of this relationship."