MCRI Day 10 Challenge: Multiple Myeloma Patient Advocates are Making a Real Difference
Because of you, more than 30,000 people have learned about multiple myeloma through the MCRI 12- Day Challenge - and we aren't even done yet! To put this in perspective 20,000 people a year are diagnosed with multiple myeloma. THANK YOU! If a few patients can educate tens of thousands of people in a few days, what else could we do together? As my husband would say, "You guys are above average." :-)
To keep this momentum going, below are a few ideas of what we can do together to make a difference. Remember when you share on social media use #discovermyeloma #curemyeloma. We receive $1 per share from our corporate sponsors that will be donated to myeloma research, but only if you include these hashtags when you post!

Here's what you can share on your Facebook timeline:
(Just copy and paste it!) Day 10 Challenge: Multiple Myeloma Patient Advocates are Making a Real Difference. Be part of the solution. Check out ways you can contribute then share on social media using these hashtags. Each share raises $1 for myeloma research! https://bit.ly/1Sn5Fu1 #discovermyeloma #curemyeloma
---
Ways to Become an Active Participant and Advocate for a Cure
[columns ] [column size="1/3"]
[/column] [column size="2/3"]
LEARN HOW MYELOMA PATIENTS ARE FUNDING THEIR OWN CURE
The Myeloma Crowd Research Initiative's focus on high-risk myeloma is a FIRST of its kind. Over the past year, patient advocates and world-class researchers have joined forces to find a cure for high-risk patients. The MCRI Scientific Advisory Board, and Patient Advisory Board have been spending the last year searching the world for potentially curative high-risk myeloma research – something that few were doing. Through a very extensive vetting process that included voting by the doctors and the patients, we chose two projects to fund. These are exciting immunotherapies that use your immune system to fight myeloma. The best part is that these treatments could be equally effective for all myeloma patients! Because of caregiver and patient volunteers like you, we can donate 100% of the money raised to further the research of these two projects, including the money raised from the MCRI 12-Day Challenge. Support the MCRI[/column] [/column] [/columns] [columns] [column size="1/3"]
[/column] [column size="2/3"]
BLOG WITH THE MYELOMA CROWD
Guest authoring posts is a new, big wave in journalism. If you are a talented writer, become a myeloma blogger to help write relevant and accurate articles on topics of importance for patients that can be shared on the Myeloma Crowd website. This could be on subjects such as: getting through treatment, treatment side effects, health and survivorship, new initiatives in the disease space, up-and-coming research, major events, major education seminars and conferences, collaborations within the disease community, best nutrition, facility highlights for centers with disease specialities and other topics myeloma patients would see as important. If you would like to become a regular monthly contributor, please contact us at info@crowdcare.org with a sample of your writing. Be a Myeloma Blogger [/column] [/columns] [columns] [column size="1/3"]
[/column] [column size="2/3"]
HELP BUILD THE MYELOMA COMMUNITY
Help grow the myeloma community, especially for those who may not be currently connected to the great resources available online. We should all be reading the most updated, relevant content for our best outcomes. Share posts, encourage myeloma friends and family to join, help with the Myeloma Crowd weekly newsletter or help manage a myeloma Facebook page. Help build the multiple myeloma community into a united group that can drive real change. Be a Social Media Volunteer [/column] [/columns] [columns ] [column size="1/3"]
[/column] [column size="2/3"]
SUPPORT OR CREATE MYELOMA FUNDRAISING EVENTS
Creating local events, no matter how small, are a great way to get involved. Do a rake-a-thon, a Turkey Trot walk/run, a bake-sale with Thanksgiving pies, or whatever you can think of to help. Donate the proceeds to a myeloma foundation like the MCRI, the LLS, the MMORE Foundation, the MMRF or the IMF. If you'd like to help plan and create Myeloma Crowd events like this spring's Myeloma Crowd Beach Walk/Run, we would love the help! Be an Event Volunteer [/column] [/columns]
---
Yesterday's Results and Winners
Thank you Day 9 supporters! We've raised over $19,000 for multiple myeloma research so far!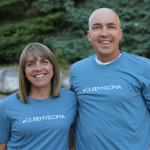 Congratulations to those who won today's MCRI challenge prize! Falmouth Wine & Spirits (on Facebook), Krystie Kraus, Keith Smith, Amanda Maness Powers, Brian Helstein and Rhonda @missy2b (on Twitter). They win a comfy "Can't Wait for a Cure" #curemyeloma tee shirt!
---
Thanks to our 12-Day Challenge sponsor, Takeda Oncology.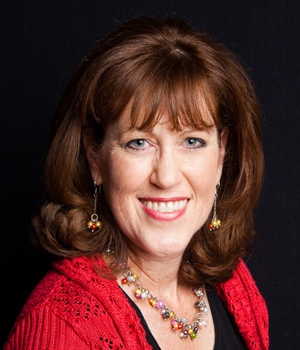 about the author
Jennifer Ahlstrom
Myeloma survivor, patient advocate, wife, mom of 6. Believer that patients can help accelerate a cure by weighing in and participating in clinical research. Founder of HealthTree Foundation (formerly Myeloma Crowd).
Thanks to our HealthTree Community for Multiple Myeloma Sponsors: