ASH 2022: Elranatamab Bispecific Shows Promise in Multiple Myeloma
Elranatamab is one of a host of new BCMA/CD3 targeted bispecific antibodies under investigation in treating multiple myeloma, and investigation into its usage falls under the MagnetisMM family of studies. Results from several arms of the study were presented at ASH 2022 and offer hope that yet another bispecific may be on the horizon. The noted low incidence of ICANS (immune effector cell-associated neurotoxicity syndrome) and limited cytokine release syndrome (CRS) symptoms offer an added bonus.
MagnetisMM-1
Dr. Noopur Raje presented results from the first in human ongoing phase 1 of the MagnetisMM-1 trial, looking at the safety, pharmacokinetics (how the body interacts with administered substances for the entire duration of exposure), and efficacy of elranatamab as monotherapy for the relapsed/refractory myeloma (RRMM) patient population.
The study population represents a good cross-section of the relapsed/refractory multiple myeloma patients with 91% being triple class refractory with a median of five prior lines of therapy and all the included patients being refractory to CD38 antibodies. Thirty percent of the population had high-risk cytogenetics, and 23% had been previously exposed to some form of BCMA-directed therapy. Twenty percent of the patients were African American.
Like all the immune-mediated therapies currently available, cytokine release syndrome (CRS) and ICANS tend to be the most common and immediately debilitating non-hematologic side effects. The elranatamab side effect profile proves to be better than most.
The incidence of grade 1/2 CRS was initially 87%, but with modification of dosing, this dropped to 67% (the drop not reflected in the table below) with no cases of grade 3 or 4. One feature that stands out in the immunotherapy field is that there were no cases of ICANS reported in MagnetisMM-1.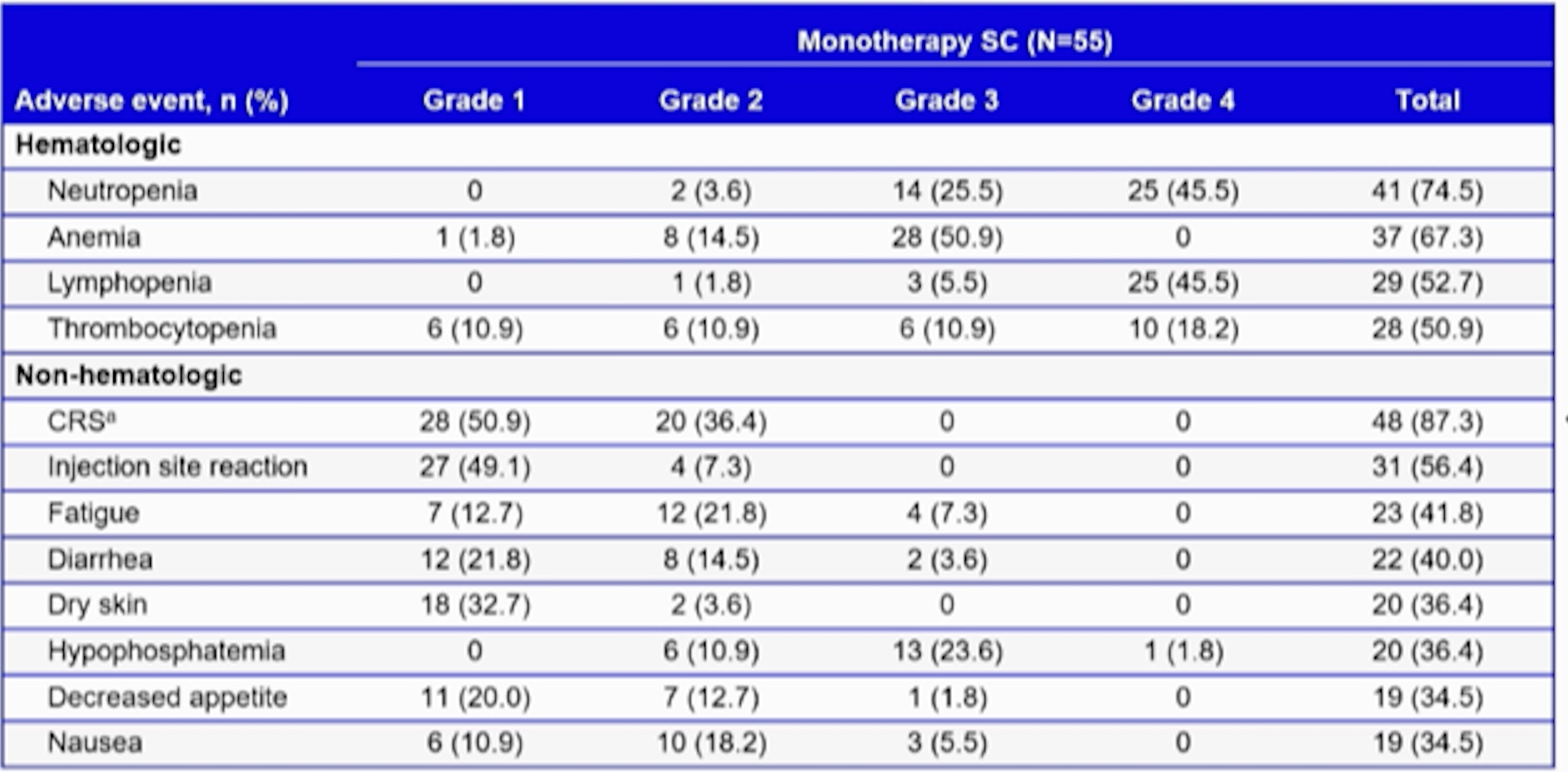 The incidence of hematologic treatment-related events is shown in the above chart and is in line with many of the bispecifics currently under investigation in the myeloma field.
Response to therapy was measured using the International Myeloma Working Group classification and evaluation of MRD using next generation sequencing.
This heavily pre-treated population achieved an overall response rate of 64%, with 38% reaching a complete response (CR) or stringent complete response (sCR) within the median duration of follow-up of 12 months. The patients in the study who had received a prior BCMA therapy had a 54% response rate, with some of those showing a continued response. Those who responded demonstrated a median time to response of one month with a median duration of response of 17 months.
Those in the study who achieved complete response or better received MRD testing. All of these patients were MRD negative when they achieved the response, with 62% continuing MRD negativity at greater than 6 months and 31% at greater than 12 months. The median progression-free survival (PFS) of all patients was 11.8 months.
MagnetisMM-3
The MagnetisMM-3 study is a Phase 2 study using elranatamab in the relapsed/refractory myeloma population. The enrollment criteria differs from MagnatisMM-1 in that patients need be refractory to only one proteasome inhibitor, one immunomodulatory agent, and one CD-38 antibody. These patients were subdivided into two cohorts, depending on their prior exposure to anti-BCMA therapy. Dr. Nizar Bahlis presented the current data from the group of patients that had not received prior BCMA-directed therapy at the recent ASH meeting.
The patient demographics were significant with 25% demonstrating high-risk disease, 42% falling into the penta-class refractory class, and 32% having extramedullary disease, which has proven to be a more difficult disease feature to treat with BCMA-directed therapies.
The median duration of follow-up is only 10.4 months, with a median duration of treatment of 5.6 months. Discontinuation of treatment had occurred in 57.7% of treatment: 34% due to progressive disease and 10.6% because of side effects.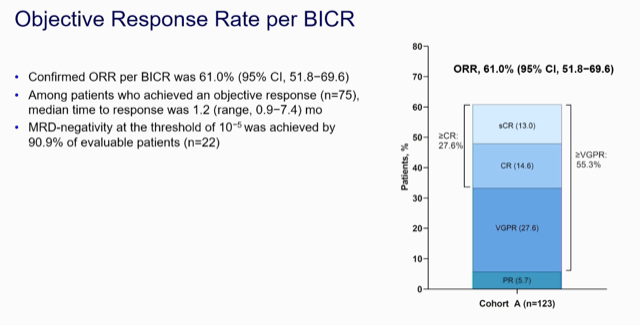 Like most BCMA-directed therapies, the time to response was short, at 1.2 months. The overall response rate was 61%, with 53% achieving at least a very good partial response and 27% reaching a complete response or better. Of those patients achieving a response, 91% were MRD negative, with the MRD positive patients largely being those with extramedullary disease and those with ISS stage 3.
At the data cutoff point in preparation for presentation at ASH, 77.3% of those who achieved a response had an ongoing response. The PFS had not been fully realized, but 63% had 9 months of PFS. Overall Survival was 70.3%, but the study overall survival (OS) had not been reached. Likewise, the median duration of response has not been attained.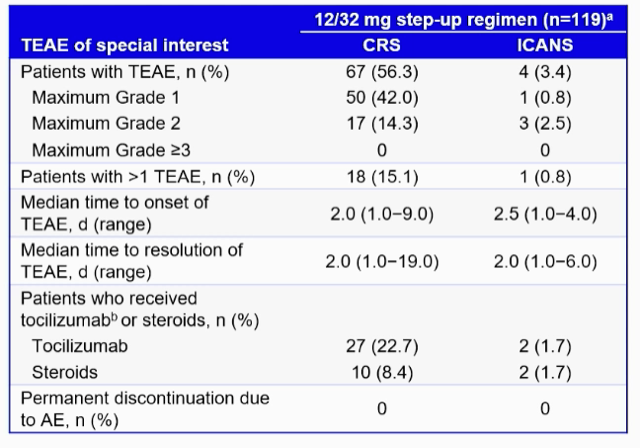 The safety profile demonstrates low and predictable rates of CRS with very little ICANS. Hematologic side effects were significant, with an infection rate of 66.7% and 35% demonstrating higher-grade infections. The median onset of infections was 47.5 days.
Conclusions
Elranatamab is fresh on the bispecific scene and is currently in the shadow of FDA-approved teclistamab. Not long ago, Abecma was the CAR-T king before Carvykti introduced new competition.
The takeaway is that immunotherapy research is exploding and the MagnetisMM studies are showing promise. The features of very low rates of ICANS and lack of significant CRS with elranatamab may contribute towards administration in the outpatient setting.
Further investigation is certainly warranted, and other MagnetisMM studies include the relapsed/refractory myeloma population in MagnetisMM-5 and moving treatment forward into the post-transplant maintenance regimen with MagnetisMM-7.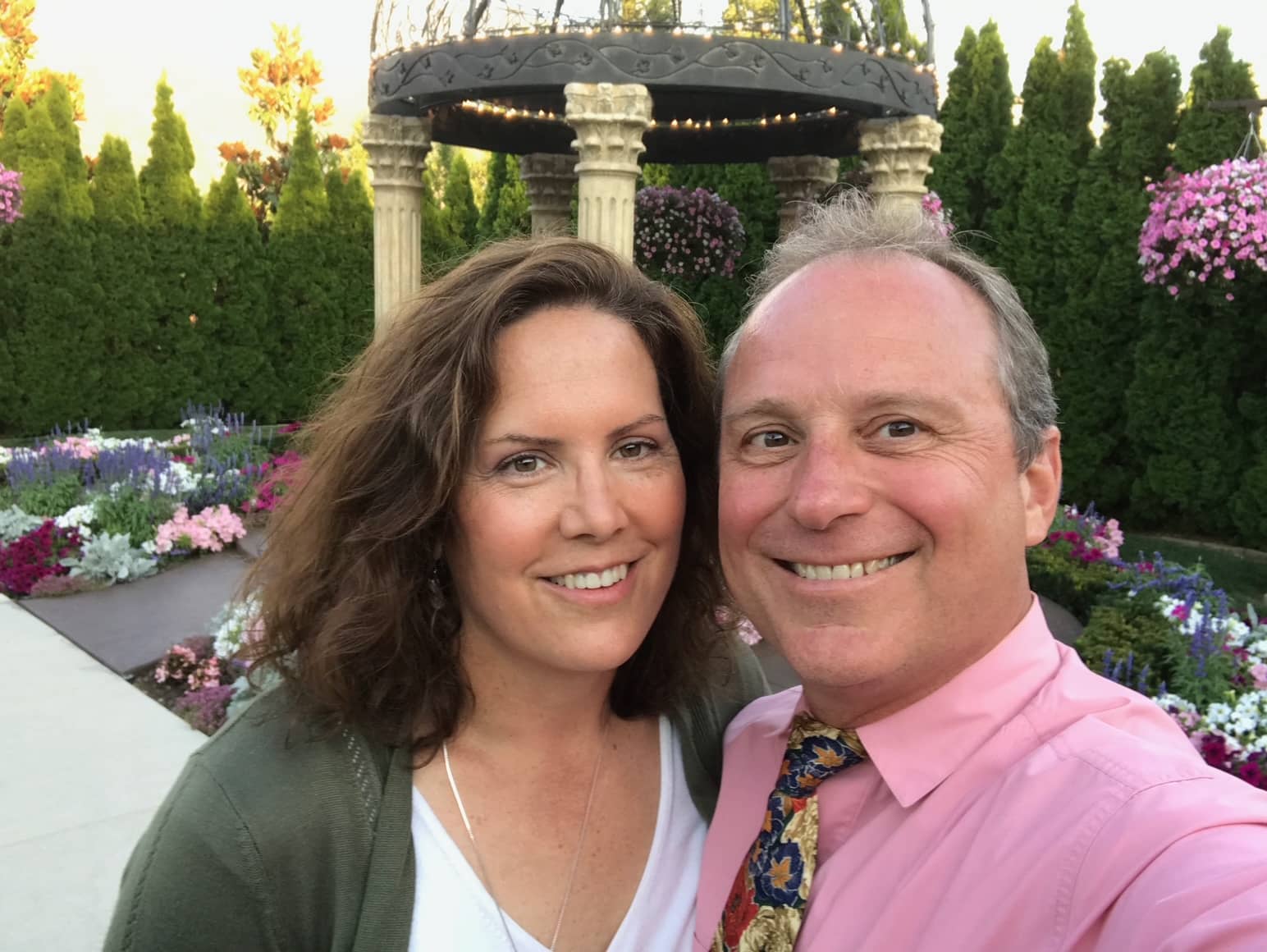 about the author
Kyle Colvin, MD
"As a physician, I figured I may have a unique perspective on the disease, as well as a knowledge base and the time to help patients understand the disease course and treatment options. I figure that I should give back to those in need since my life has been incredibly fortunate, even with this disease."
Thanks to our HealthTree Community for Multiple Myeloma Sponsors: