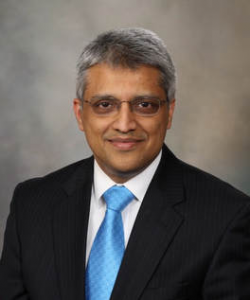 There are 828 abstracts listed for multiple myeloma for ASH 2018. If you want to know which abstracts are most important, why not ask some of the most talented myeloma specialists in the world? And that is just what we did. Dr. Shaji Kumar was kind enough to list his top 5 in their order of importance.

Dr. Kumar is the Professor of Medicine, Mayo Clinic College of Medicine, Consultant, Division of Hematology, Medical Director, Cancer Clinical Research Office, Mayo Clinic Rochester, Minnesota. Dr. Shaji Kumar's research team evaluates the in vitro activity of novel drugs that, based on their mechanisms of action, are likely to have activity in the setting of myeloma. Promising drugs are brought into the clinic through early-stage clinical trials in Phase I or II studies. Dr. Kumar conducts National Institutes of Health-funded research on translation of novel therapeutic targets in multiple myeloma, understanding the mechanism of disease progression from monoclonal gammopathy of undetermined significance to active myeloma, and mechanisms of high risk disease. He also receives funding from the Multiple Myeloma Research Foundation to study the relationship between molecular profiles, treatment regimens for patients with multiple myeloma and outcomes and various clinical trials in relapsed multiple myeloma.

One of the his many achievements includes his work with other US myeloma specialists, Noopur Raje, and Sundar Jagannath and several from India to provide a myeloma treatment template for India much like the mSmart program in the USA. It is called the Consensus in the Management of Multiple Myeloma in India. To view CLICK HERE.

Dr. Kumar's Top 5 in their order of importance are as follows. Click on the abstract number or the title to go directly to the expanded abstract explanation.

1) Abstract 955 - Updated Analysis of a Phase 1, Open-Label Study of LCAR-B38M, a Chimeric Antigen Receptor T Cell Therapy Directed Against B-Cell Maturation Antigen, in Patients with Relapsed/Refractory Multiple Myeloma

This trial has excellent responses and the follow up gives some sense of the durability of CAR T therapies.

2) Abstract 1010 - Treatment with AMG 420, an Anti-B-Cell Maturation Antigen (BCMA) Bispecific T-Cell Engager (BiTE®) Antibody Construct, Induces Minimal Residual Disease (MRD) Negative Complete Responses in Relapsed and/or Refractory (R/R) Multiple Myeloma (MM) Patients: Results of a First-in-Human (FIH) Phase I Dose Escalation Study

New immune modality, the preliminary results appear exciting.

3) Abstract 301 - Maintenance Therapy with the Oral Proteasome Inhibitor (PI) Ixazomib Significantly Prolongs Progression-Free Survival (PFS) Following Autologous Stem Cell Transplantation (ASCT) in Patients with Newly Diagnosed Multiple Myeloma (NDMM): Phase 3 Tourmaline-MM3 Trial

First randomized trial of a proteasome inhibitor maintenance.

4) Abstract 305 - Efficacy and Feasibility of Dose/Schedule-Adjusted Rd-R Vs. Continuous Rd in Elderly and Intermediate-Fit Newly Diagnosed Multiple Myeloma (NDMM) Patients: RV-MM-PI-0752 Phase III Randomized Study

Importance of dose modification in the elderly.

5) Abstract LBA-2 - Phase 3 Randomized Study of Daratumumab Plus Lenalidomide and Dexamethasone (D-Rd) Versus Lenalidomide and Dexamethasone (Rd) in Patients with Newly Diagnosed Multiple Myeloma (NDMM) Ineligible for Transplant (MAIA)

This is a Phase 3 trial of upfront daratumumab.

Dr. Kumar, thank you for all you do for the myeloma patient community throughout the world.