Patients reported ginger-based products to be their #2 go-to solution to prevent nausea in a HealthTree Cure Hub Patient Solutions survey this week. This includes ginger ale, ginger chews, crystallized ginger, candied ginger and ginger drops.
Patient Solutions is a new feature of the HealthTree Cure Hub. It's a place where you as a patient can contribute your solution. You can add your solutions for nausea here.
Ginger root is the stem of a flowering Ziniber officianal plant, found in India and Southeast Asia. It's fabulous when used in Asian culinary dishes, but it also has health benefits, especially for multiple myeloma patients struggling with nausea caused by stem cell transplant or other myeloma treatments like selinexor (XPOVIO).
The uses of ginger are plentiful. It can even rival some prescription medications for certain indications. Ginger may increase digestive responsiveness and speed stomach emptying. It also has anti-inflammatory properties and may improve digestion. According to a June 2019 article published by Foods, ginger can also provide benefits as antimicrobial, neuroprotective, anticancer, antiobesity and as an antioxidant.
A study of 576 cancer patients showed that taking .5-1 gram of liquid ginger root extract twice daily for 6 days starting 3 days before chemotherapy significantly reduced nausea experienced within the first 24 hours of chemo.
The FDA states that consuming up to 4 grams of ginger per day is safe, but most studies use smaller amounts. Each teaspoon of grated ginger is 1.76 grams. In studies, the typical dose was less than 1,500 mg per day.
A word of caution: taking large doses of ginger may increase the flow of bile, so it is not recommended if you have gallbladder disease. Check with your doctor as well if you are on blood thinners, as ginger may interact with these drugs.
Here are some ideas to try at home:
Make your own ginger tea: Steep sliced or grated ginger in hot water. Drink 4 cups of the tea slowly (as to not cause nausea by drinking it too fast).
Make your own ginger ale: (See recipe below)
Take ginger supplements (be sure to find those that are 100% ginger) These typically come in 500-1500 mg doses
Eat crystalized ginger or ginger "chews" (packages state that there is 10% ginger in each chew but it is unknown how much ginger is in each chew). These contain added sugar.
During my stem cell transplants, I would make this recipe frequently. It could have been just a placebo, but I loved drinking it because it made me feel better and had significantly less sugar and more ginger than store-bought ginger ale.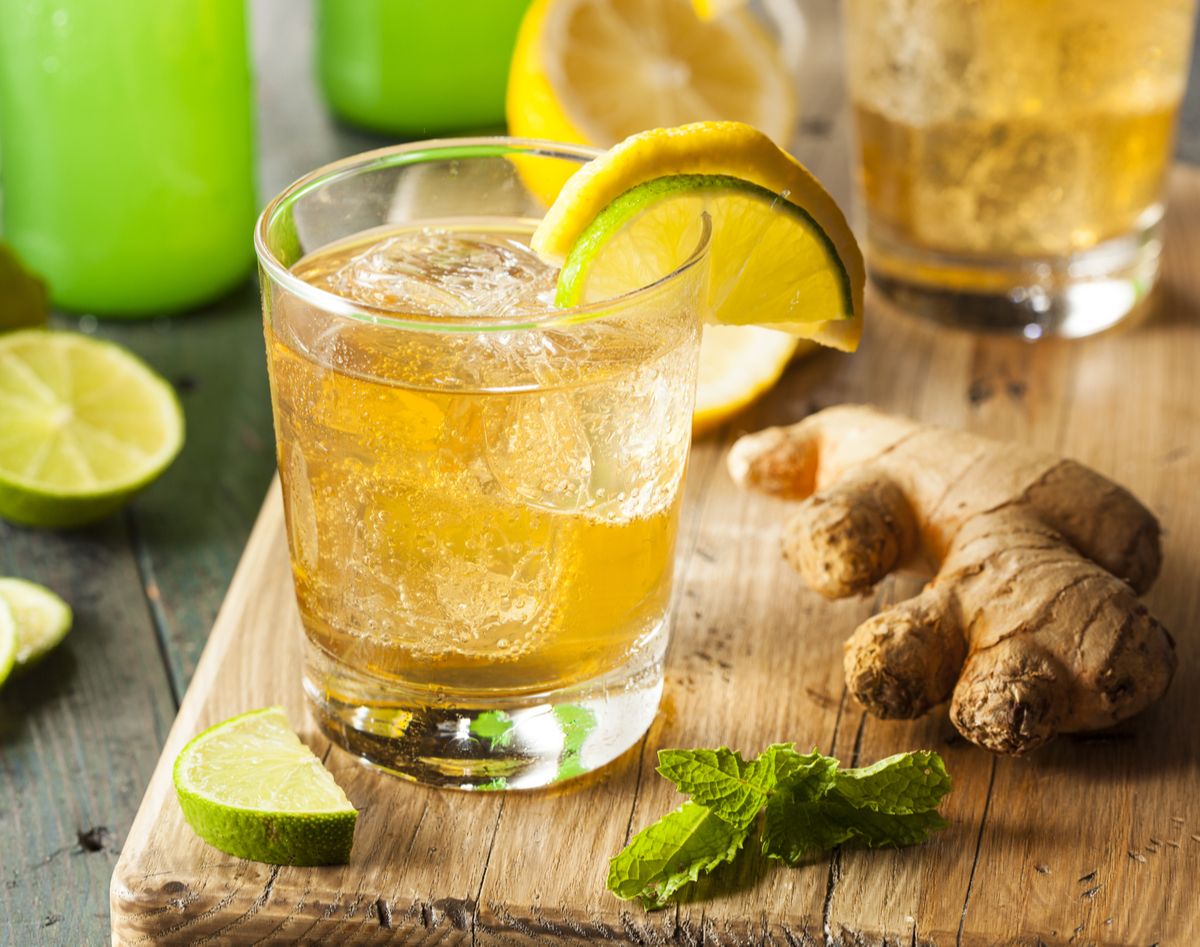 Homemade Ginger Ale
1 cup fresh ginger root, peeled, chopped ginger
½ cup agave nectar, honey or other sweetener
club soda
lime wedges
Mint leaves (optional)
Bring 4 cups of water to a boil in a saucepan. Add ginger. Reduce heat to medium low and let ginger sit in the simmering water for 20 minutes. Remove from heat and let sit for 10 minutes. Strain liquid through a fine mesh strainer. Discard ginger pieces.
Add agave nectar. Make individual glasses of ginger ale by mixing 1/2 cup of ginger syrup and 1 cup club soda. The syrup can be refrigerated for several days. When ready, mix your desired amount of syrup with the club soda to taste. Add a few drops of fresh lime juice to each glass.
Enjoy!
Related Articles: