Pay It Forward for Myeloma Research
A few short years after being diagnosed with myeloma , Todd and his wife Diane Kennedy decided to generously spend their retirement helping others in the myeloma community. They wanted to give back in appreciation for the love and support they had experienced. For over two years, they have been "paying it forward," as each of them has been actively engaged in the HealthTree Coach and HealthTree Community programs. They have personally coached dozens of individuals and impacted hundreds more as they lead the SoCal Myeloma Community Chapter.
Recently Todd and Diane met another individual who was encouraging others to "pay it forward". They decided to use this experience to support the HealthTree Foundation extend its reach to find a cure for myeloma.
Here is their experience in their own words:
Last Friday night Todd and I flew home from Maui on Southwest Airlines with Captain Josh Golm (pictured in middle) as our pilot. Before we took off, Captain Josh announced that it was his birthday and that he was giving everyone on board a present to thank us for being customers which allowed him to do what he loves -- fly planes for Southwest. He encouraged us to take time out of our busy days, look up from our phones, and maybe even talk to the person sitting next to us on the plane. He asked us to consider using the gift he was giving to buy coffee for a stranger or do something nice for someone else. Make the world a better place -- pay it forward! Midflight the flight attendants handed out $10 bills from Captain Josh to each passenger. (We heard there were over 160 of us!) They also handed out napkins for us to write a thank you/birthday message back to Captain Josh if we desired.
We knew almost immediately what we wanted to do with our combined $20. We had spent part of the flight preparing for the SoCal Myeloma Community support group meeting we co-lead --- and our November meeting was about ThanksGIVING and giving back. We wrote to let Captain Josh know we planned to take the money he gave us, add to it, and donate it to the non-profit organization we work with that is doing research to find a cure for multiple myeloma – HealthTree Foundation for Multiple Myeloma. We explained to Captain Josh that while there is not a cure for this cancer that Todd has YET, we are confident there will be someday soon. We added that when he hears there is a cure, he will know that his "pay it forward birthday lesson" played a role in making it happen!
We took this selfie with Captain Josh as we were exiting the plane and before he had time to read our message – but we are tagging Southwest Airlines in this post and sharing this message through their customer service channels as well. We hope to continue Captain Josh's efforts and we want him to know the impact he is making! If you would like to see his kindness have an exponential impact towards cancer cures, consider donating any amount through this link.
If you want to pay it forward and support the HealthTree Foundation's mission to find a cure for myeloma, donate today.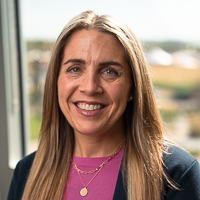 about the author
Rozalynn Hite
Rozalynn Hite is the HealthTree Coach Director and wife of myeloma patient Richard Hite. Rozalynn is an occupational therapist and mother of three beautiful children. She is passionate about providing support, education, and resources to help others live full and active lives.
Thanks to our HealthTree Community for Multiple Myeloma Sponsors: