Myeloma Specialists Choose The Best Myeloma Abstracts For #ASH20
Myeloma Crowd has made it a priority to help the ASH participants interested in multiple myeloma to find the best and most relevant myeloma abstracts from the total of 748 myeloma abstracts listed. Each year over 30,000 doctors, researchers, patient advocates, and patients attend the ASH conference. This year, it is in a new virtual format. It can be confusing and overwhelming, however Myeloma Crowd has asked many well known myeloma specialists to aid us in identifying the most relevant myeloma abstracts. In addition, many myeloma specialists have provided their own lists.
Myeloma specialist Dr. Michael Thompson has put together a summary of all the lists provided for the last two years and has been so kind to do it for a third year. So far he has summarized the best of the best abstracts from a total of 15.
The myeloma specialists have chosen 61abstracts from the more than 748 listed. We have summarized them below with the Abstract number, The Oral Session in which it will be presented, the Presenter, the date and time. This should provide participants with information they can use to make sure they see some of the most relevant presentations for myeloma at ASH 2020. As we obtain additional lists we will update this master list and add the myeloma specialists providing data.
Thank you Dr. Thompson for your effort to make the ASH 2020 experience far more manageable. And a special thanks to Myeloma Crowd and all of the myeloma specialists for their time and effort in finding the most valuable abstracts the benefit of the myeloma community.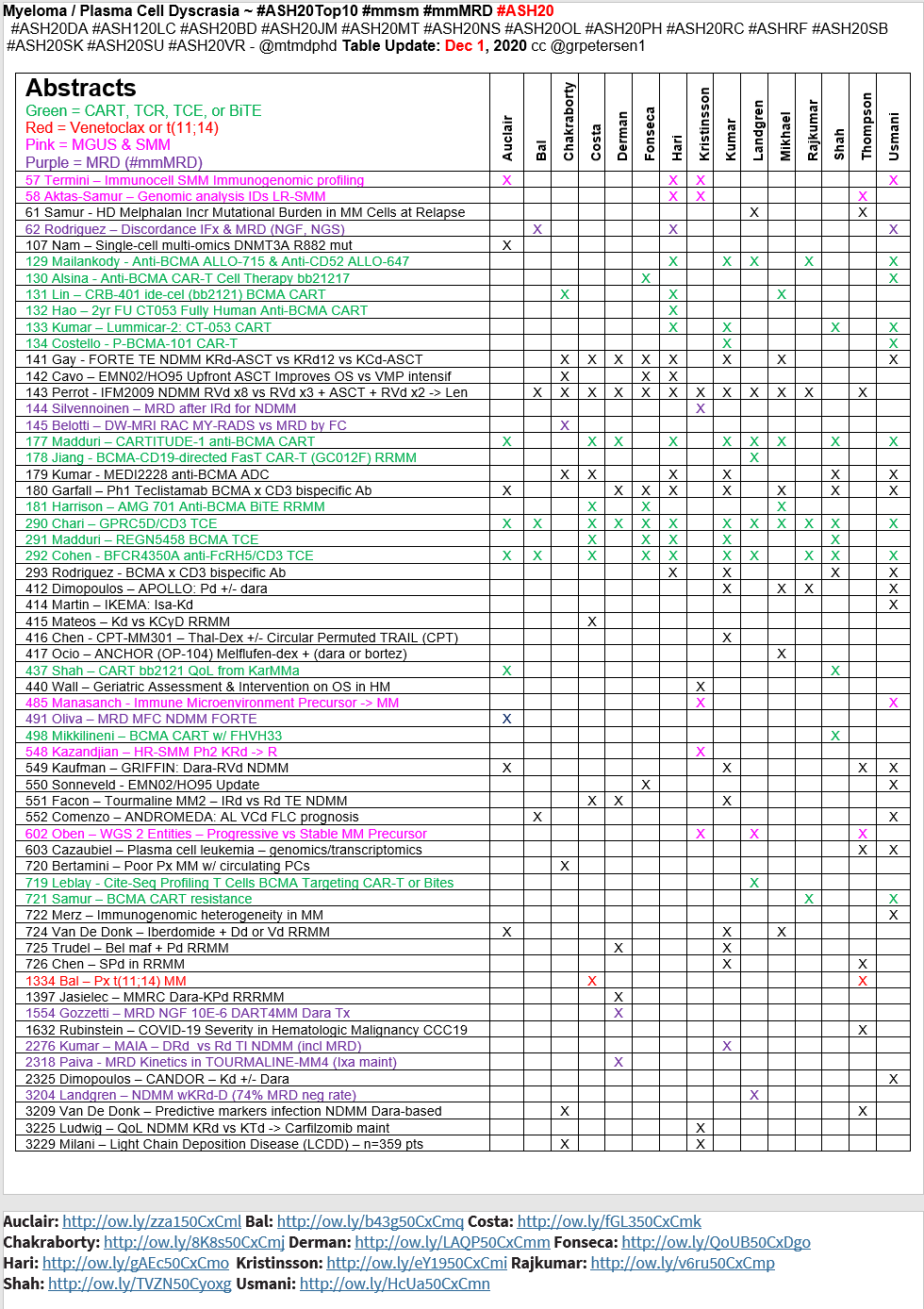 Related ASH 2020 Articles