Setting Boundaries - Patient Linda Lane Shares her Myeloma Story
For me, long COVID was a blessing. Even though I only had a moderate case of the virus in January 2021, I struggled to rebound. The chest pains and shortness of breath from pneumonia I had developed subsided after several months but I could not shake the fatigue. Had it not been for a deeper dive into my blood test results, my multiple myeloma probably would have gone undetected for some time. Like many others, the diagnosis hit us like a ton of bricks. Having to tell our sons I had cancer right before Mother's Day felt particularly cruel and despite six months of treatment, I am still waiting to wake up from this very bad dream.
Up until that time I was a healthy, active 53-year-old woman without any underlying conditions. I liked kale. I flossed. I didn't even need to take a multivitamin. I was the one who took care of others driving elderly relatives to doctor appointments and checking in on them weekly. I was the one showing up on people's doorsteps with meals and various offers to help when troubles came their way. Now the tables were turned.
News of my diagnosis spread like wildfire. My phone blew up with calls and text messages from friends and family in disbelief. We were surrounded by people who were ready, eager and willing to do anything for us to help ease our burden. Who could ask for more? And yet, I began to feel like it was going to suffocate me. I politely listened to well-intentioned advice: Juice three stalks of celery each morning. Take supplements. Drink bone broth. Reiki. Acupuncture. Phrases such as "They can do so much now," and "You've got this!," began to grate on my nerves. Drop-in visits were both exhausting and overwhelming and my already depleted reserves of energy just couldn't handle anymore. It became very clear we needed to set boundaries. Doing so meant letting calls go directly to voicemail, texts going unanswered and saying "no" to visits.
We were grateful for the tremendous outpouring of love and support, but we needed to manage it. We designated my sister-in-law to field the calls from my husband's side of the family and my parents for my side of the family. We found the best way to keep people updated was to send group emails every few weeks. Because of the pandemic, we kept our circle of helpers very small and I found the routine of having the same drivers for treatment very reassuring. Each person knew where to go and what to do and I knew no matter what type of day I was having, I had someone who understood what I needed. Several close friends served as gatekeepers politely redirecting offers until we figured out what, if anything, we needed. They encouraged people to send cards instead and I must say each and everyone is a treasure to me. I re-read them when I have a bad day. They make me laugh. They make me cry. They encourage me. They are better than any casserole or pair of fuzzy socks I could have been given!
As I round the corner towards achieving MRD negativity for the first time, we credit this same wonderful community of friends and family cheering us on these last few months for getting us to this point. It is their love and prayers that will carry us over the finish line. It is comforting to know we have such a strong support system should our needs change. And while I do not see myself juicing celery or utilizing some of the other advice given to me, I cherish the love behind it. Despite everything, I know how truly blessed we are.

Linda Lane
Harwich Port, MA.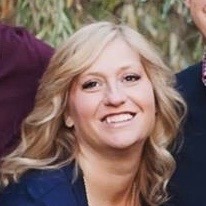 about the author
Lora Jensen
Lora is an Editorial Contributor for the Myeloma Crowd and proud mom of 6 kids and 5 grandkids. In addition to supporting myeloma patients, she loves creating fun parties and activities for her grandkids to enjoy.
Thanks to our HealthTree Community for Multiple Myeloma Sponsors: