The Role of Maintenance Therapy After Stem Cell Transplant
Note: As with many different issues in myeloma, excellent doctors disagree in good faith about the role of maintenance therapy after stem cell transplant in multiple myeloma patients. The following is a balanced take on the topic and reflects the opinion of myeloma specialist Dr. Samuel (Sam) Rubinstein. If your specialist or doctor has a different opinion, this doesn't necessarily make it wrong. You have the opportunity as a myeloma patient or caregiver to learn from different experts and understand their opinions, and then find a myeloma specialist to help guide your care that aligns with your personal treatment philosophies.
Multiple Myeloma is the second most common blood cancer in the United States. It is currently not curable, but is highly treatable. And, for now, achieving the best outcomes requires continuous therapy.
That continuous therapy normally has the following steps (although things are changing as more innovative and immunotherapies are being FDA approved!)
Induction Therapy is given. This consists of three-four chemotherapy agents that are given over a defined period of time. This is usually about a 3-5 month time period.
Those who are interested and qualified can opt into consolidation therapy with high-dose melphalan and an autologous stem cell transplant (ASCT). Consolidation solidifies a position of response by deepening and prolonging it.
After the Stem Cell Transplant, maintenance therapy is administered. This consists of 1-3 drugs at much lower doses than they were presented in induction therapy. Those are usually given (although this will depend on your myeloma doctor) continuously until relapse. The majority of myeloma doctors at this time, based on evidence from quality clinical trials, show that the longest durations/responses are achieved thanks to continued maintenance therapy.
Because this is a disease that many patients live with for many years, even decades, and it does require in most cases continued therapy to achieve the best outcomes, the myeloma journey is seen as a marathon and not a sprint. Minor adjustments are often necessary investments in helping patients remain on appropriate therapy that they can tolerate and support their quality of life as long as possible.
Definition and Primary Roles of Maintenance Therapy
Maintenance therapy refers to lower-intensity treatment given to sustain a response achieved with higher-intensity induction and consolidation therapies.
There are a variety of different regimens that are given as maintenance to myeloma patients after transplant. Today we will touch on the most common regimens administered.
Now, we talked about the need for continuous therapy in order to achieve the best outcomes, but it's important to take note that doesn't mean the same intensity/amount of therapy for your entire myeloma journey.
Why is this? First, it would be incredibly too toxic to give your body that much therapy (or chemotherapy agents) for a prolonged amount of time.
Second, no patients want to spend more time in the doctor's office or infusion room than they have to. The fewer infusion-based therapies to be administered, the better (in most cases).
Third, it would be entirely too expensive and not realistic to require multiple-drug therapies at high doses forever.
Types of Myeloma Maintenance Therapy
Lenalidomide (Revlimid)
This is the widest-used drug for post-SCT maintenance. It is oral, so it keeps patients away from the infusion chair. It's also a drug that patients are familiar with as it is commonly used in induction therapies. It is also the only drug that has been shown to prolong overall survival in the maintenance setting.
Common Side Effects of Lenalidomide:
Fatigue
Reduced blood counts and increased risk of infection
Diarrhea, and other GI effects (nausea, vomiting, abdominal cramping)
Note that a rash when beginning Revlimid (usually in the induction setting but could be in the maintenance setting as well) reflects the immune system getting used to the therapy and its effects and will usually go away after the use of antihistamine, topical use, etc. This is not a Revlimid allergy.
Rare Side Effects of Lenalidomide:
Clots

All patients taking lenalidomide need to take a medication to prevent blood clots

Secondary Cancers

This is rare, but having a dermatologist on your team and getting regular checkups can prevent these.
Proteasome Inhibitors
This class of drugs is widely used in treating multiple myeloma and occasionally used in the maintenance setting. They can be used either as a single agent or combined with other drugs for a dual-agent effect.
There are three proteasome inhibitors that are FDA-approved:
Bortezomib (Velcade, subcutaneous)
Ixazomib (Ninlaro, oral)
Carfilzomib (Kyprolis, intravenous)
All of these drugs may be used in the maintenance setting in select cases, but they have not been proven to have the same overall-survival benefits that Revlimid has.
When considering Velcade as an agent in maintenance therapy, there are some small indications that it might benefit patients with high-risk myeloma. If patients have myeloma chromosome abnormalities such as t(4;14) or del(17), there may be a slight chance of higher efficacy against myeloma with Velcade in the maintenance setting.
The other proteasome inhibitors are options for maintenance therapy but are not as effective as either Revlimid or Velcade.
Dual Agent Maintenance
Some centers will recommend a dual combination for maintenance therapy instead of single agents for those that have high-risk myeloma.
The majority of patients that received dual maintenance with deletion 17 (a high-risk maker) in a 2013 Emory clinical trial are still alive and several of them have not relapsed. That's exciting news, especially in the high-risk myeloma population.
Daratumumab Maintenance
Daratumumab is a monoclonal antibody to CD38 (a targeted therapy for myeloma cells). It's an effective drug in induction therapy.
However, studies of single-agent daratumumab in the maintenance setting show the drug does not prolong response as a single agent, especially in patients that received daratumumab as part of their induction therapy.
Combination studies with daratumumab in the maintenance setting are ongoing with highly anticipated results.
Recording
For a much deeper analysis of these points and an excellent Q&A session, please watch the recording below:
---
A big thank you to our sponsors without whom this would not be possible: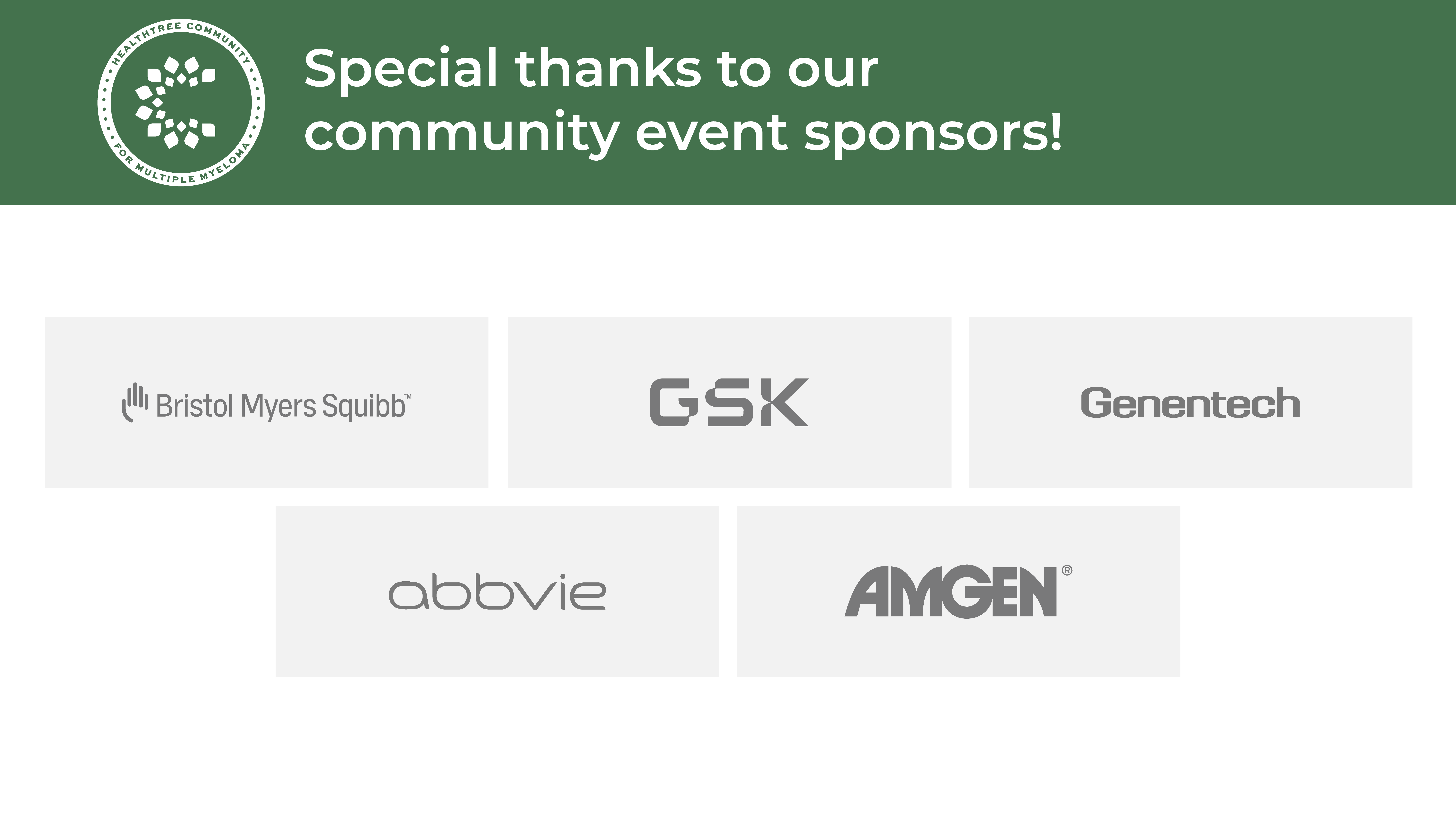 about the author
Audrey Burton-Bethke
Audrey is the Editor for the HealthTree Foundation for Multiple Myeloma. She originally joined the HealthTree Foundation in 2020 as the Myeloma Community Program Director. While not knowing much about myeloma initially, she worked hard to educate herself, empathize and learn from others' experiences. She loves this job. Audrey is passionate about serving others, loves learning, and enjoys iced chais from Dutch Bros. She also loves spending time with her supportive husband and energetic three-year-old.
Thanks to our HealthTree Community for Multiple Myeloma Sponsors: