What is the PROMISE Study?
The PROMISE study is the biggest myeloma screening study ever run to help prevent the blood cancer from occurring by catching it at an early stage. Supported by a $10M Stand Up 2 Cancer award, the study will include patients over the age of 45 with family members of MGUS, smoldering myeloma, multiple myeloma or Waldenstrom's patients and African American patients, who are 3 times as likely to develop multiple myeloma. See more about joining the PROMISE Study.
Joining Up For Myeloma Research
Multiple myeloma is a type of blood cancer affects nearly 30,000 people annually. Though there is no cure at the present moment for myeloma, there are many treatment options. Former MLB All-Star, Don Baylor, passed away from multiple myeloma in 2017 and a number of former Major League Baseball (MLB) All-Stars have been affected by the disease, such as Dave Winfield and Steve Garvey.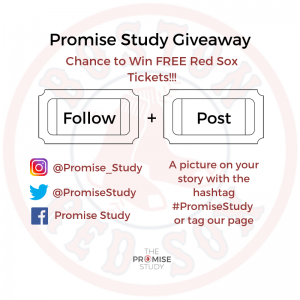 FOR THE WIN – You can help raise awareness for multiple myeloma research, and as a thank you for helping to spread the word, we're giving away a FREE pair of Red Sox Tickets for the April 29th home game at Fenway Park in Boston.
How You Can Enter to Win:
1. Follow or like the PROMISE Study page on Facebook, Twitter, or Instagram.
2. Post your picture so it will be seen by either using the hashtag #PromiseStudy or by tagging one of our pages.
All entries will be placed into a drawing. The PROMISE Study will select one winner who will be announced on April 25th on our social media pages.
The team can't wait to see your photos!!