Originally written by myeloma patient Kathy Haywood.
The day of October 14, 2016 forever changed my life...the day I found out I had multiple myeloma.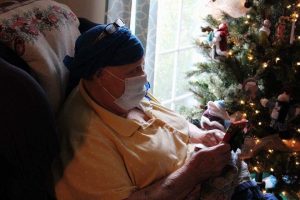 Surgery followed by radiation and chemotherapy would soon fill my days instead of the normal routine of Christmas shopping and lunch with friends. I never have been a late shopper, so most of the stocking stuffers were already bought. I decided on season passes to our local amusement park for all the grandkids which I purchased online. Instead of Black Friday shopping, I settled for Cyber Monday. I was determined to still have our traditional Thanksgiving dinner, but the most I could do was to roast turkey breasts. My daughter Kelly and her family spent the night and fixed the whole dinner together. I thanked God that day for blessing me with such a wonderful husband, four children, and nine grandchildren. There was a lot of love to go around with the delicious meal. It was hard for me not being able to participate, but I knew they could handle it. It turned out perfect.
Christmas was just around the corner, and my tree from previous years was so large that it took a long time to put up in my house. I went shopping and bought a 4 piece prelit tree and it was up in minutes. I have always put on the ornaments myself, but that year, I decided to let the grandkids do it. I went to plug it in to see the finished look... absolutely beautiful! All of my loved ones helped put up my other holiday decorations. I realized that all tasks no longer needed to be finished in one day--scaling back is okay.
The next year, in 2017, I was in the hospital for a week in November and December for chemo in preparation for my stem cell transplant. Once again, I did most of my shopping online. I did decide that I would cut out stockings for the grandkids. They hang up at their own homes and it was a very time consuming task to fill. Each Christmas morning, our family always has breakfast around 9 am, and then everyone gathers again that night for fun and games. I ended up in the hospital for low platelets and we scratched the tradition. Not everything goes as planned, but you have to be okay with that.
This year we are sticking with traditions. I am feeling good since my transplant, and I think I will be able to contribute a little more to the holidays this season. But, I am still shopping online! It's just too easy!
Please take time these upcoming holidays to give thanks for all the wonderful things in our lives. Stay positive, spend time with family and friends, laugh, help someone in need, and most of all--love life!