You're Invited to Join the COVID / Myeloma Study Part 2
The SARS-cov-2 virus has dramatically affected myeloma patients' lives in every possible way for more than a year. Myeloma researchers want to know how YOU continue to be affected by the disease.
The Myeloma Crowd and HealthTree Cure Hub are excited to announce Part 2 of the COVID / Multiple Myeloma Study and welcome all multiple myeloma, MGUS and smoldering myeloma patients to join. You can join Part 2 of the study even if you did not participate in Part 1.
Your answers will provide valuable information to myeloma researchers. For example, the myeloma research community wants to know answers to important questions such as:
What are your current top concerns?
Has your myeloma treatment been affected by COVID? If so, how?
Did you stop, delay or start treatments because of COVID?
Have your myeloma outcomes been affected?
How many of us have tested positive for COVID?
If so, how severe were your symptoms?
How are you using telemedicine during COVID?
Will you get the COVID vaccine? Will your family?
Have you received the vaccine? Which one?
The study takes about 10-15 minutes to complete and your responses will be shared with the myeloma researcher community. Aggregated responses will also be shared with study participants.
Join the COVID / MM Part 2 Study
COVID / Myeloma Study Part 1
Last March, the SARS-cov-2 virus shut normal life down across the globe. Thanks to our powerful HealthTree Cure Hub tool, the Myeloma Crowd was able to immediately initiate a COVID / Multiple Myeloma Part 1 study to identify how myeloma patients were affected by COVID.
From April - May of 2020, we enrolled 1358 patients with multiple myeloma, MGUS and smoldering myeloma into the study. The study was an Institutional Review Board (IRB-approved) study crafted by six myeloma researchers. We asked patients about their top concerns, how their treatment was affected by COVID, and if their treatment had been altered. If treatment had changed, how did it affect their myeloma?
Included below are some of the study findings, with more information to be published in the coming months.
Top Concerns for Myeloma Patients
Top concerns for myeloma patients at that early stage centered around diet and nutrition. Sleep issues were the second most common concern. Almost half of myeloma patients were concerned about what the future would hold and 44% were concerned about their family members.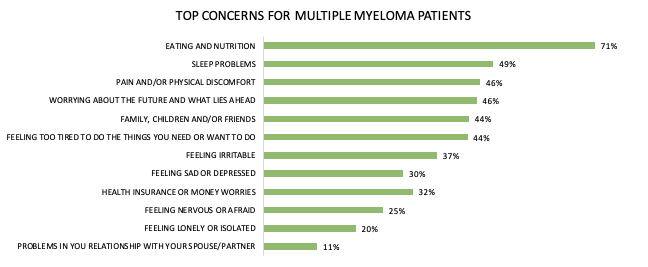 Myeloma Patients Diagnosed with COVID-19
Very few myeloma patients in the study in the early stages tested positive for COVID-19. Only 16 had tested positive at early stages, which was a hopeful sign that wearing masks and quarantining was an effective strategy for patients.

Sources of COVID-Related Information
Patients reported that the key source of their COVID-related information was their doctor. The second source was the internet.

As we gather more data at various time points, we will share all results with study participants and myeloma researchers, including Part 1 results compared to Part 2 results. These results will provide greater insights into the impact of COVID-19 on the myeloma patient population.