Just 15 miles into the Ray Miller 50k in the mountains of Malibu, I'm already feeling fatigued. It's ok, I reassure myself. It's my last race of 2017 and only two weeks after the San Francisco North Face 50 miler, my 'A' race for the year, where I placed second in my age group. A decent result for one of the world's most competitive 50-mile mountain trail ultra marathons. Now at the 20-mile mark, my second wind carries me over the remaining 11 miles passing five runners for a 3rd place finish and a new age group course record of 4:49. It has been an incredible year with 11 ultras on this seemingly bulletproof 53 year old body. For 2018 I plan to focus on just two races – the Boston Marathon in April and the Angeles Crest 100 mile ultra in July – my first 100.
Six weeks into Boston training, a new pain develops in my mid-back. I ignore it of course and push harder. But it gets worse by the day. My fifth 20-mile long run was as painful as anything I've experienced. Finally, I relent to an MRI a day before my flight to Boston. I have a compression fracture in my T5. Boston and AC100 are off and I'm devastated. My competitive lifestyle and a tiny car accident led to the fracture, my doctor believes.
Six months of gyrating between a few weeks of rest and trying to ramp up running again only to see worsening back pain leads me to see an orthopedic surgeon. This time the MRI reveals multiple myeloma lesions throughout my vertebrae, ribs, and pelvis with a combined ten fractures. It's a devastating setback.
I settle into induction therapy and prepare for a stem cell transplant (SCT). My myeloma specialist at MD Anderson tells me 'no running until your stem cell transplant is complete'. Even through excruciating pain, I continue to stay as active as I can with cycling, elliptical, and hiking. At this point, my whole MD Anderson team knows I'm a crazy runner and they strive to get me back to running.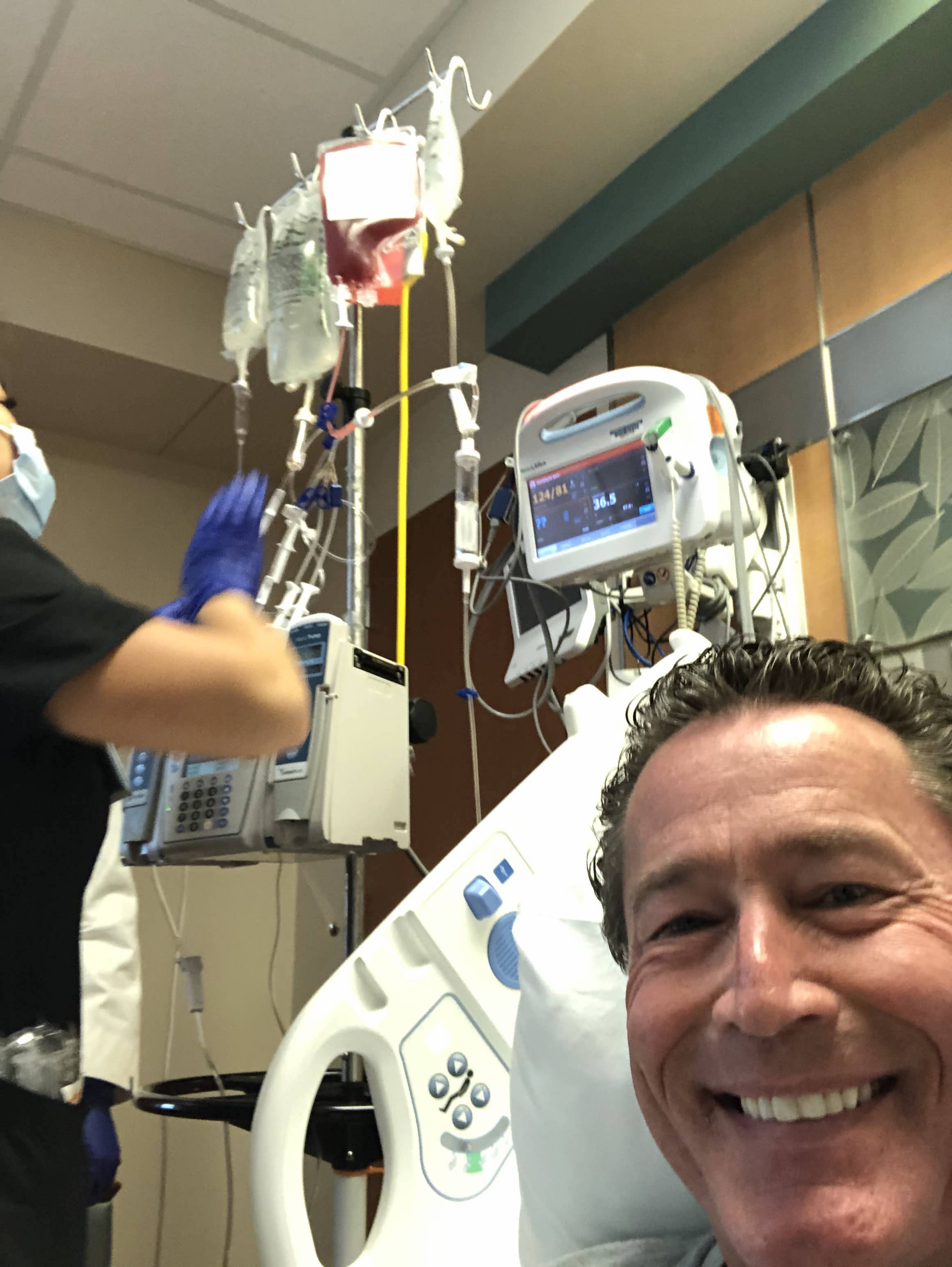 A month after my SCT I'm able to walk 3 miles a day and this quickly builds to 15 miles a week of slow running a month later. Three months post SCT, still sweaty after my first comeback 10 mile run, I sign up for the 2020 Houston Marathon just three months away. My goal is just to finish but secretly I hope to qualify for Boston. Training in the hot and humid Houston fall is brutal but it just hardens my resolve. I push the training too far for my still recovering body and pull a hamstring. I have no choice but to settle with easier training killing any chance of a Boston qualifier. Race day finally arrives. With the encouragement of my new fiancé Ira, I toe the line. It's a magical day and the early miles melt away effortlessly. I'm filled with joy and running much faster than I expected. At mile 22 I see Dr. Q, my SCT doctor, working the aid station. We high five. I'm overcome with tears knowing how precious this moment is. I collect myself and run the remaining miles to a 3:49 finish. It's my slowest of 15 marathons but easily the most memorable. My trademark primal yell at the finish is replaced with tears of joy and gratitude.
In retrospect being fit and staying active all the way through treatment had great benefits. I recovered from my SCT much faster than most and the typical symptoms of neuropathy and fatigue were negligible or manageable. As a Myeloma Coach, I'm leading by example that we can stay active and have a great quality of life.
Randy volunteers his time and shares his personal experience to help others as a Myeloma Coach. The Myeloma Coach program is a free service, offering personalized one one one support to myeloma patients or caregivers. Coaches share resources as well as what they have learned to help others living with myeloma.
find or become a myeloma coach
About the Author:
Randy Miller competed as an ultra-marathon athlete prior to being diagnosed with myeloma. Through his years of ultramarathon running, he developed coping skills that benefitted him in his myeloma treatment. He believes that "sometimes when it seems life can't get any worse, you just have to put one foot in front of the other and have faith that it will work out ok." He lives a full, active life in Houston, TX.