Change is Possible: Achieve your Myeloma Goals in 2022 with the Help of a Myeloma Coach
The start of a brand new year feels fresh and inspiring. It's a clean slate, a new start. It's no wonder that this is the time many commit to new goals and resolutions. Setting New Year Resolutions dates back over 4,000 years ago with the ancient Babylonians. Resolutions were common in the 17th century when writer and Scottish gentry member Anne Halkett wrote a diary entry on January 2nd titled "Resolutions" committing "I will not offend anymore". However, by the 19th century, it was common for individuals to make and not keep these resolutions and this habit began to be satirized.
Some estimates say that 40% of American's make New Year's resolutions. However, research from the University of Scranton suggests that only 8% of individuals actually achieve their resolutions.
Setting small, realistic, attainable goals throughout the year improves the likelihood you will achieve them. The American Psychology Association suggests the following tips when setting resolutions/goals.
Start small
Change one behavior at a time
Talk about it
Don't beat yourself up
Ask for support
What goals do you have to improve your life with myeloma in 2022?
Evaluate and improve your financial resources to pay healthcare expenses
Apply for Medicare, short or Long term disability
Educate yourself on myeloma, new treatment options, or how clinical trials work
Learn to speak up and advocate for yourself with your healthcare team
Prepare for an upcoming stem cell transplant
Improve your mental, emotional and physical health (learn how to set S.M.A.R.T. fitness goals here).
Form friendship and connection with others who can relate to living with or caring for someone with myeloma
No matter what your goals and myeloma needs are, there is a supportive community waiting for you. There are Myeloma Coaches with experience in all of the areas listed above. They are available for you to talk to and seek guidance in reaching any of your goals. The assurance from someone who has "been there" can help you start small and make changes that will improve your health, life and outlook as you take on myeloma in 2022.
This year, choose to be included in the 8% and achieve your myeloma goals with support and encouragement from a Myeloma Coach.
Find or become a Myeloma Coach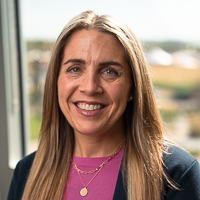 about the author
Rozalynn Hite
Rozalynn Hite is the HealthTree Coach Director and wife of myeloma patient Richard Hite. Rozalynn is an occupational therapist and mother of three beautiful children. She is passionate about providing support, education, and resources to help others live full and active lives.
More on Life With Myeloma
Thanks to our HealthTree Community for Multiple Myeloma Sponsors: