Black Patient Spotlight: Chaundra McGill
Join us and celebrate Black History Month with a patient spotlight series! Tune in each week and get to know patients from our myeloma community as they share their stories with us.
This week meet Chaundra McGill. Chaundra had endured several severe health conditions including multiple myeloma and shares with her inspiring journey and how she's been able to move forward. Click the video below and listen to her story.
In 2010, Chaundra experienced a brain aneurysm which required an immediate surgery. During the surgery when a tube was pulled out, the motion triggered a stroke. Chaundra lost her hearing, had wild eyes, loss of facial muscle control on her right side and lacked coordination. She had to learn how to swallow again and had facial reconstructive facial surgery to address the facial drooping.
When patients endure a traumatic health experience, they are likely to develop a severe pain condition. Chaundra developed central pain syndrome, where all her muscles ached and felt like the worst flu you've ever experienced in every joint.
Because of her frequent doctor's appointments for her pain condition, she had regular blood work performed. Her doctor noticed a monoclonal protein and referred her to a local Kentucky hematologist who diagnosed her with smoldering multiple myeloma.
She wasn't treated initially but went back for frequent testing. About one and a half years later, her kidneys started to shut down and she developed nagging back pain. A low-speed rear end accident intensified that pain to an unbearable level. An MRI showed that her L2 had been crushed from a myeloma tumor on her spine.
Her medical team tried to radiate the area, but it didn't work, so she had her vertebre removed and had a rod put into her spine. Her doctor then referred her to Dana Farber where the myeloma specialist started her on subcutaneous shots, IV and oral myeloma treatment in addition to supportive care and supplements. She was taking 45 pills a day on her regimen. She was ineligible for stem cell transplant because of her prior stroke.
Shockingly, seven months after her surgery, her mom was diagnosed with multiple myeloma and surgery was also performed, with two rods being placed in her back. The doctor said she would never walk again. Her mother also completed an autologous stem cell transplant.
Chaundra was now recovering from her own back surgery to be her mother's caregiver. They moved to a first floor apartment that was handicapped-accessible.
Her dear friends stepped into help during this crazy challenging time. Her mother regained her ability to walk with out a walker or cane, but then had an accident falling down stairs and is now using a walker.
After 15 months of treatment and continued maintenance, Chaundra has now been in remission for 3.5 years. She is an inspiring example of tenacity, endurance and grace, living with a combination of severe health challenges.
Chaundra created a You Tube channel called "My So-Called Disabled Life" where she shared ideas about living with disabilities.
If you want to share your story like Chaundra, please send an email to myeloma@healthtree.org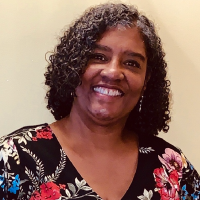 about the author
Marsha Calloway-Campbell
Marsha Calloway-Campbell - Marsha is a caregiver to her husband who has multiple myeloma. Although a lawyer and consultant, Marsha finds time to work with the myeloma community all while enjoying time with her husband, 3 adult daughters and young grandson. She's passionate about helping and empowering others.
Thanks to our HealthTree Community for Multiple Myeloma Sponsors: