Awareness Matters! Meet Myeloma March 2015 ! A U.K. Mambo for Myeloma Awareness Partner
Awareness Matters!
Meet Myeloma March 2015 (https://www.justgiving.com/Myeloma-March2015)! A Mambo for Myeloma Awareness Partner who raises awareness and funds for research on behalf of Myeloma UK.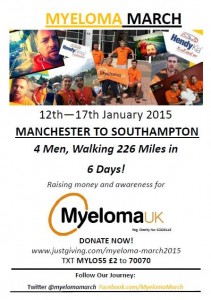 Four men, 226 miles in six days in the UK, beginning January 12th from Manchester to Southampton. This averages a marathon and a half every day starting on January 12 from Old Trafford until they arrive at St Mary's Stadium, Southampton on January 17! The men are driven and committed to support and honor their mom and mother-in-law, Janice Simper,

who was diagnosed with Multiple Myeloma in 2005, nine years ago. This close knit family reports Janice is still going strong, even after facing many setbacks, including a very recent hospital stay just this holiday season.
"No less than nine years on (and still going strong!) she has endured numerous tests, various different chemotherapy regimes, bone marrow and stem cell treatments, hospital stays, several bouts of pneumonia, renal failure, a hip replacement and more recently a complicated femur fracture where the operation to fix has found her with a short stay in intensive care and a month's stay in a hospital bed.

After all of this, unbelievably, she is still fighting on! This is why we are taking on this crazy challenge- if one women can go through all of this and still have the courage and determination to keep battling this devastating disease, then three men in their 30's can walk 226 miles to raise awareness for Myeloma UK (and raise a bit of money along the way!)"
Scott
(Janice's son), along with Brett (Janice's son-in-law), and Dave (a close friend of Brett's) have been training for months. They have been wearing the bright orange Myeloma UK T-shirts and gear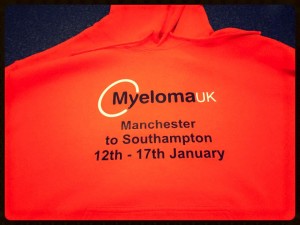 along the way. The support vehicle will be driven by Janice's husband, Bryan. The support vehicle, a Kia Carens 3, has been supplied by Hendy Kia of the Hendy Group, UK. This great team intends to also support our Mambo for Myeloma Awareness Campaign Initiative by videotaping a Mambo for Myeloma at the start of their Myeloma March at Old Trafford. For more information about the Mambo for Myeloma Campaign, please visit our Community Facebook page! Meet the Myeloma March team along the way and help cheer them on, maybe even join them in the Mambo planned at the start of the march! Scott recently posted and shared the following:
"Hi guys, As a few of you may know the Myeloma March is not far away now and will be walking from Manchester to Southampton starting the 12th we would love to know if there are people along our route that might want to meet us to give us some encouragement along the way 1st stop is Stoke, 2nd is Walsall, 3rd is West Brom and Blockley, then Stockbridge would love to hear from you."
You can respond to and also follow their awareness and fundraising efforts on Facebook! We wish Scott, Brett, Dave, and Bryan much success. Janice, thank YOU for being the inspiration behind this incredible effort! We wish all of you the very best. March on for Myeloma Awareness and Research! And don't forget, please MAMBO FOR A CURE IN 2015.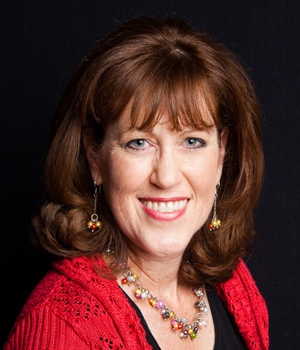 about the author
Jennifer Ahlstrom
Myeloma survivor, patient advocate, wife, mom of 6. Believer that patients can help accelerate a cure by weighing in and participating in clinical research. Founder of HealthTree Foundation (formerly Myeloma Crowd).
More on Life With Myeloma
Thanks to our HealthTree Community for Multiple Myeloma Sponsors: