Some myeloma treatment, including stem cell transplant, can be brutal on your gastrointestinal system. Although family members may think it's TMI (too much information) to share the daily ups and downs of your bowels, constipation can be a real problem, lead to hemorrhoids and cause serious personal discomfort. Here are some tips and tricks to avoid and relieve constipation during treatment.
Alert: Please discuss these treatments with your doctor before using.
See What Works for Other Myeloma Patients in HealthTree Cure Hub
One of our new features in HealthTree Cure Hub is Patient Solutions. Patients share their side effect solutions for each side effect, like constipation, with what works and what doesn't. You can see a wide variety of solutions used by patients and sort them by most commonly used or by most effective. Click here to find constipation side effect solutions. Add your solution today!
Start with Water
Staying hydrated (at least eight 8-ounce glasses of water per day) is necessary for proper bowel function. Drinking an adequate or large amount of water may get things moving again.
Avoid These Foods
You may have heard of the BRAT diet which is used for diarrhea. The BRAT diet stands for Bananas, Rice, Apples and Toast. If you have the opposite problem (constipation), then avoid these foods as they will make your problem worse. Processed foods make matters worse, so stay away from pre-packaged foods as well.
Try Fiber
If a low-fiber diet is the cause of the constipation, fiber supplements may help. They add bulk to your stool which helps push the stool through your body. A few common fiber supplements include psyllium (Metamucil), calcium polycarvophil (FiberCon) and methylcellulose (Citrucel).
Take a Laxative
There are two types of laxatives - laxative stimulants which squeeze the intestines and osmotic laxatives that move fluids through the colon. Laxative stimulants are available over the counter and include bisacodyl (Dulcolax, Ducodyl, Correctol) and senna-sennosides (Senokot).
Osmotic laxatives include magnesium hydroxide (Phillips Milk of Magnesia), polyethylene glycol (MiraLAX), magnesium citrate and lactulose (Kristalose).
Try Epsom Salts
Drinking epsom salts or soaking in a bath with epsom salts can help relieve constipation. For adults and children 12 years old and older, dissolve 2 to 4 level teaspoons of Epsom salt in 8 ounces of water and drink the mixture immediately. Try adding fresh lemon juice to improve the taste. This usually produces a bowel movement within 30 minutes to six hours. Drinking more than two doses of Epsom salt daily isn't recommended. Don't use it for more than one week without consulting a doctor. An Epsom salt bath with low lights and quiet music sounds much more appealing, in our opinion.
Don't Forget the Stool Softener
While it won't resolve the constipation on its own, taking a stool softener can be helpful to get things going again without a lot of pain.
Get Moving
Exercise can help get your bodily functions working properly again. Light exercise like walking or jogging can increase blood flow throughout your abdomen.
Eat These Foods
Fiber rich foods like oats, vegetables and fruits are helpful. Watermelon, butternut squash, prunes, dried apricots, pears, kiwi, artichokes, greens and seeds are some of the best options. We've provided the recipes below for your enjoyment and proper GI function. Hope you enjoy!
Watermelon Salad with Balsamic Vinaigrette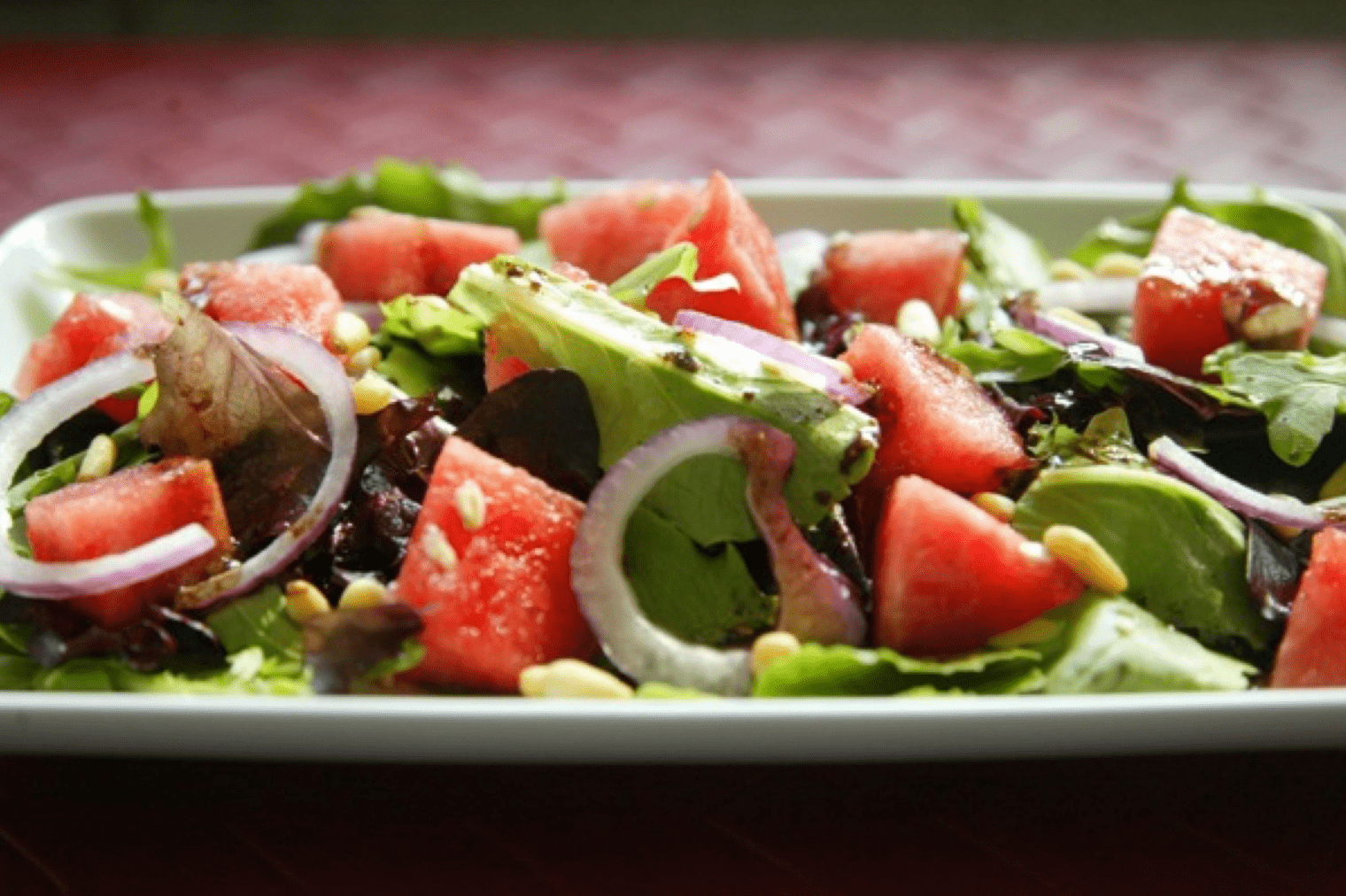 Ingredients
6 cups mixed greens
3 cups watermelon cubed
1/4 red onion thinly sliced
1/2 cup pine nuts toasted
1/2 cup olive oil
1/4 cup balsamic vinegar
1 teaspoon garlic minced
1 teaspoon dijon mustard
1 teaspoon soy sauce
1/4 teaspoon sesame seeds
1/2 teaspoon lemon pepper
Directions
In a small saucepan over medium heat, toast pine nuts until light brown. Be careful not to overcook. Mix dressing ingredients and serve over salad.
Butternut Squash Soup

Ingredients
1 3 lb. butternut squash peeled and chopped
1 onion chopped
2 1/2 tablespoons butter
2 large granny smith apples peeled and chopped
1 pear peeled and chopped
3 1/2 cups chicken stock
2 teaspoons thyme
1 teaspoon sage leaves
1/8 teaspoon nutmeg
1 bay leaf
1/2 teaspoon salt
1/2 teaspoon pepper
1 cup coconut milk or half and half
2 tablespoons apple juice
Directions
Peel squash (using gloves) Cut in half lengthwise. Remove seeds and dice squash into chunks. (or purchase pre-cut squash)
In a large soup pot on medium heat, melt butter. Saute onion until soft.
Add squash, apple, pear, thyme, sage, nutmeg, bay leaf and broth. Bring mixture to a boil and reduce, simmering 20 minutes. Discard bay leaf.
Puree mixture with a hand blender and stir in coconut milk or half and half and apple juice. Heat to a simmer.