ASH 2022: New Bispecific Combinations Studied in Relapsed/Refractory Myeloma
The newly FDA-approved bispecific antibody, teclistamab, is now being tested in combination with other commonly used myeloma treatments to improve responses and lengthen remission times.
When new drugs are tested in clinical trials, some become FDA approved as "single agents" or approved to be used alone. But standard of care treatment in multiple myeloma is to use these drugs in combination.
Teclistamab (Tecvayli) was the first bispecific antibody to be approved for the treatment of relapsed myeloma in October of 2022. The MajesTEC-2 Phase IB study is now testing it with daratumumab and lenalidomide. The study includes:
Teclistamab, is an off-the-shelf, B-cell maturation antigen × CD3 bispecific antibody that redirects CD3+ on the T cells to attack BCMA on myeloma cells. It was recently FDA-approved and discussed in more detail in this HealthTree article. Or you can listen on the HealthTree podcast.
Daratumumab is a monoclonal antibody that targets CD38 on myeloma cells and is discussed in detail on this HealthTree podcast.
Lenalidomide is an immunomodulatory drug that may potentially enhance the effects of these drugs. The dexamethasone is just used for a short time and then stopped.
Dr. Emma Searle shares more about the teclistamab studies in this video:
This study included 32 participants with relapsed multiple myeloma with a median age of 62 and eligible to participate if they had received 1–3 prior lines of therapy. There was step-up dosing for safety. Step-up dosing means starting with a low dose for the first infusion and increasing the dose with each additional administration to limit side effects of the first few doses.
It was combined with daratumumab and lenalidomide.
Side effects experienced by the participants included neutropenia at 84% and cytokine release syndrome (CRS) at 81%. All CRS events were grade 1 or 2. Infections were also common, but most were low grade at 91%. There was also fatigue, diarrhea, insomnia, cough, hypophosphatemia (low phosphate levels in your blood), and fever. There was no neurotoxicity or cytokine release syndrome at the higher levels of grade 3 or 4.
The overall response rate to this treatment at a median of 8.4 months was impressive at 93.5%. Recall that by itself, teclistamab had a 61.8% overall response rate alone in the MajesTEC-1 study.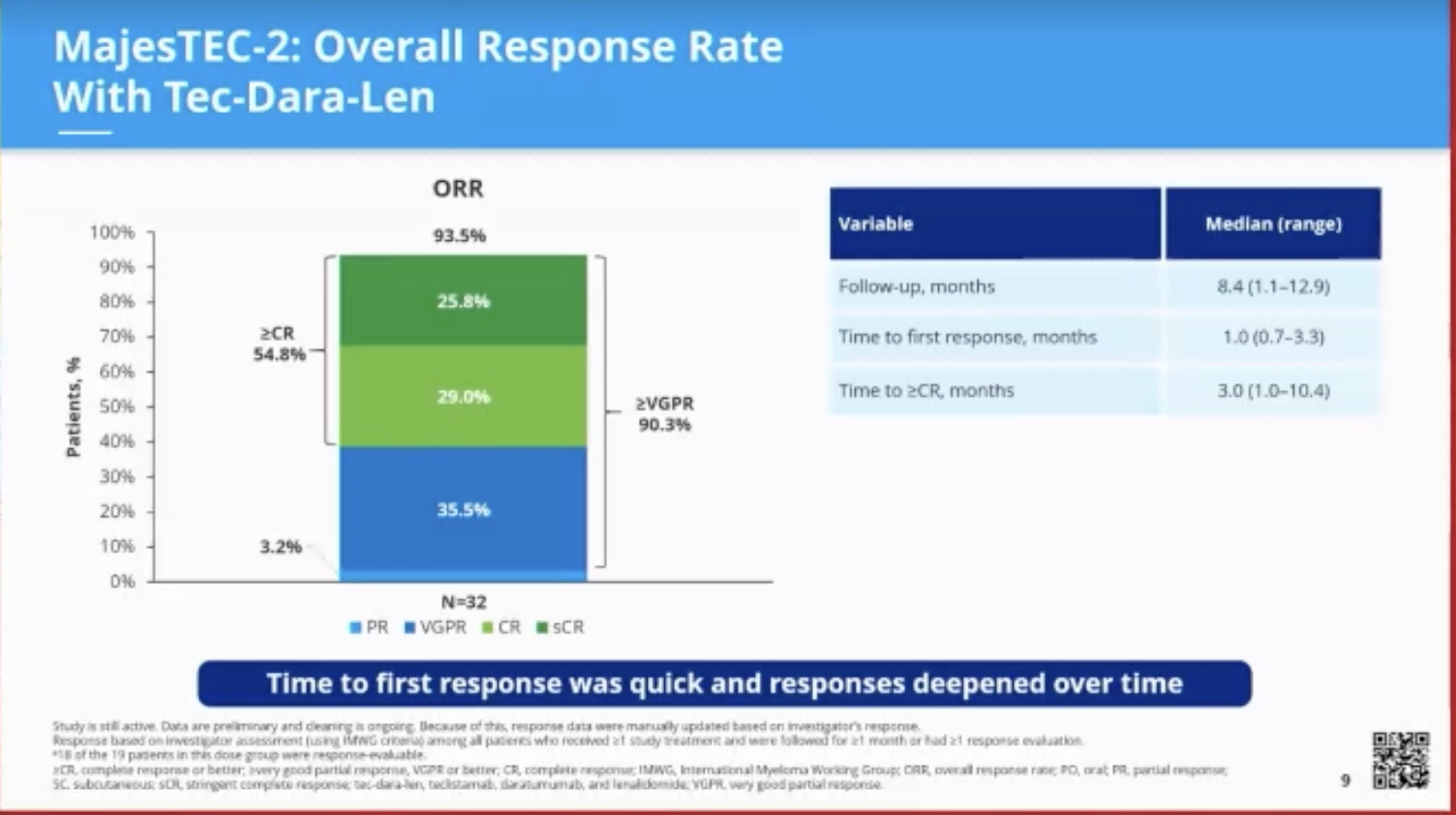 At data cut off, a Very Good Partial Response (VGPR) rate was achieved in 90% of patients. The median time to first response was one month. Responses deepened over time.
There were three patients that discontinued due to progression of the disease. Of these, one patient died of sepsis and another from COVID-19.
Eighty-one percent (81%) of patients were progression-free and still on treatment. The median duration of response has not been reached, and the trial is ongoing.
The event room at ASH was packed to capacity to hear about the preliminary data on this combination for relapsed multiple myeloma patients. We anticipate more studies like this testing many more combinations and sequences for these new therapies because they are clearly providing better responses for patients.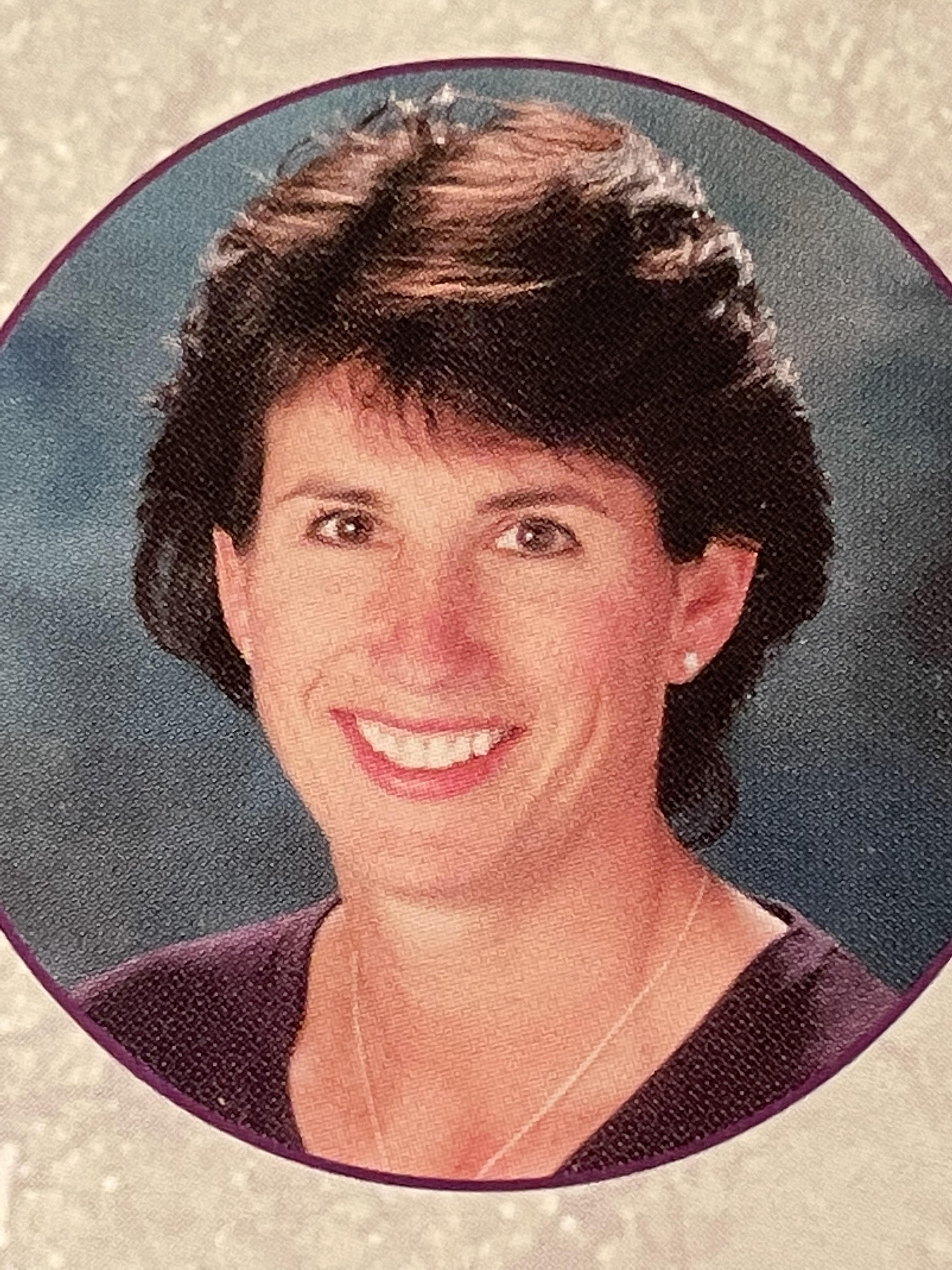 about the author
Beth Travis
Beth is a licensed Physical Therapist that truly believes in the benefits of exercise. Mother of two, a myeloma patient and advocate with a love of learning, healthy lifestyles and food adventures.
Thanks to our HealthTree Community for Multiple Myeloma Sponsors: