There's a first time for everything….
As a caregiver (or patient) we are continuously looking for ways to educate ourselves about myeloma so that we can understand current treatment regimens, be prepared for what is to come, and continuously advocate for best treatment for our loved one.
We do this by asking countless questions to our providers, reading from reputable online sources, (like the Myeloma Crowd) , listening to Myeloma Crowd radio show interviews, paying attention to lab results, taking notes at appointments, talking to other patients, and the list can go on.
We're all at different levels of understanding. Some of us understand the basic lab values, others the genetics, or there may be others who ignore the details and just do what the doctor orders. Wherever we are in our myeloma knowledge journey, there always seems to be more to learn.
I recently decided that as a caregiver I wanted to immerse myself to more fully understand the biology and genetics of myeloma. For me, the pinnacle source for the most current myeloma research and information would come from ASH- the Annual Society of Hematology meeting held once a year. This is where all the greatest myeloma minds come together in one place. I was beyond thrilled when I received the opportunity to attend ASH this year.
Little did I know what I was getting myself into.
I wondered what I was doing when I found myself shoulder to shoulder amongst PhD, MD, pharmacists and researchers from all over the world (approximately half of attendees were from Europe). The picture below depicts my feelings well as I felt like a little fish in a big pond.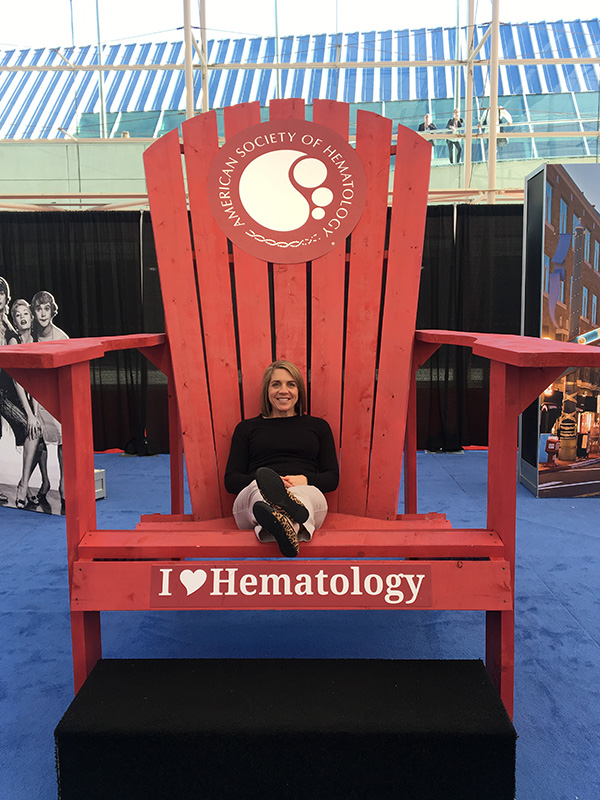 However small I felt, the only option was to jump right in that big pond. I attended presentations and began trying to keep up with the slides stating results of studies, statistics and scientific processes. However, I continued. I listened even when things were over my head, took copious notes and took pictures to review later. The experience not only left me with a tremendous amount of gained knowledge, but also with enlightened perspective and most importantly with gratitude.
I left with a deep impression of hundreds of oncologists working relentlessly, devoting their careers to treating and researching to "find a cure" to this disease that so unfairly entered my family's life (as well as yours), without ever being invited. I felt of their deep devotion, compassion and desire to provide the best treatment to each patient that they encounter as they strive to "put the patient first".
My brain is now overloaded and I have many notes and slides to review and make sense of, but my extreme gratitude remains. I am deeply grateful for the oncologists,, researchers and many other professionals, whose work will make a difference in the life of my husband and the countless others fighting the myeloma battle.
As caregivers, we may not all have the opportunity to attend ASH (or may not want to), but we can do a little each day to become more informed, more educated to help our loved one receive the most appropriate and best care for them.
I applaud each of you in this journey and send my love and support.